If we look around, we will find that Facebook is right now the most used social networking platform. It had now become one of an integral part of life and we use it frequently to communicate with others. If you have been using Facebook for a while, then we are pretty sure that you might have seen those funny fake chats and wall posts.
In this article, we are going to discuss the methods to create a fake conversation on Facebook. It's actually possible to create a fake Facebook conversation using some of the sites given below. You can use these sites to create funny fake conversation to play a prank on friends and family members.
Not only Facebook, but these sites can also create fake WhatsApp, Instagram, conversation as well. So, let's check out some of the best methods to create Facebook Facebook conversation online.
How To Create Fake Facebook Conversation Online
Note: Techviral doesn't encourage users to use these sites for an evil purpose. These sites are meant for fun and can be used to prank your friends. Please don't use these sites for evil purpose.
#1  Simitator.com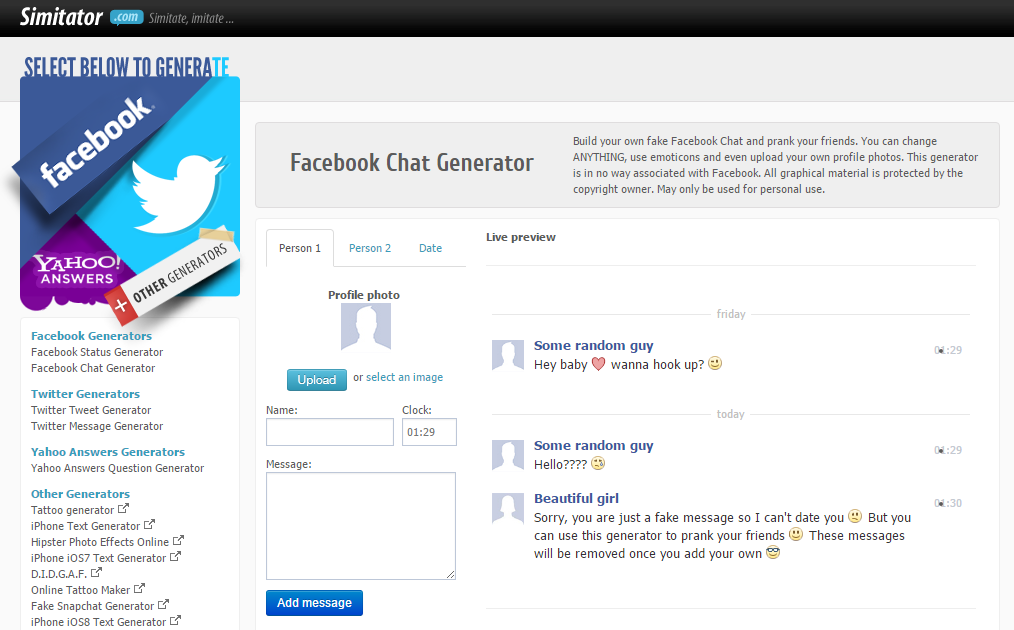 This is the cool site with which you can easily create Fake Facebook chats and then take their screenshots crop them and then send it to friends to play a prank with them. Follow the steps for creating Fake Facebook conversation in the app.
Upload the profile picture of the first person and then give its name there.
Next, upload the picture for the second person and then type its name too.
Enter the date and that it type the message to have Fake conversation with you.
Also Read: How To Create Fake Facebook Conversation In Android
#2 GeekPrank
Geekprank site is for those who are looking for the most simple way to create fake facebook conversation. Guess what? not just Facebook, but GeekPrank can also help you create Skype, Twitter, Tinder, WhatsApp, Linkedin, conversation as well. Let's check out how to use GeekPrank.
Login to the GeekPrank.com from your web browser
Next, click on the 'Facebook' button
From the right-hand side menu, select date, image, message.
That's it, you are done! This is how you can use GeekPrank to create fake facebook conversation 2019.
#3 Zeoob
Zeoob is another best fake post and chat generator which you can use right now. The key thing about Zeoob is that it can create fake Snapchat, Twitter, Facebook, WhatsApp, Instagram posts. The site provides users multiple options to generate conversations like users can choose to generate a fake screenshot from Apple/Android device, computer, etc.
Visit zeoob.com website from your web browser
Click on Facebook post generator
Under the Post-editing, select the Profile image & post image
Next, enter the name which you want to display
Next, enter the location
Finally right down the message
That's it, you are done! This is how you can use zeoob to create fake facebook conversation. It also allows users to add reactions to the posts.
Similar Types of Websites:
#1 The Wall Machine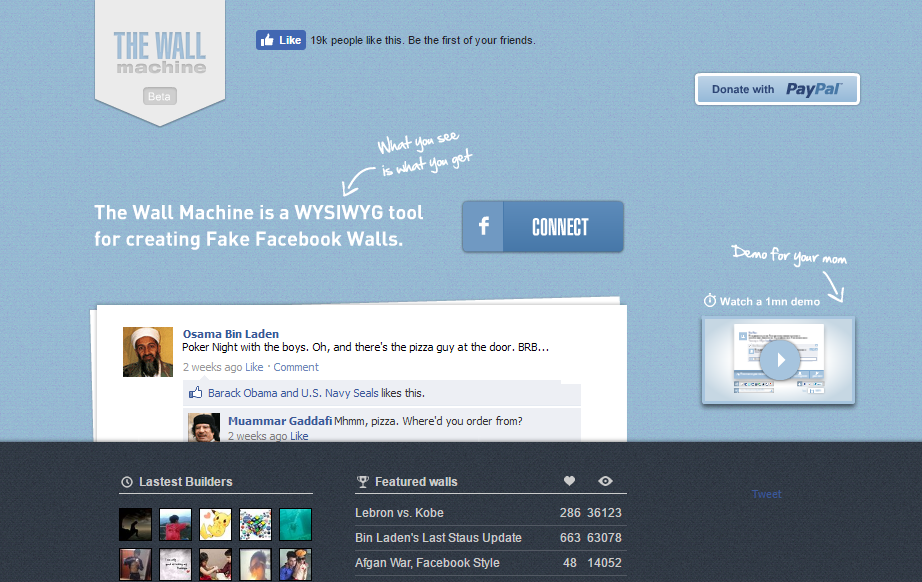 The Wall Machine is a user-friendly web tool that makes creating fake facebook walls as easy as pie. Its WYSIWYG interface allows the customization of all wall elements: profile owner's picture, status, comments, time, likes, etc.
#2 Status Clone
The purpose of the site is for people to be able to make custom Facebook Status updates and have them generated into realistic screenshots of the fake Facebook status with comments. Through the creative nature of many of our users, many funny facebook status screenshots have been and will be, created through the use of this site.
#3 Prank Me Not
You can build fake Facebook or Twitter posts and make funny Chats that have never existed. Create fake facebook chat and prank your friends. You can even imitate celebrities to chat with you to fool your friends. Upload profile picture for you and the other person, write as many chat messages as you like. Start using our Facebook Chat generator for Free !
Also Read: 15 Ways To Secure Your Facebook Account From Hackers
So above is all about Create Fake Conversation Online. With these methods, you can easily create a fake conversation with any random names of your friends and can fool your friend with this. Have fun with this cool Facebook Conversation creating trick and pranks your friends. Don't forget to share this cool post. And leave a comment below if you have any related queries with this.