GIFs are among the most popular files on the internet, social networks, and messaging applications like WhatsApp, Telegram, etc. Some creative people can quickly create a funny GIF.
However, the fact is that most people go directly to the internet to download the GIFs they want to share. Hence, next, we will show you how to create a GIF from a YouTube video quickly and easily.
Surely more than once, you have seen or have shared a funny video in which the funniest moment only takes a few seconds, and in case if we want to share it, we will have to send the URL of the complete video.
Also read: How to Use an Animated GIF As Desktop Wallpaper in Windows 10
2 Methods to Create GIFs From YouTube Videos
But, hold on, as from now you don't have to do so, as to avoid this, here we will show you how to create a GIF from a YouTube video very easily. So, now, without wasting much time, let's get started and explore the tutorial mentioned below.
1. Gifs.com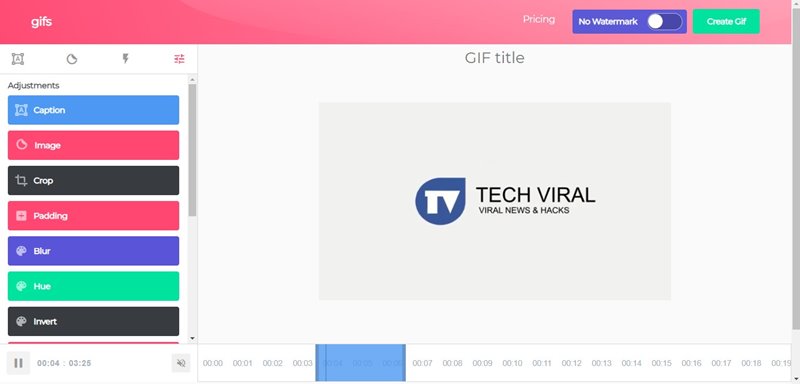 Well, GIfs.com is a website that lets you turn any YouTube video into a GIF. However, the only problem is that it won't convert your video into GIF automatically.
You would need to manually select the video portion that you want to turn into GIF. The good thing about GIfs.com is that it offers you lots of editing options.
For example, with GIfs.com, you can easily blur any portion, adjust saturation of the video, invert videos, and more. You need to paste the video link on the website and convert it to a GIF after editing.
2. GIFRun
GIFRun is another best web tool on the list that can convert any video into GIF. However, just like the above website, GIFRun also requires manual editing. You need to paste the video link on the GIFRun and wait until the web tool fetches the video.
Once fetched, it will provide you wide range of options. To create a GIF, you need to adjust the GIF duration, set the Start time, pixels, etc. Apart from that, GIFRun also allows you to add text to the GIF.
Once done with the editing, just hit the Create GIF button to convert the video into GIF.
So, what do you think about this? Share all your views and thoughts in the comment section below. And if you liked this tutorial, then simply do not forget to share this post with your friends and family.