Learn how to create stop motion videos right from your android phone, no matter whether your device is not having this feature by default in it, just use the app that we have discussed here and easily create stop motion videos.
Stop-motion videos are very cool to look at, and for that value only most of the people might want to create their valuable videos with that very function. In case you own an Android device then you will find this feature lacking in the default camera app on a device, but that doesn't mean that you can't do that up ever. As the Android can do up just anything, i.e., possible by installing some other applications for that very purposes and you are never bound to the default functions therefore in the case of creating up the Stop motion videos, you can also do that up very easily by using up an app called Motion App. Here in this article, we will discuss the method and ways through which you can easily create the Stop motion videos on your Android device using the Motion App. Just go and read up the whole article to know about that.
Also Read: How to Get Android Nougat Boot Animation on any Android
How to Create Stop-Motion Videos on Android
The method is simple and straight, and you will be just using a simple Android app that will let you create stop-motion videos easily. So follow up the below steps to proceed.
Also Read: How To Play PSP Games On your Android Device
Steps To Create Stop Motion Videos on Android:
Step 1. First of all Download up the Motion App from the Google Play store on your Android device and then Install it.
Step 2. Once you have successfully installed the Motion App on your Android, then you just have to open that app on your device. When this app launches, you will see the home screen of this app where you will have just to tap the "+" icon present at the top right corner of the screen. It will help you create a new video project for which you can also give up a title etc.
Step 3. When you begin up with the new project, you will be shifted to another screen where you can see the text saying "Tap the camera icon to start capturing frames." Just follow that text and tap on the camera icon that is placed just below the text and start to click the different frames.
Step 4. Once you have clicked all your desired pictures, then you have to press the tick button, and your stop motion video frame capture will stop. Now you will see all your clicked frames on the screen from where you can edit them and remove any of them. After all your settings, you can now click up the play button to see up the resulting Stop Motion video, and if you still want to edit the speed or frame rate for the video, then you can set that up by clicking the clock icon placed on the screen.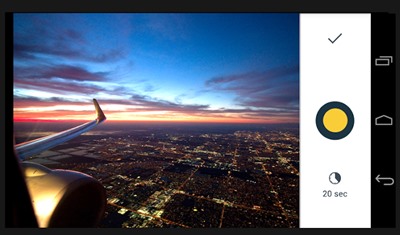 Step 5. Now, at the end when you have to get your desired results then you will want to export that video to your local storage and to do that you will just have to click on the download icon. Your video will be exported with the edge resolution of 360p and can be almost 50 fps (you can set that). After that, you can just enjoy playing that video and even share that easily.
Also Read: Turn your Android Phone into the Ultimate Fitness Tracker
Other Similar Apps:
PicPac Stop Motion
PicPac – Pack your Pictures into Stop Motion Movies. Stop-motion animation and time lapse in one app. Add audio and music easily. No upload to server or PC. The app also provides some demo videos which shows you the possibilities, including a simple example of time-lapse and stop motion videos
Clayframes – stop motion
Create smooth stop-motion animation and time-lapse in minutes, on the move – anywhere. Clayframes is easy to use and has a rich set of professional features for making stop-frame animation (or claymation) and time-lapse movies.
Lapse It • Time Lapse
Lapse It is an award-winning full featured app for capturing amazing time-lapse and stop motion videos with your Android camera. It is simple, fast and intuitive. No need for expensive photography equipment, you just need Lapse It.
Funmotion
Funmotion provides fun and easy way to create your stop motion clip. Tap and hold to record your video, and use it repeatedly to create your sequences. Simply click the tick button when you are ready and have your clip ready.
Stop Motion Studio
Create beautiful stop-motion animated movies anywhere instantly on your device. Everything you need is right at your fingertips. No computer needed. It's simple to use, deceptively powerful and insanely fun to play with.
Also Read: Top 15 Best Android Apps for Beginners 2017
Time Lapse camera
Time Lapse Camera which was previously known as Time Spirit is a unique application for creating Time Lapse, using it you can create stunning videos and publish them on YouTube in a couple of clicks. With this app, you can even add your favorite music to the Timelapse.
Framelapse
If you are looking for a full-featured app to create stunning time-lapse videos on your Android smartphone, then you should go with Framelapse app. This is an awesome android app which can record high-quality time-lapse clips effortlessly.
Stop Motion Maker
This is another best piece of software to have on Android devices especially if you have high interests in photography line. This awesome camera app comes with all the bells and whistles like onion skin, grid view, preview, editing frames and much more. Another best thing about the app is that it allows up to 200 images per movie with a watermark. Overall, this is one of the best apps to have on your Android.
Zoetropic
With the help of Zeotropic Android app, you can give life to your photos, applying a fantastic motion picture effect, also known as the Cinemagraph effect. This app also comes with a stabilization tool which let you define that point not be moved, avoiding undesired distortions. If three stabilization points are connected, a stabilized region is created.
PICOO Camera
This camera offers some great feature. With PICOO Camera, you can highlight and animate the topic spot on your photo, let your static photo contain dynamic movements, so your object in the photo really moves. Apart from these, you can also add filters to make your camera or created videos pretty.
So above discussion is all about Create Stop Motion Videos on Android. This application is available on the Android Google Play store, and it can help you create up the awesome Stop motion videos right on your Android. You will also not need to go through some tough ways so as to create up the videos but just click up the frames and bind them up in a superb looking Stop motion videos. So, now go and have a real-time try of this feature on your Android using the Motion App.