Although we have many social networking sites these days, it was Facebook that we use the most. Compared to other social networking sites, Facebook has a more active user base, and there's a good chance that all of your friends, family members & neighbors will have an account on it.
If we talk about the features, Facebook allows you to exchange texts, share photos & videos, share stories, and more. It also has a short video platform that is called Facebook Watch. Facebook Watch is basically a TikTok alternative where you can either share or watch short videos.
Although Facebook is useful and offers so many features, users often end up wasting time on it. With so much content to offer, it's easy for regular users to get carried away while using the Facebook mobile app on Android/iOS.
Steps to Set Daily Time Reminder Alert on Facebook App
Hence, if you also feel that you are wasting time on Facebook unnecessarily, you should set a daily time reminder on Facebook. Facebook mobile app for Android & iOS allows you to set daily time reminders in easy steps.
Hence, in this article, we will share a step-by-step guide on how to set daily usage reminders alerts on Facebook. Let's check out.
1. First of all, open the Google Play Store and search for Facebook. Next, open Facebook from the search results and install the update (if available).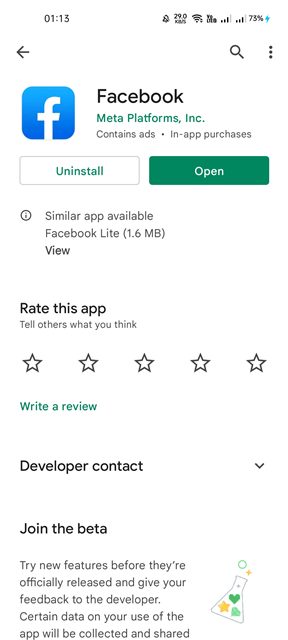 2. Now, open the Facebook app on your Android device and tap on your profile picture as shown below.
3. On the profile page, scroll down and expand the Settings & privacy section, as shown in the screenshot below.
4. On the Settings & privacy menu, tap on the Your Time on Facebook option.
5. You will find many options on the next page. Simply, tap on the Manage your time option.
6. On the Manage your time page, scroll down and enable the toggle for Daily time reminder.
7. Now, you need to set the amount of time after which you want Facebook to send you a reminder. Set the time and tap on the Set Reminder button as shown below.
That's it! You are done. Now Facebook will send you a reminder after you have used Facebook for the amount of time you choose.
How to Set Daily Time Reminder on Instagram
Just like the Facebook app for Android, you can even set a Daily time reminder on the Instagram app. If you use the Instagram app more than anything else on your phone, it's best to set a daily time reminder.
We have already shared a detailed guide on how to set a daily time reminder on the Instagram app for Android. Make sure to read that article to know the steps.
It's pretty easy to set daily usage reminder alerts on the Facebook app for Android. I hope this article helped you! Please share it with your friends also. If you have any doubts related to this, let us know in the comment box below.