Over the years, Steam has served as an excellent platform for downloading and playing PC games. As of now, there are thousands of game titles available on Steam that you can install & play for free. While the platform is excellent for gaming, some users often waste time on it.
Game is one such thing that can keep you engaged for hours and can waste your time. And if you feel that you are unnecessarily wasting time playing games, it's best to quit gaming and delete the Steam Account. Yes, removing games from the Steam Library is an option, but it's best to delete the account if you want to quit gaming entirely.
So, if you have decided not to play games anymore and are willing to delete your Steam Account, you are reading the right guide. Below we have shared a step-by-step guide on deleting a Steam account in easy steps.
Things to Know before Deleting Steam Account
You should know a few things before deleting your Steam account permanently. Here are a few points that you should know.
There's no refund for games or software purchased through Steam Store once you delete your account.
Once you delete your Steam account, all data, including your community profile, wallet funds, gits, username, etc., will be deleted permanently.
The available funds in your Steam Wallet will be gone as well.
You can't reuse your old Steam account name on your new Steam account.
Your Steam account will be permanently deleted only after 30 days of wait. Within that 30 days, you can cancel your account deletion request.
Steps to Delete Your Steam Account
1. First of all, launch the Steam desktop client on your PC.
2. Next, click on your profile name in the top-right corner.
3. From the list of options that appears next, select Account Details.
4. On the Account Details page, scroll down and click on the Delete my Steam account link.
5. Now, Steam will show you the details of the account deletion. You need to click on the Proceed to account deletion button.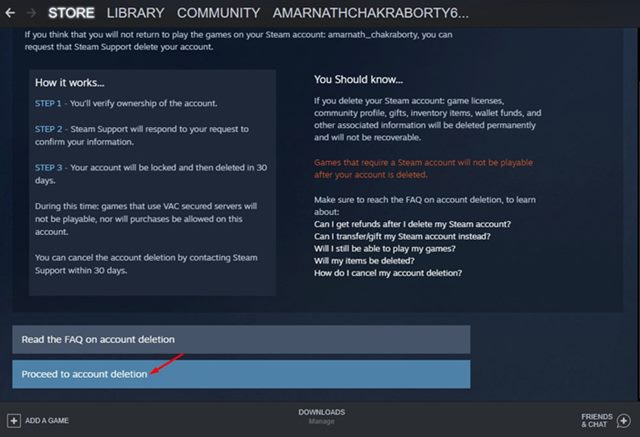 6. On the next screen, you will see a form asking you to fill in details. You need to fill in all details and click on the Send button.
7. Now, you will see the Steam Support page. Here scroll down and click on the Update my help request link.
8. Now, you will see a screen like this. You will have 30 days to revert your decision. After 30 days, your Steam account will be deleted from Valve's servers.
9. If you want to cancel the account deletion request, click on the Cancel, I no longer want to delete this account option.
That's it! This is how you can delete your Steam account permanently in easy steps. This will delete your Steam account permanently after 30 days.
So, that's all about how to delete the Steam account permanently. Deleting your Steam account could be your first step to overcoming game addiction. If you have any doubt or need any help regarding Steam account deletion, let us know.