Email tracking is certainly the best thing that businesses can do to keep a check on emails. For beginners who are unknown to the fact that how email tracking works and what it is, then please keep reading.
Email tracking is the technique through which the sender gets updates for the thing, whether the receiver sees the email or not. This helps to make it assure that the email is sent or not.
Steps to Detect and Disable Email Tracking
While Email tracking is meant to help businesses, it can be a nightmare for individuals. Just like you and me, nobody wants their email to be tracked. Hence, for the user's convenience, we have written up this article where we have provided a few simple steps to detect and disable the email tracking service. So, let's check out.
Don't click on Suspicious Links
First, we will tell you some things through which the emails could not be tracked. Never click on the links inside the emails, do click on relevant ones and open up inside the email only.
Secondly, do not download the images from inside the emails. Another way is to check the emails' original addresses and filter for those that are not trackable. Simply press Ctrl + F and there type in .com. Through the search results, you could find the original email addresses and detect whether the emails are traceable.
Use Third-Party Apps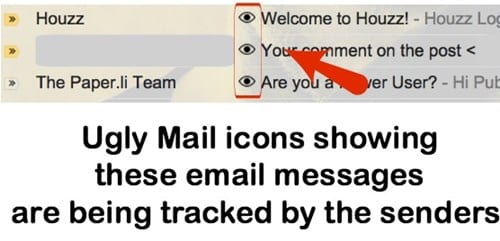 Numerous third-party apps are available for the detection of traceable emails. These apps automatically detect traceable emails; after that, you will be able to stop seeing the emails from the selected senders.
One of the best third-party email analyzers is Ugly emails. Anyone can easily detect traceable emails and know which service is being used to track the emails. This is useful and could prevent you a lot of time in filtering all of the emails.
There is no way to stop or disable the service of traceable emails, but you could only be able to prevent those by using the above two steps. So go ahead and use the above steps and protect yourself from all those traceable emails. The above steps could work on any of the email services!
Also read: 10 Best Free Fake Email Generators
So, these are some of the best ways to detect and disable email tracking. If you want to suggest more tips to disable email tracking, let us know in the comments below.