If you are sticked with the Windows ecosystem, you may be very familiar with the Run commands or RUN dialog box. Run Dialog box is one of the most used and handy tools that let you run programs and access system features by executing simple commands.
While the RUN dialog box is convenient, it can bring certain problems. The problems will be more if you often share your laptop with others. Anyone with access to the RUN dialog box can execute commands and modify the system files.
Best Ways to Disable Run Dialog Box in Windows
So, if you want to restrict others from using the RUN dialog box on your Windows computer, it's best to restrict access to it. Here we have shared some of the best methods to disable the RUN dialog box in Windows 10 computers. Let's get started.
1. First of all, open Windows search and type in Regedit. Next, open the Registry editor app from the list of matching results.
2. On the Registry Editor, navigate the following path and select New > Key.
HKEY_CURRENT_USER\SOFTWARE\Microsoft\Windows\CurrentVersion\Policies.
3. You need to right-click on the newly created key and then rename it to Explorer.
4. Now, right-click on the right empty screen and select the New > DWORD (32-bit) Value option to create the new DWORD value.
5. Now, you need to name the created value, and you could write it as NoRun.
6. Double-click on it, change the value data from 0 to 1, and then click on the ok button to save your changes.
Now you need to restart your computer to reflect the made changes.
Disable Run Command In Windows 10 Using Group Policy
Well, in this method, we will use the Group Policy editor to disable the Run Command box in Windows 10 Using Group Policy editor. For that, follow the steps given below.
1. First, Press the WIN+R keys together, and then on the RUN command box, you need to type in gpedit.msc and press Enter.
2. The above command will open up the Group Policy Editor on Windows. There you need to navigate User Configuration > Administrative Templates > Start Menu and Taskbar. Double-click on the Remove Run Menu From Start Menu policy.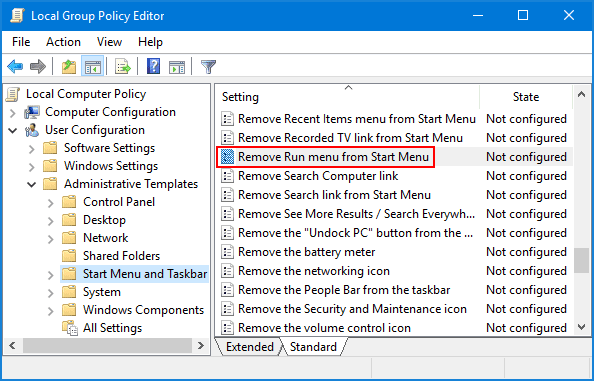 3. You will now see a window like this; here, you need to set the policy to Enable and click on Ok.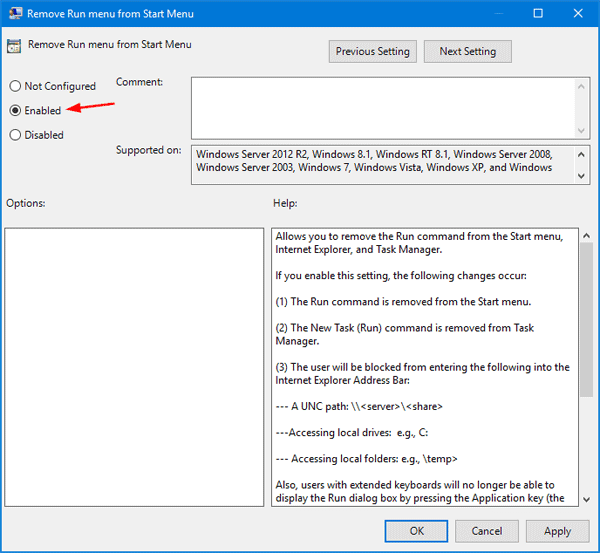 That's it! The policy will take effect without restarting your computer. You will see an error message while accessing Run Command.
Download One-Click Registry Hacks
Well, howtogeek has shared a one-click registry hack for all those who don't want to play with the registry files. Thes one-click registry hacks are very easy to implement. The great thing about these hacks is that they can disable and re-enable both Command Prompt and RUN Dialog Box.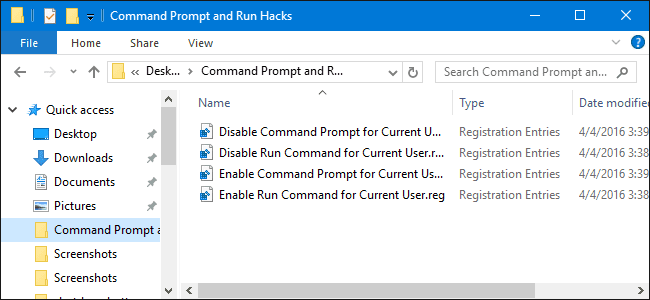 howtogeek has listed four registry hacks which you can download below. You just need to run these registry files, which will disable/Enable the Command Prompt and RUN commands.
So, above discussion is all about how to disable the run dialog box in windows. You can easily disable the run command box on your Windows PC. If you need more help disabling the RUN dialog box, let us know in the comments below.