The previous month, WhatsApp updated its privacy policy, and due to that, many users have considered migration to apps like Signal and Telegram. As of now, there are lots of WhatsApp alternatives available for Android, but out of all those, Signal Private Messenger seems to be the best one.
We have already shared a detailed guide comparing WhatsApp, Telegram, and Signal. You can check out that article to know the difference between the apps. If you have ever used WhatsApp, you might know that the instant messaging app shows typing indicators when the other one types in a chat.
The same feature is also seen in Signal Private Messenger. The Typing Indicators in Signal indicates that the recipient is typing something. They appear as animated dots that can be enabled or disabled at any time. While some may like these features, others may want to hide them from their contacts.
Also Read: How to Send Disappearing Messages On Signal Private Messenger
Steps to Disable Typing Indicators in Signal Private Messenger
In this article, we will share a detailed guide on how to disable the Typing indicators in Signal Private Messenger. The process is going to be very easy; just follow some of the simple steps given below. Let's check out.
Step 1. First of all, open Signal Private Messenger on your Android device.
Step 2. Now tap on your profile photo to open the Settings page.
Step 3. On the Settings page, scroll down and tap on the 'Privacy' option.
Step 4. Under the Privacy page, scroll down to the Communication section.
Step 5. Now find the option 'Typing Indicators.' Use the toggle button behind it to enable/disable the feature.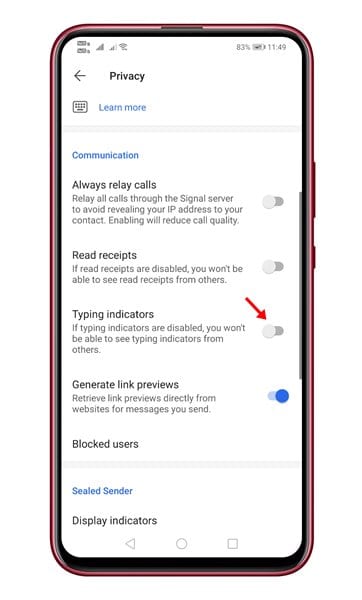 Important: If you disable the Typing indicators, your contacts will not see when you are typing. Also, the incoming typing indicators will not be displayed. If you have enabled the feature but can't see your friend's typing indicator, then your friend might have disabled the feature.
That's it! You are done. This is how you can enable/disable Typing indicators on Signal Private Messenger.
So, this article is all about how to disable Typing indicators in Signal Private Messenger. I hope this article helped you! Please share it with your friends also. If you have any doubts related to this, let us know in the comment box below.