Although we have many free video streaming sites out there, it was YouTube that we use the most. It is also the most popular video streaming site, and it offers many unique and useful features. The site is free to use, but it's ad-supported.
If you are a regular YouTube user, you might know that YouTube automatically plays the video previews as you hover your mouse over the video thumbnail. The same thing applies to the YouTube app for Android & iOS.
YouTube video previews is an excellent feature as it helps you to decide whether to watch the video or not. There's another feature called Inline Player that continues to auto-play videos on the home feed. Although both features were useful, they weren't meant for everyone.
If you are someone who uses YouTube on limited internet data, you may want to disable the home screen video autoplay feature completely. Video previews or auto-play of videos on the home screen drains the battery life of your phone/laptop and consumes the internet data.
Steps to Disable YouTube's Auto-Playing Thumbnails & Video Previews
Hence, if you are looking for ways to save internet data while using YouTube, you should disable the Video previews or inline player feature of YouTube. Here's, we have shared a detailed guide on how to turn off YouTube's auto-playing thumbnails on Android. Let's check out.
1) Turn off YouTube's Auto-Play video Thumbnail on Android
We will use the YouTube Android app to disable the auto-play video thumbnail in this method. Here are some of the simple steps you need to follow.
1. First of all, open the YouTube app on your Android smartphone.
2. Next, tap on your profile picture, as shown in the screenshot below.
3. On the Profile page of YouTube, tap on Settings.
4. On the Settings page, tap on the General option as shown below.
5. On the General Settings page, tap on the Playback in feeds option.
6. If you want to turn off YouTube's Auto Playing video thumbnail, select Off.
That's it! You are done. This will turn off YouTube's annoying auto-playing thumbnails on your Android device.
2) Turn off YouTube's Inline Playback on desktop
If you use YouTube from your desktop, you might know that the site plays videos when you hover over them on the Home screen. Here's how to disable that feature in easy steps.
1. First of all, open YouTube on your desktop. Next, click on the profile picture and select Settings.
2. On the YouTube Settings page, select the Playback and performance tab as shown below.
3. On the right pane, scroll down and turn off the Inline Playback option.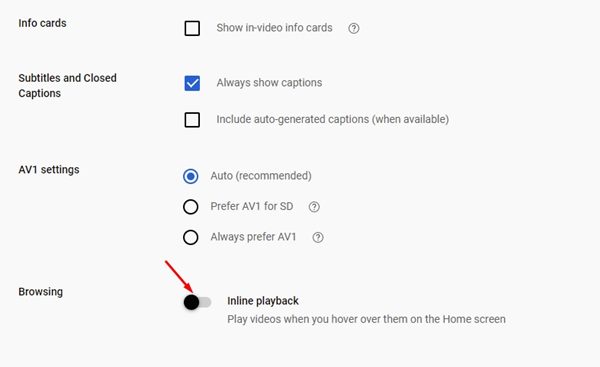 That's it! You are done. This will stop YouTube from playing videos when you hover over them on the Home Screen. If you wish to enable the feature again, simply turn on the Inline Playback option in Step 3.
These are the two best ways to disable YouTube's annoying auto play thumbnails and video previews. I hope this article helped you! Please share it with your friends also. If you have any doubts related to this, let us know in the comment box below.