Once again the data of the most popular Pizza brand Dominos has been leaked. The leaked data contains phone numbers, email addresses, payment details, and credit card details of the users.
As per the reports around 18 crores orders, details are available on the dark web.
18 Crore Domino's Customer's Personal Data Leaked Including Email Id, Phone Numbers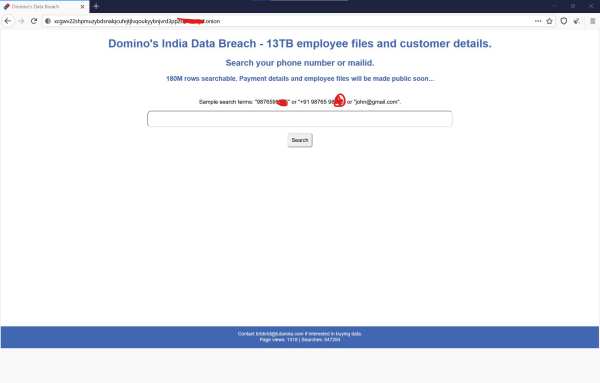 Earlier in April, a hacker got access to the Indian Domino's servers and had downloaded data of the employee and customers. The hacker also confirmed that they got the credit card information of over one million users.
In April, the cybersecurity firm Hudson Rock said that the hackers were selling the information of the users for around 10 Bitcoin. And then they also planned to make a search portal to allow the query of the data.
A security researcher Rajeshkhar Rajaria posted a tweet and reported about the data breach once again. In a post, he revealed that the hackers have created search engines on the dark web. If you are a regular user of Domonio's then there are high chances of finding your data there.
Again!! Data of 18 Crore orders of #Domino's India have become public. Hacker created a search engine on Dark Web. If you have ever ordered @dominos_india online, your data might be leaked. Data include Name, Email, Mobile, GPS Location etc. #InfoSec #GDPR #DataLeak @fs0c131y pic.twitter.com/wIwL5ct6hX

— Rajshekhar Rajaharia (@rajaharia) May 21, 2021
At present, the data that is leaked has details of 10 lakh credit card details, and addresses of the users who have ordered pizza. However, Domino's India has denied about the financial details leaks.
🚨 Data Breach Alert :

13TB of employee files & customer details, which allegedly belongs to @dominos_india have been leaked on the Dark Web through a search portal that gives access to sensitive info of the users.

Sadly, I found out that my privacy has also been compromised. pic.twitter.com/f05MZ7pRLt

— Sourajeet Majumder (@TechCrucio) May 21, 2021
Though the company has not taken any step to get back the data and contact the scammers. Sourajeet Majumber, an Independent Security Researcher has posted a tweet explaining the data leak. He has seen all the personal details of the users on the search engine. He said,
"On using the search portal made by the threat actor, I was able to find my phone number/email, all delivery addresses, delivery amount and order time & date."
Domino's is the most popular food service company. The service is available in many countries like Bangladesh, Nepal, Sri Lanka, and more.
Apart from this, a well-known airline company Air India has also leaked 45 lakh passengers' personal data including credit card details.