Just after the official launch of WhatsApp's video call feature. Users have started receiving unverified link that claimed to be an invite link to activate WhatsApp's Video call.
Attention! Don't Click the Fake WhatsApp Video Calling Link
The instant messaging application WhatsApp began to release on Monday the video calling feature for all users of Android, iPhone, and Windows Mobile. However, users have started to receive an unverified fake link that prompts you to activate video calling functionality.
The fake link that is making rounds on WhatsApp, claimed to be an invite link to activate the latest Video calling feature on WhatsApp. If any WhatsApp user clicks the link then he/she will be redirected to a web page to enable the video calling feature
The spam message reads "You're invited to try WhatsApp Video Calling feature. Only people with the invitation can enable this feature". Once you click on the link it will redirect you a spammy website.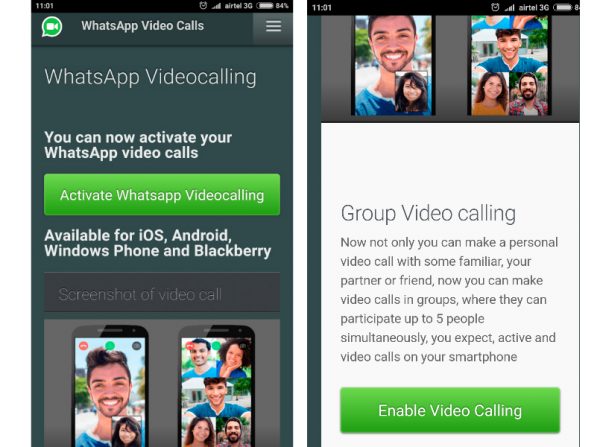 The web page is designed in such a way that it can trick anyone easily and would deceive even the most observant of us. when any user clicks on the "enable" button, he/she will be redirected to a new page which requires user verification.
Then the fake link will ask you to share and invite four other friends to enable this feature through the same link. However, be safe and don't click on this spam link because clicking on this links can expose you to the spammers, making you extremely vulnerable to hacking.
If you want to enable the latest Video calling feature on WhatsApp then you need to update your WhatsApp app through your Google Playstore or Apple Store. After you have updated the app, the feature will be automatically enabled.
[appbox googleplay com.whatsapp]
So, what you think about this? Share your thoughts in the comment box below.