Over the past few years, Android has become the most dominant mobile operating system. It is now slowly replacing the need for a personal computer. The great thing about the Android operating system is that it has a massive app ecosystem, and you can find apps for every different purpose on the Play Store.
Since there's no shortage of apps for Android, we end up installing more and more apps and games on our smartphones. Also, we store plenty of photos, videos, docs, etc., on our smartphones. These things lead to more storage usage, ultimately killing the phone's performance.
10 Best Storage Analyzer Apps For Android
So, it's always best to use storage analyzer apps for Android. With storage analyzer apps for Android, you can quickly analyze your phone's storage space. So, in this article, we have decided to share some of the best apps to manage your Android's storage space.
If your smartphone lags a lot and you face battery-related problems while using your device, you need to install Droid Optimizer.
Droid Optimizer claims to boost your Android smartphone's performance and free up the memory space with a tap.
With Droid Optimizer, you can accelerate, clean & optimize your device for better performance.
You can terminate foreground/background apps, empty the system & app cache, find & delete junk files, optimize apps to enhance battery life, and more.
Super Toolbox is an Android app that cleans junk files and releases memory. Although it doesn't have a dedicated storage management feature, it offers a file manager app to find files taking up most of the space.
You can analyze the space used by apps as well. Not only that, but Super Toolbox even allows for cleaning junk files, duplicates, and more.
The latest version of Super Toolbox also has a WiFi protection feature that stops your device from connecting to risky public wifi or hotspot. Overall, Super Toolbox is a great storage analyzer app for Android.
3C All-in-One Toolbox is very similar to the Droid Optimizer app we have listed above. The app combines many features into a single package, much like Droid Optimizer.
With 3C All-in-One Toolbox, you get a storage analyzer, device manager, file manager, application manager, network & task manager, and more.
The application and file manager utility of 3C All-in-One Toolbox provides a detailed insight into what's using up your storage space. You can easily find apps based on their storage usage, files based on their size, and more.
Well, it's one of the best and top-rated storage manager apps for Android smartphones. With this app, you can quickly free up space.
The app can clean junk files, cache files, unused apps, duplicate files, etc., from your Smartphone. The app intelligently suggests files to erase before you run out of space.
If you are searching for an app to speed up your phone and clean junk safely, you need to try CCleaner.
With this app, you can effectively clean the application cache, download folders, browser history, clipboard content, unused apps, duplicate files, etc.
It also got a storage analyzer that analyzes and optimizes your storage space in no time.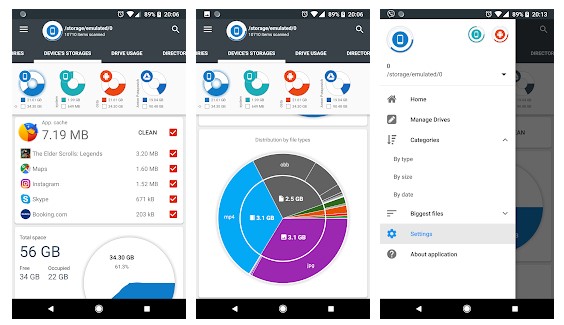 Well, it's another best storage analyzer app you can use on your Android smartphone. The app has a pretty clean user interface which makes the app very easy to use.
If we talk about the features, Storage Analyzer & Disk Usage views all files stored in your phone's internal and external storage.
To manage your files, you can sort them by category, file size, or date. Apart from analyzing & managing files stored on Android, Storage Analyzer & Disk Usage can also be used to access files stored on cloud storage.
It's one of the most advanced phone optimizer apps on the Google Play Store. The app helps you to keep your device clean and tidy.
The good thing about SD Maid is that it offers a collection of tools to manage apps and files. With this app, you can remove unnecessary files, uninstall unused apps, clean junk files, clean duplicate files, optimize databases, etc.
Clean my Phone is a junk cleaner app for Android that can help you clean junk files & free up storage.
The good thing is that Clean my Phone automatically scans and tells you about the duplicate files, large files, empty folders, unused apps, etc.
It also provides a direct option to delete those useless files to free up storage. You can also manage Clean my Phone to manage apps installed on your device. The Apk manager of Clean my Phone allows you to find and uninstall problematic apps in easy steps.
If you are searching for a lightweight and effective storage analyzer app for Android, you need to give Storage Space a try.
It provides a simple overview of your storage space and shows how much memory is available for your apps & files. It also scans and tells you about unused apps, large files, etc.
This one is a bit different compared to all others listed in the article. It's a suite that offers various tools to help your Android work the best it can.
It offers a wide range of tools like junk cleaner, history eraser, speed booster, storage analyzer, CPU cooler, etc.
So, these are the ten best storage optimizer apps for Android available on the Play Store. These apps will help you analyze and free up storage space. If you know of other such apps, let us know in the comments below.