Over the years, we have known Google Chrome as the best web browser. To some extent, Google Chrome is the truly best web browser. Apart from the desktop operating systems, Google Chrome is also available for Android & iOS.
The only demerit of Google Chrome is that it consumes lots of RAM resources and offers limited security features. To fulfill those issues, Avast made a web browser called 'Avast Secure Browser.'
Hence, after discussing Google Chrome and Microsoft Edge browser, we will learn about the Avast Secure Browser in this article. So, let's check out everything about Avast Secure Browser for desktop and mobile devices.
What is Avast Secure Browser
Well, Avast's secure browser is made by the leading Antivirus company Avast. The web browser is fast, private, and pretty easy to use. Like Google Chrome, the Avast Secure Browser is available for Windows, Mac, Android & iOS devices.
The great thing about the Avast Secure browser is that security experts make it with your privacy in mind. In addition, the web browser is based on the same Chromium engine, which makes it easy to use and fast.
That means you will get the same Chrome-type experience with Avast Secure Browser but with more privacy and security features. Moreover, since it's for security purposes, it includes many tools to block security and privacy risks.
Features of Avast Secure Browser
Now that you know the Avast Secure browser, you might want to install the web browser on your system. Below, we have highlighted some of the best features of Avast Secure Browser.
Free
Well, Avast Secure Browser is already a part of Avast Free Antivirus. It is also available as a standalone installer. If you install the Avast Antivirus, you will also be asked to install the web browser.
Advanced Security Options
The latest version of the Avast Secure browser has advanced security built-in. So, you can browse, shop, and bank safely on any website. You don't need to worry about any security issues.
Prevent hackers
Since Avast Secure Browser is made for privacy and security, it hides everything you type online. This feature prevents hackers from stealing your data and helps keep your sensitive data safe.
Blocks Malicious Website
The advanced and powerful anti-phishing technology of the Avast Secure Browser automatically blocks malicious websites and downloads. In addition, it protects your device from threats that can damage your computer.
Always on HTTPS
This is another best feature of the Avast Secure browser that makes the website you visit more secure. It automatically forces websites to use encryption. However, this only works if the website you are visiting is using HTTPS protocol.
Privacy & Security Management
With Avast Secure Browser, you can easily manage your security & privacy settings in one place. In addition, you will be able to handle the Antivirus, Bank Mode, Anti-Tracking, and Ad-blocking features right from the web browser.
Other Security Features
The latest version of Avast Secure Browser also includes many other security features like a tracker blocker, masking digital identity, controlling the login data, Anti-fingerprint, Webcam Guard, and more.
So, these are some of the best features of Avast Privacy Browser. It has more features you can explore while using the web browser on your computer.
Download Avast Secure Browser Latest Version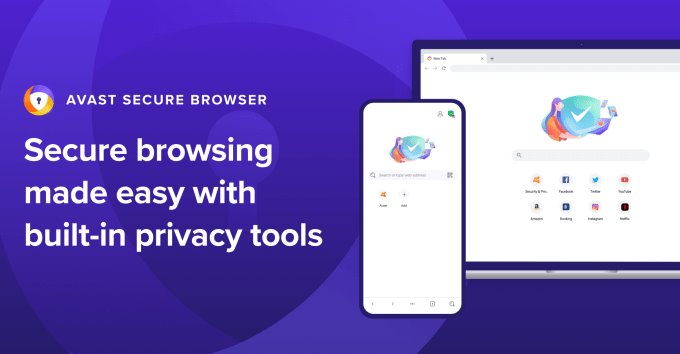 Now that you are fully aware of Avast Secure Browser, you might want to install the web browser on your system. Since Avast Secure Browser is free, so one can download it from the official Avast website.
Please note that Avast Secure Browser is also a part of free and Premium Avast Antivirus. So, if you already use Avast Antivirus, you might already have this web browser.
Below, we have shared the latest version of the Avast Secure browser. If you haven't installed the Avast Secure browser, download the online installer file shared below. The file shared below is free from viruses/malware and is entirely safe for download.
How to Install Avast Secure Browser?
Installing Avast Secure Browser is easy, especially on desktop operating systems like Windows & Mac. First, you need to download the Avast Secure browser installer shared above.
They were once downloaded, double-click on the installer file to launch the installation Wizard. Next, follow the on-screen instruction to complete the installation process.
This is how you can install the Avast Secure browser. Once installed, launch the Avast Secure Browser on your computer. The web browser will look different from Chrome but based on the same engine. That's it! You are done.
So, this guide is all about downloading Avast Secure Browser's's latest PC version a PC. I hope this article helped you! Please share it with your friends also. If you have any queries, ask us in the comment box below.