Screen recording is very beneficial for students, allowing them to record their study materials to revise later. However, the thing is that Windows 10 doesn't have a dedicated screen recording application.
Although users can utilize the Xbox Game bar to record screens, it has limited features. For example, you can't record a specific part of your screen with the Game Bar application. If you want to record a specific region or screen, you must consider third-party options.
As of now, there are hundreds of screen recording options available for Windows 10. However, out of all those, only a few stand out. Hence, in this article, we will talk about one of the most used screen recording programs for Windows 10, known as Bandicam Screen Recorder.
What is Bandicam Screen Recorder?
Well, Bandicam is one of the best and top-rated screen recording applications available for Windows 10. With Bandicam, you can easily record your computer screen.
Not only that, but the Bandicam Screen recorder can even capture your gameplay videos with high frame rates. Compared to other screen recorders for PC, Bandicam is more effective.
It is because Bandicam utilizes a high compression ratio without compromising video quality. You can capture 4K videos at 120 frame rates without worrying about quality loss.
Apart from that, Bandicam can even capture screenshots and save them in various formats like JPEG, PNG, BMP, and more.
Features of Bandicam Screen Recorder
Knowing Bandicam, you might be interested to know its features. Below, we have highlighted some of the best features of Bandicam Screen Recorder.
Free
Yes, Bandicam is entirely free to download and use. You don't need to purchase or create an account to use the program. However, on the free version, Bandicam puts a watermark on the recorded videos.
Record in Full Quality
Even with the free version of Bandicam, you get the option to record an internet video and audio in full resolution. However, the free version limits video recording to up to 10 minutes each.
Draw in Screen
One of the best features of Bandicam includes creating dynamic videos using real-time drawing for screencasts. For example, you can add arrowheads, writings, etc., directly on the screen while it's being recorded.
Record Webcam feeds
Bandicam lets you record your face and voice together on video with a webcam and microphone. That means you can record your computer screen and webcam feed in real time.
Schedule Screen Recording
The premium version of Bandicam Screen Recorder also allows you to schedule the screen recording. You get the option to schedule the start and end of the recording at specific intervals.
So, these are some of the best features of Bandicam. The screen recorder app for PC has more features that you can explore while using the tool.
Download BandiCam Offline Installer for PC
Now that you are fully aware of Bandicam, you might want to install the program on your computer. However, before downloading, please note that Bandicam has both free and premium plans.
The free version of Bandicam allows you to record the screen in high quality, but it puts a watermark on the recorded video. Also, the free version of Bandicam has limited features.
To use Bandicam at its full potential, you must purchase the premium version of the Bandicam screen recorder. Below, we have shared the latest download links for Bandicam.
How to Install Bandicam on PC?
Well, it's pretty easy to install Bandicam on a PC. First, you must download the installation files shared in the above section. Once downloaded, run the installer file and follow the on-screen instructions to complete the installation.
Once installed, you can use Bandicam on your PC. Here we have shared a tutorial on how to use Bandicam to record your entire PC screen.
First of all, launch Bandicam on your PC. Next, tap on the drop-down arrow and select Fullscreen.
Once done, click on the Rec button. Bandicam will add a recording interface on the top of your screen.
To stop the recording, tap on the Stop button. You can also press F12 to stop the recording.
Now go to the Home > Videos to play, edit or upload the captured videos.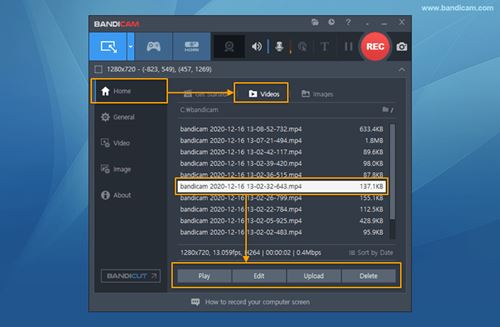 That's it! You are done. This is how you can use Bandicam to record your entire computer screen.
So, this article is all about BandiCam offline installer for PC. I hope this article helped you! Please share it with your friends also. If you have any doubts about this, let us know in the comment box below.