If you have been reading tech news regularly, you might know that Google recently released a new update to its Google Canary web browser. The latest update brings many new and useful features to Google Chrome users. Although the features rolled out on the Canary builds of Chrome are meant for testing, they often land on Chrome's stable version.
A few days ago, we shared a detailed guide on adding notes to the saved passwords on the Chrome browser. Now it looks like Chrome web browser got another best feature that improves how you manage downloads.
The latest Chrome Canary release has redesigned the downloads interface that adds a new download icon to the toolbar. The new download icon sites on the toolbar and UI look similar to the new Microsoft Edge and Firefox web browsers.
After enabling a specific flag on Chrome Canary, you will find a new icon with the tooltip 'Downloads' in the toolbar. The icon sits in the toolbar, and it displays the recent downloads. You also get the option to view all downloads on the Chrome://downloads page.
Add Download Button to Chrome's Toolbar
Hence, if you want to enable the new Downloads icon in Chrome's toolbar, you read the right guide. In this article, we will share a step-by-step guide on adding a download button to the Chrome toolbar in easy steps. Let's get started.
Important: The feature is right now under testing, and it's only available in the latest Chrome Canary web browser. Hence, you need to use the Chrome Canary web browser to enable the new download icon.
1. First, visit this webpage and download & install the latest Chrome Canary browser on your system.
2. Once done, open Chrome Canary on your device. On the address bar, type in chrome://flags and hit the Enter button.
3. Now, on the Chrome Experiments page, search for Enable Download Bubble
4. Find the Enable Download Bubble flag, and select Enabled from the drop-down menu.
5. Once done, scroll down to the bottom and click on the Relaunch button.
6. After the restart, you will find a new download icon in the toolbar.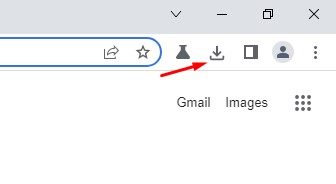 7. click on the Download icon to view all your recent downloads.
8. If you wish to jump to the Downloads page, click on the Show all downloads option as shown below.
That's it! You are done. You can add a download button to the Chrome toolbar in easy steps.
So, this guide is all about how to add a download button to the Chrome toolbar in easy steps. I hope this article helped you! Please share it with your friends also. If you have any doubts about this, let us know in the comment box below.