Since nothing is private and fully secure in this internet world, we have been recommended to use VPN and adblocker apps. However, can VPN and adblockers alone can make us fully secure? The simple answer is 'No'.
We need to avoid many things while we browse the web. Tech companies now use web trackers to track your browsing activities. After collecting your browsing activity, it pushes you relevant ads.
Just like the web trackers, there are many other things that we can't avoid without using a private web browser. Private or anonymous web browsers come with many features that can protect your online identity.
So, in this article, we will discuss one of the best, fast, and secure web browsers for Windows, known as Comodo IceDragon Internet Browser.
What is Comodo IceDragon Browser?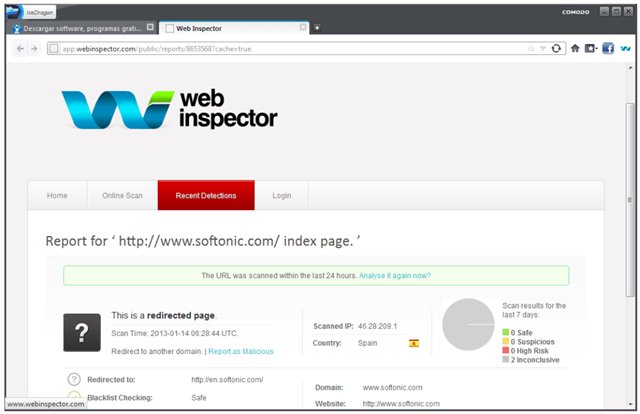 Comodo IceDragon is basically a web browser that's fast, secure, and feature-rich. The web browser is based on Firefox and offers you many exciting features. Since it's based on Firefox, it's also light on PC resources.
Since IceDragon was developed by a leading security company, Comodo, it offers few malware scanning features. Instead, Comodo IceDragon automatically scans web pages for malware right from the browser.
Also, Comodo IceDragon brings a free secure DNS server for the users. The free secure DNS of Comodo loads web pages at a faster speed and blocks many web trackers and malicious files on the internet.
Features of Comodo IceDragon
Now that you know Comodo IceDragon, you might want to know its features. Below, we have highlighted some of the best features of Comodo IceDragon. Let's check out.
Free
Regardless of whether you are using Comodo Antivirus free or premium version, you can use the Comodo IceDragon browser for free. You don't need to create an account or sign up with any service to use this browser.
SiteInspector Malware Scanning
Comodo IceDragon offers SiteInspector's link scanning feature that allows you to check whether a web page is malicious or not. It tells you even before you click on any site. You can also manually scan web pages that look suspicious to you.
Free Secure DNS
If you use the Comodo IceDragon browser to surf the web, you can also use Comodo's Domain Name System servers, free of charge. The free secure DNS service blocks malicious web pages, blocks ads & trackers, and increases page load speed.
Privacy Options
The latest version of the IceDragon browser also features several tweaks to the core Firefox build to improve security and performance. In addition, you also get access to many privacy options.
Attractive User-Interface
Well, the interface of IceDragon doesn't just look good; it's the result of thousands of hours of careful usability testing. As a result, the web browser has a clean interface that puts everything you need in a clear view.
These are some of the great features of Comodo IceDragon. It has more features that you can explore while using this on your PC.
Download Comodo IceDragon Latest Version for PC
Now that you are fully aware of Comodo IceDragon, you might want to download & install the program on your PC. Please note that Comodo IceDragon is a free browser; hence it can be downloaded directly from its official website.
If you want to install Comodo IceDragon on multiple systems, it's best to use the Comodo IceDragon offline installer. This is because the offline installation file of IceDragon doesn't need an active internet connection during the installation process.
Below we have shared the latest version of Comodo IceDragon that you can download for free. The files shared below are free from virus/malware and is entirely safe to download and use. So, let's get to the download links.
How to Install Comodo IceDragon on PC?
Installing Comodo IceDragon is easy, especially on Windows 10 operating system. First of all, download the Comodo IceDragon offline installation file we shared above.
Once downloaded, run the Comodo IceDragon installer file and follow the on-screen instructions to complete the installation. Once installed, you can run it on your system and enjoy the browsing experience.
Comodo IceDragon is indeed a great web browser for privacy-focused users. I hope this article helped you! Please share it with your friends also. If you have any doubts related to this, let us know in the comment box below.