The Chrome browser received praise when it was first introduced in 2008, and its impact on browser technology was immediate. At that time, the Chrome browser offered better page loading speed, better features, UI, and more.
However, in 2021, things have changed. Now we have lots of web browsers that can compete with Google Chrome. Although Google Chrome is still the most used web browser, it loses its spark due to the competitive marketplace.
These days, Google Chrome alternatives like Firefox, Edge browser, etc., offer better features while consuming fewer resources. In this article, we will talk about the Firefox Developer Edition web browser.
What is Firefox Developer Edition?
Firefox Developer Edition is basically a Firefox web browser that includes a set of tools to benefit web developers. If you already use the Firefox browser but want to try the experimental features, you need to use Firefox Developer Edition.
Guess what? The developer edition of the Firefox browser is 12 weeks ahead of the regular version of Firefox. Firefox Developer Edition also adds support for the latest additions to web standards.
One can use Firefox Developer Edition to test out new features and update sites to take advantage of them in advance. Another thing to note here is that the Developer Edition uses a new profile, which can be faster than your old profile.
Features of Firefox Developer Edition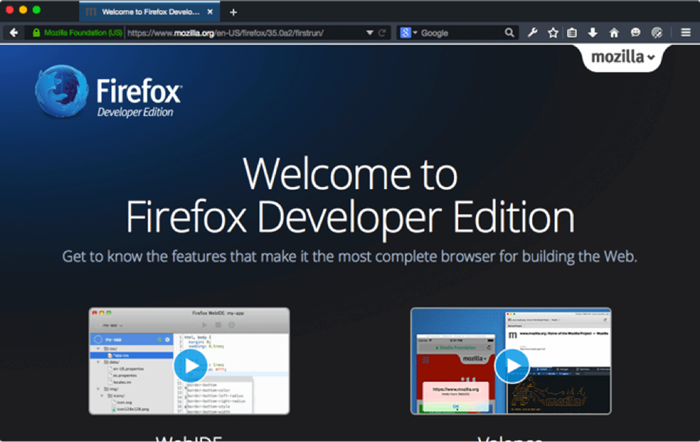 Firefox Developer Edition is a web browser that's specially designed for developers. With Firefox Developer Edition, you get the latest features, fast performance, and the development tools you need to build for the open web.
Firefox Developer Edition has all the latest developer tools in beta. Also, you will get access to the experimental features of the web browser like the multi-line console editor, WebSocket inspector, and more.
The latest version of Firefox Developer Edition also has lots of new tools like an inactive CSS marker that grays out CSS declarations that don't have an effect on the page. Similarly, you get Master CSS Grid, Fonts Panel, JavaScript debugger, and more.
Since it's a web browser designed for developers, you will mostly find tools for developers. If you are a regular user, you just get the benefit of testing the experimental features.
Another thing to note here is that Firefox Developer Edition includes more tools than any other web browser. You have the option to try Google Chrome Dev, Microsoft Edge Dev, etc., but Firefox Developer Edition offers more tools.
Download Firefox Developer Edition Latest Version
Now that you are fully aware of Firefox Developer Edition, you might want to download & install the web browser on your device.
Please note that Firefox Developer Edition is available for free; hence, it can be downloaded from the official Mozilla website. However, if you want to install Firefox Developer Edition on multiple systems, it's best to use the Firefox Developer Edition offline installer.
Below, we have shared the latest version of Firefox Developer Edition. The file shared below is free from virus/malware and is entirely safe to download and use. So, let's get to the download links.
How to Install Firefox Developer Edition on PC?
Installing Firefox Developer Edition is pretty easy, especially on the Windows operating system. First of all, download the Firefox Developer Edition installation file that we have shared above.
Once downloaded, you need to run the Firefox Developer Edition and follow the on-screen instructions to complete the installation part. Once installed, you will be able to use the browser on your PC.
After installing, just run the Firefox Developer Edition browser and enjoy the developer tools. You can check the official Mozilla blog to know about the experimental features and how to enable them.
If you want to run the stable build of the Firefox browser, then check out the article . In that article, we discussed the Firefox web browser and its features.
With Firefox Developer Edition, you will get the latest features and development tools. However, the browser might be a little unstable. I hope this article helped you! Please share it with your friends also.