Back in early 2017-2018, Adobe Flash Player was very popular and became a web standard for displaying interactive content in videos, games, and animations on a web browser.
Most web browsers, like Google Chrome, Firefox, Opera, etc., supported flash. But towards the end of 2020, Adobe and all major web browsers ended support for flash player.
This means web browsers have stopped playing the flash contents (SWF). Before its demise, flash games have become immensely popular, and that's the reason users still look for ways to download and play games offline.
So, if you often play Flash Gamest, you may find this guide very helpful. In this article, we will discuss some of the best ways to download Flash games offline. All the methods we have shared are free and don't require any premium purchase. Let's get started.
Flash is No Longer Supported in Chrome & Other Browsers
Yes! You read that right. If you think you can still play Flash games on your web browsers, you are wrong. Today, almost all famous web browsers, including Chrome, Edge, Firefox, etc., ended support for flash player.
The Flash support for major browsers ended in late 2020, but users have still managed to find ways to play the Flash games. However, now no trick works!
Even finding a working site that provides flash games had become a challenge. Even if you find a website hosting flash games, you can't run them on your web browser anymore.
Can You Play Flash Games Offline?
Yes! You can play Flash games offline, but since Flash is no longer supported in Chrome or other popular browser, playing the games offline requires a bit of hard work.
You can play Flash games offline by downloading them on your computer & relying on dedicated Flash tools. Currently, there's no way to play Flash games inside your web browser.
How to Download Flash Games to Play Offline
Since modern web browsers can't run Flash games, you need to look for ways to download those games to play them offline. This way, you can play your favorite classic flash games on your computer without using any web browser.
There are multiple ways to download flash games; the easiest way is to find a website providing the game & using the browser to download it. You won't have to install any extension/addon or take the help of an additional download manager to download Flash games. Here's what you need to do.
Find a website that provides Flash Games
As we have mentioned early in the article, finding a website that provides flash games in 2023 is itself a challenge. You will hardly find a few websites providing the game.
Even the sites that provide flash games aren't often updated & secure. Hence, it becomes important to cross check the site's security & trustability before downloading games on computer.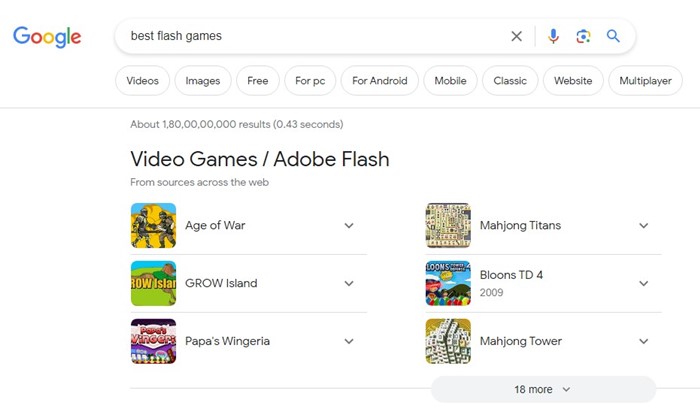 You can search for these terms on Google like best flash games, play flash games online, etc. When Google shows you the search results, review the top websites to download the Flash games for free.
Download Flash Games from the Page's Source
If you don't want any extension or addon reliance, downloading flash games from the page's source is the ultimate option. Downloading flash games from the page's source file is complicated, but we will try to make things easy. Here's how you can get started.
1. Open your favorite web browser. Now visit the website from where you want to download the flash games.
2. Now right click on an empty area on the webpage and select Inspect.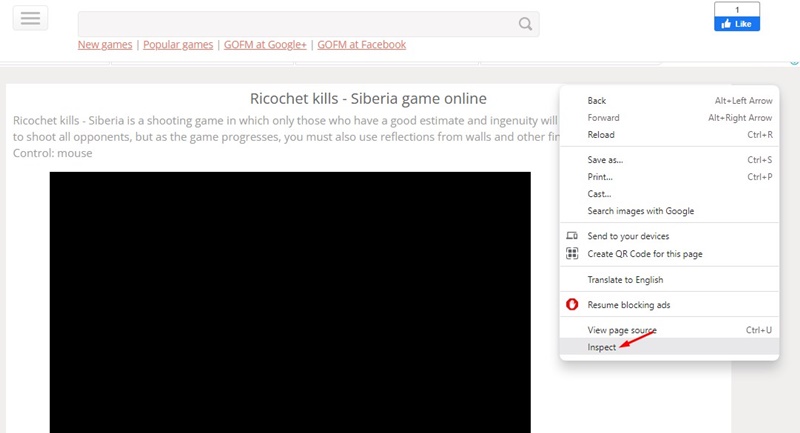 3. This will open the Developer tools. You can switch to the Elements tab, as shown in the screenshot below.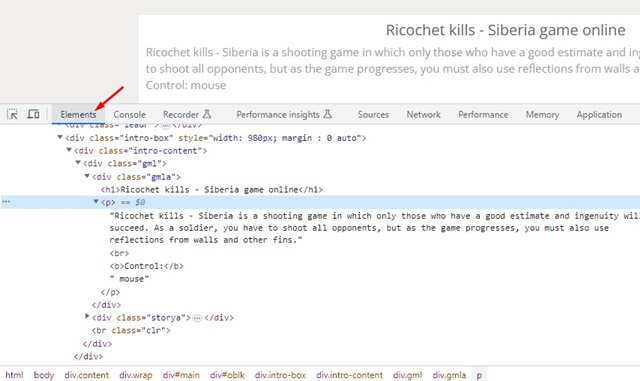 4. Press the CTRL+F button to open the search box. On the search box, type .swf and press Enter.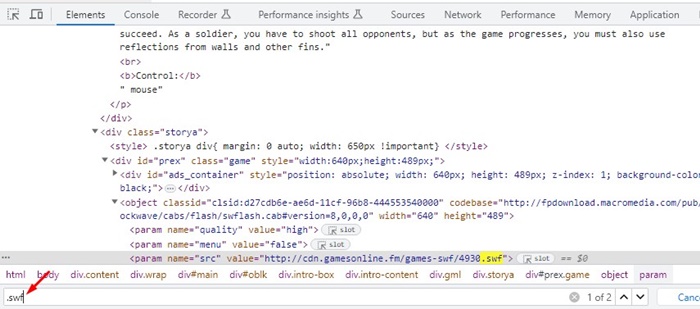 5. The Developer tools will show you all .swf files available on the page.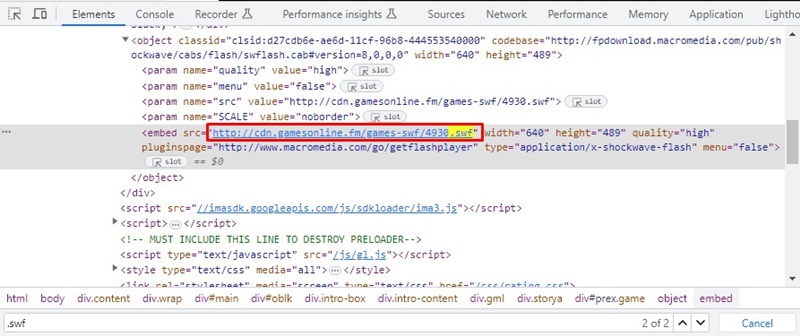 6. The file you will need will have the name of the game followed by the .swf extension. Carefully find the game URL with the .swf extension & select it.
7. Now right-click on the .swf file and select the Save link option. Alternatively, copy the URL and paste it on a new browser tab. This will start downloading the SWF file.

That's it! This is how you can download flash games from the page's source.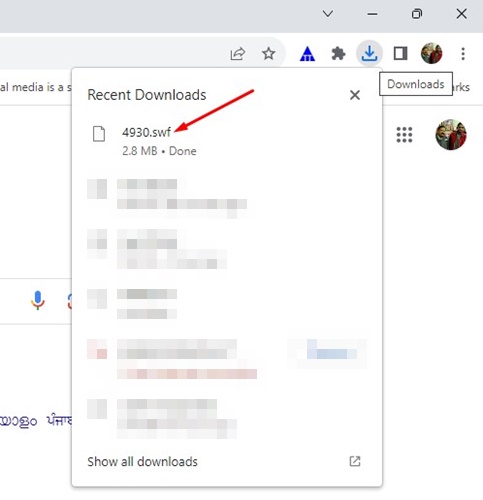 Alternative ways to download flash games?
If you find the above method complicated and want an easier solution for downloading the flash games, you can try tools to download entire website content.
Many tools on the web let you download any page content. Once you download it, extract the file and search the SWF file. You will get the flash game files.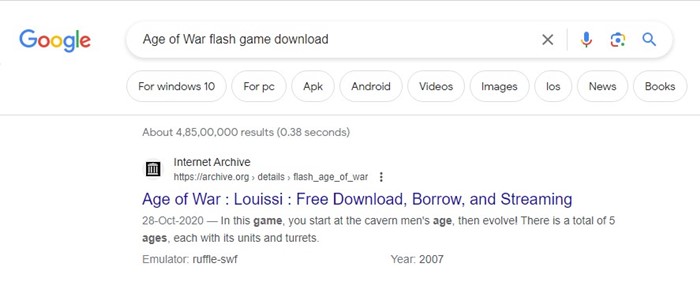 Another best way to download flash games is to take the help of Google search. You can search for the game's title on Google Search and look at the websites hosting the flash game. You can stick with the websites that allow downloading flash games in a single click.
How to Play the Flash Games Locally?
After downloading the Flash Games, you may straight away want to play it locally on your computer. However, since major web browsers dropped the flash support, you must rely on third-party apps to play the downloaded flash games.
Several Media Player Apps for Windows claim to handle flash or SWF files; you can use such media player apps to play the games offline. The media players that support Flash out of the box are Windows Media Player, GOMPlayer, VLC, etc. To play Flash games with VLC, check out this page.
However, playing flash games on a media player has some demerits; you will face issues with the keyboard inputs. So, media players weren't the most reliable solution for playing flash games.
Adobe's local version of Flash Player is another great option for running flash games on PC, but since Adobe discontinued it, you will have to get it from the Internet Archive.
After downloading the Adobe Flash Player 32 from the Internet Archive, you need to install it, open it, and then drag and drop your downloaded SWF files. Avoid downloading older version of Flash Player from untrusted sources.
Download Flash Games using Flashpoint

If you don't know, Flashpoint archive is basically a community effort to preserve games & animations from the web. The project was started in an attempt to preserve the vanishing flash games.
Flashpoint is basically a single package containing millions of Flash games. You can download Flashpoint and extract it to get the flash games.
You can take Flashpoint as a flash game downloader, available in two variants – Ultimate & Infinity. The Flashpoint 11.1 Ultimate variant is 1.48 TB in size, whereas the Flashpoint 12 Infinity requires just 1 to 3 GB of downloads.
The only difference between Ultimate is that you get all Flash games downloaded and are available for playing offline. In contrast, on the Flashpoint Infinity, titles are downloaded when you play them for the first time.
So, this guide is all about downloading flash games to play offline. Downloading flash games is as easy as download flash videos on computer. The methods we have shared are working at the time of writing; we will update more workarounds as soon as we discover them. So, make sure to bookmark this page and keep track of it.