If you have been reading tech news for a while, you might be well aware of the new Edge browser. Microsoft Edge is a new browser released by Microsoft, and it's based on Chromium Project.
The great thing about the new Microsoft Edge browser is that it uses the same Blink engine used by Google Chrome. The Blink engine is also used by other popular web browsers like Opera, Vivaldi, etc.
Microsoft Edge browser comes preinstalled with the latest builds of Windows 10. However, it was missing on the older Windows version, such as Windows 7. Windows 8 and Windows 8.1. If you want to use the new Microsoft Edge on an older version of Windows, you need to use the Microsoft Edge installer.
Also Read: Download Google Chrome Offline Installer
Microsoft Edge Installer (Online)
Microsoft Edge provides an online installer for downloading Microsoft Edge on the older version of Windows 10. The online installer is small but requires an active internet connection to download all available files.
The good thing about Microsoft Edge online installer is that it downloads the Edge browser's up-to-date files on your system. So, you don't need to check for the available updates manually. To download the online installer, check out the download links.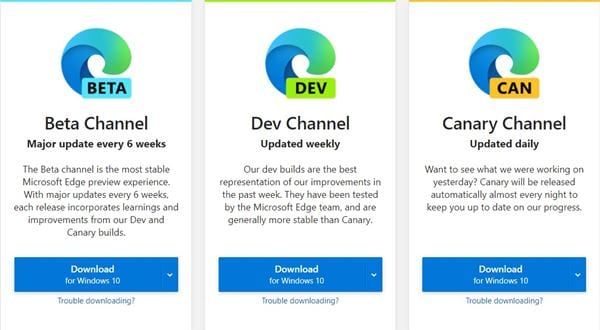 Download Stable Version of Edge
Download Microsoft Edge Preview Builds
Microsoft Edge Offline Installer
If you have multiple computers, then running an online installer would be a waste of time and bandwidth. You can download the offline installer to install the Microsoft Edge browser on multiple computers.
In this way, you will save some time and internet bandwidth. The offline Installer contains a full setup package and doesn't rely on an internet connection. Just run the offline installer on the system you want to install Microsoft Edge.
Download Microsoft Edge Offline Installer
Technical Details of the browser
Application Name: Microsoft Edge
Publisher: Microsoft
Category: Web Browser
Latest Build: 86.0.622.51
Size: Around 90 MB for 32/64 bit.
Supported OS: Windows 7, Windows 8, Windows 10
Installer Type: Offline Installer
From the above link, select the Chanel/version, build, and Platform. Once done, click the 'Download' button, and the offline installer will download. The size of the offline installer varies between 80-90 MB.
After downloading the offline installer, you just need to run the file on your system and follow the on-screen instructions to complete the download.
Microsoft Edge Features
Now that you have planned to use the Microsoft Edge browser, it's the best time to share a list of the best features you will get. Microsoft Edge sells because of its features; here are some of them.
AI-Powered Browser
The new Microsoft Edge browser has built-in AI-powered features that can significantly improve your web browsing experience. You get a sidebar solely dedicated to AI tools. You can access the BING ai chat, Bing Image Creator, etc., straight from the sidebar.
Faster Performance than Chrome
While Microsoft Edge is built with the same technology as Chrome, it has further optimized the core functionality of the web browser to achieve better performance. You will experience world-class performance and speed with this web browser.
Built-in Tools
Microsoft Edge also has built-in tools that can help you make the most of your time online. You can use built-in tools like Collection, Vertical tabs, and tab groups.
Shopping Features
The new Microsoft Edge browser also has a shopping tool that finds the best coupons, deals, and price history without going anywhere else. You can also compare the price and explore cash back options with the Shopping tool of Microsoft Edge.
Accessibility & Learning tools
The web browser also has a set of learning and accessibility tools that can be very helpful. You get tools like Immersive Reader, Read Aloud feature, Web Capture, Web Select, etc. All of these are designed to improve productivity.
Edge Workspace
With the Microsoft Edge browser, you can stay in sync with your team with Workspaces. Edge Workspaces can create a shared set of browser tabs where everyone can view the same website, work on current files or projects, etc.
So, this article is about downloading Microsoft Edge browser offline installer. We have also shared the Microsoft Edge online download links. It's a great web browser that you should try at least once. I hope this article helped you! Please share it with your friends also.