Well, there's no shortage of note-taking apps for desktop and mobile operating systems. If you are using Windows 10, you can utilize the Calendar and Sticky Notes app to take notes and create a to-do list.
Although these two tools offer every feature to manage notes on Windows, users still look for more. For those users, Microsoft introduced a dedicated note-taking app, Microsoft To-Do.
Compared to other note-taking apps for Windows, Microsoft To-Do App is pretty easy to use, and it's one of the great daily planner applications you can have today. Hence, this article will discuss the Microsoft To-Do desktop app.
What is Microsoft To-Do App?
Microsoft To-Do is an app that was introduced as a successor to Wunderlist. Like Wunderlist, Microsoft's new To-Do app provides many work collaboration and task management features.
It's a smart daily planner app that allows you to set yourself up for success with My Day, intelligent and personalized suggestions. The good thing is that Microsoft has made this app available for every device, including both mobile and PC.
With a Microsoft To-Do desktop and mobile app available, it's pretty easy to stay on task all day long. In addition, the notes you create via the To Do mobile app can be accessed on the desktop.
Features of Microsoft To-Do Desktop app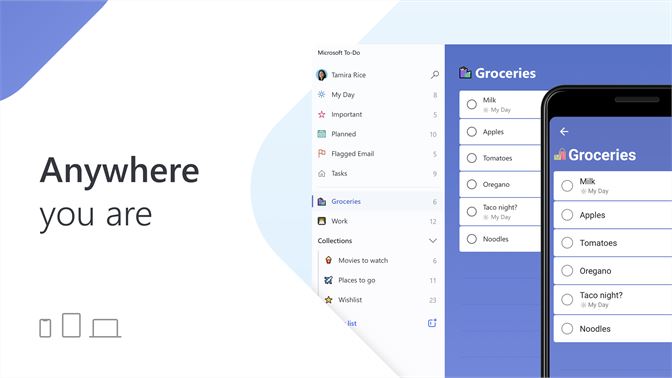 Now that you know Microsoft To-Do, you might be interested to know its features. Below, we have highlighted some of the best parts of the Microsoft To-Do desktop app.
Free
Well, Microsoft To-Do is completely free to download and use. It's even free on mobile devices like Android, iOS, etc. You need a Microsoft Account to get started with this app.
Smart Daily Planner
Since it's a to-do list app, it allows you to plan your everyday life. The app also has a My day feature that shows you personalized suggestions to update your daily or weekly to-do list.
Manage To-Do list online.
Well, Microsoft To-Do is a cross-platform task management app. You can use the desktop or mobile app to access your task list. Regardless of your device, you will be able to manage your to-do list online.
Awesome Sharing Options
Since Microsoft To do is a full-fledged task management app, it provides many unique sharing options. For example, your saved tasks can be shared with your connected friends, family members, and colleagues.
Manage Tasks
With Microsoft To-Do, you can manage tasks easier than before. The desktop app lets you break tasks down into simple steps. For example, you can add due dates, set reminders, update the checklists, set priority levels, etc.
So, these are some of the best features of the Microsoft To-Do app for desktops. It has more features you can explore while using this app on a PC.
Download Microsoft To-Do App for Desktop (Offline Installer)
Now that you are fully aware of Microsoft To-Do, you might be interested in downloading & installing the app on your system.
Please note that To-Do is a free app provided by Microsoft. To fully use the app, you must have an active Microsoft Account.
Microsoft To-Do application is available for direct installation on the Microsoft Store. However, if you don't have access to the Microsoft Store, you can use the offline installation file.
Below, we have shared the latest version of Microsoft To-Do for the offline desktop installer. The file shared below is free from viruses/malware and is completely safe to download.
How to Install Microsoft To Do on a PC?
Well, it's pretty easy to install Microsoft To on a PC. You can either get the program from the Microsoft Store or use our shared offline installer file.
To install Microsoft To Do, just run the installer file on your Windows system. Since it's an offline installer, it doesn't need an active internet connection during the installation. Next, follow the on-screen instructions to complete the installation process.
Once installed, launch the Microsoft To-Do application on your PC and log in with your Microsoft Account. Once logged in, you can create notes, tasks, etc.
So, this is how you can download Microsoft To Do on your desktop. I hope this article helped you! Please share it with your friends also. If you have any doubts about this, let us know in the comment box below.