SoundCloud maybe not be as famous as other audio streaming sites; it's still used by many artists looking to gain exposure. It's an online audio distribution platform and music-sharing website that allows users to upload, promote, and share audio.
So, SoundCloud is a platform that offers an opportunity for new artists to share their music and gain exposure. If you are not an artist, you can take SoundCloud as a music streaming site to stream exciting sounds and songs.
If you are an active SoundCloud user, you might have come across a few songs or music that you want to download. You can download sounds or songs from SoundCloud for offline playback, but you need know-how.
3 Best Ways to Download Music from SoundCloud
Hence, in this article, we will discuss how to download from SoundCloud. The methods require several third-party browser extensions or song downloading websites. Let's get started.
1) Use the Official Download feature of SoundCloud
SoundCloud provides you an official option to download music for offline playback. The download button is usually present beneath the track you want to download from SoundCloud.
However, the catch here is that the artist who has uploaded the music controls who can download their music. So, if you don't find the Download option for music on SoundCloud, the creator/artist hasn't made that content available for download.
To use the built-in download feature of SoundCloud, navigate to the music that you want to download and click on the …More button as shown below.
On the list of options that appears, click on the Download file. You need to sign in with your SoundCloud account to download the file.
2) Download SoundCloud Music via Browser Extensions
Many extensions and add-ons are available for Chrome or Firefox that allow you to download music from SoundCloud.
However, downloading music without the permission of the creator/artist is an illegal thing and might invite you problems. But, if you want to download music made available for download by the creators, you can use SoundCloud extensions.
Open the Chrome or Firefox web store and search for 'SoundCloud Downloader'. You will find many extensions/add-ons that can download music from SoundCloud. You can install the extensions with good reviews and popular download music from Soundcloud.
3) Download using Third-party Downloading websites
You can even rely on third-party websites to download music from SoundCloud for offline playback. As of now, there are many third-party websites available on the web that can download SoundCloud music and provide you with a direct download link.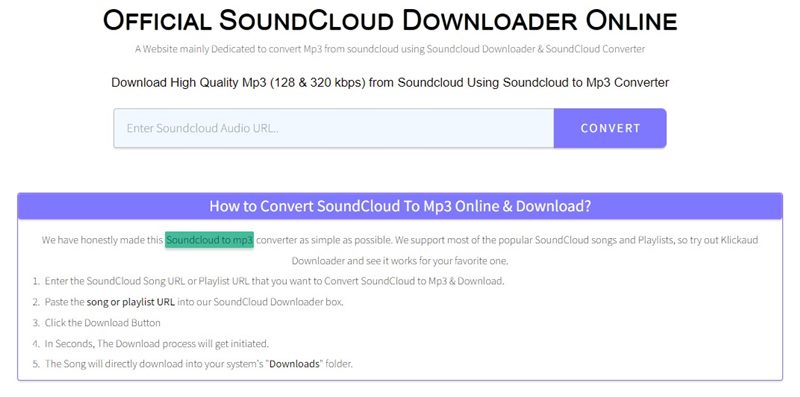 The good thing is that third-party websites don't require you to install anything or create an account. You need to visit such sites, paste the SoundCloud link, and hit the Download button.
However, don't use third-party websites to download the music you are not allowed to. This might harm the revenue and the efforts of the content creator. Also, you can't rule out the security risks while using third-party websites for download purposes.
So, these are some of the best ways to download music from SoundCloud. If you want to be on the safe side, it's best to rely on the official download option provided by the music/song creators.