Well, security suites are the most important thing these days. Without a proper security suite, you can't have peace of mind while browsing the web. These days, the websites you visit track your browsing habits through web trackers.
Security software like Avast Antivirus, Kaspersky Antivirus, etc., can protect your PC from security threats, but they can't protect your PC from the web trackers that track your online activity.
So, if you want to secure your PC from both known and unknown threats fully, you need to use a VPN along with a security suite. So, in this article, we will talk about one of the best VPN services for PC known as Norton Secure VPN.
What is Norton Secure VPN?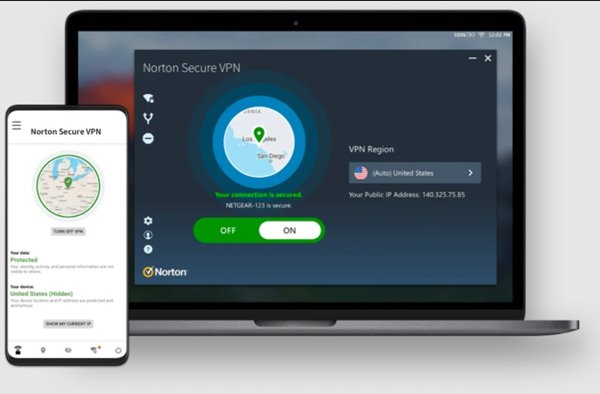 Well, Norton Secure VPN is a premium VPN app available for desktop and mobile devices. Just like every other VPN program for PC, Norton Secure VPN also hides your IP Address.
With Norton Secure VPN, you can easily secure private information like your passwords, bank details, and credit card numbers when using public WiFi on your PC, Mac, or mobile device.
Since it's a premium VPN app, it helps protect your data through an encrypted tunnel that masks your activities and blocks hackers, mobile carriers, and ISPs from accessing your information while on WiFi.
Features of Norton Secure VPN
Now that you are aware of Norton Secure VPN, you might want to know its features. Below, we have highlighted some of the best features of Norton Secure VPN. Let's check out.
Mask IP Address
Like every other VPN apps for Windows, Norton Secure VPN for PC can mask the IP Address. In addition, the premium VPN application provides you with many high-speed servers to choose from.
Online Privacy
Norton Secure VPN is known for its unique online privacy features. It protects your online privacy by shielding your internet data and location from advertisers and cybercriminals.
WiFi Security
The latest version of Norton Secure VPN also provides you with some level of WiFi security. With WiFi security, you can check emails, interact on social media and pay bills using public WiFi without worrying about any middleman.
Split Tunneling
With this feature, you can choose which traffic you want to encrypt, like online banking or accessing your healthcare data. You can choose to secure your sensitive activity with just one click.
Kill Switch
The latest version of Norton Secure VPN also has a Kill Switch. The feature automatically disconnects you from the internet if the VPN connection is lost. This thing is done to ensure your privacy.
So, these are some of the best features of Norton Secure VPN. It has more features that you can explore while using this app on your PC.
Download Norton Secure VPN Latest Version
Now that you are fully aware of Norton Secure VPN, you might want to download and install the program on your PC.
Please note that Norton Secure VPN is not available as a free download. You can't even get the download file without purchasing the product.
The company does provide a 60-day money-back offer which you can claim if you are not satisfied with the product. So, below we have shared the purchase link to Norton Secure VPN.
How to Install Norton Secure VPN on PC?
Well, Norton Secure VPN is pretty easy to install, especially on Windows 10 operating system. First of you need to subscribe to the Norton Secure VPN.
After the subscription, you will get the Norton Secure VPN download file on the Norton My Account page. You will also get the download file on your registered email address.
Just download the Norton Secure VPN and follow the on-screen instructions to complete the installation process. After the installation, run the app and connect to any high-speed servers.
So, this guide is all about downloading Norton Secure VPN for PC. I hope this article helped you! Please share it with your friends also. If you have any doubts related to this, let us know in the comment box below.