PlayStation is the popular console for playing games. As we all know we can play PS3 games on PlayStation console only. But what if you want to play PS3 games on PC? As many of us don't have PlayStation but wants to play games. If you are the one who is searching for the methods to play PS3 games on PC, then you have come to the right place.
We can download an Emulator on PC and then play PS3 games. Just like we do for apps to use it on our PC or Laptop, the same thing we will do for PS3 games also. However, the emulators which we use are different. For PS3 we will download an emulator called RPCS3. It is a PS3 emulator which will let you play PS3 games on your PC. So, let's get started and download the emulator.
About RPCS3 Emulator
People though, playing PS3 games on PC would be impossible, but thanks to the RPCS3 emulator. RPCS3 is an open-source PC emulator for PlayStation 3. With the help of this emulator, you can play your favourite PS3 games on your Windows PC.
Now, let's see how can you download RPCS3 emulator and play PS3 games on PC.
How to Download and Install RPCS3 Emulator?
RPCS3 emulator is available for Windows and Linux. Here we will show you the setup process of Windows PC. However, the setup process is almost same for all the supported OS.
Steps to download RPCS3 emulator:
First of all open a browser on your Windows PC
Visit the official website of RPCS3.
Scroll down and click on download for Windows

A ZIP file will be downloaded
Extract the downloaded ZIP archive
It doesn't need any installation process.
Initial Setup of RPCS3
Once you run the emulator, there will be a pop-up window coming which says, check out the Quickstart guide and learn how to use it. Continue with that and proceed.
Regularly, RPCS3 exchanges information with the official site. So, if you are not updated, then allow the emulator to update its data. RPCS3 emulates the hardware of PlayStation 3 and not the software. So, if you want to update the software, then you have to download the original software which you use on the actual console to update it.
You can download the firmware by following the steps:
First, visit the official website of PlayStation.
At the top-left menu, click on "Help."
There you will see all the firmware for all consoles in PlayStation. Here choose "PS3."
Scroll down "PS3 System Software Update"
Click on Agree and Download now.

Now, go to RPCS3 select "File > Install Firmware"

Select the firmware which you have downloaded from the Playstation's site
Wait for a while for RPCS3 to install all the important files.
Once the process is completed, the emulator will inform you.
More Configurations
RPCS3 emulator supports both the games based on digitally-downloaded games in PKG files and disc-based games in ISO or uncompressed-folder format.
So, if you want to run a game in PKG format, then follow the steps given below:
First, install the PKG format game by selecting "file."
Then click on install .pkg
A list of RPCS3 game list will appear.
From the list, you can launch the game with a double click.
Disc-based games
Boot the disc-based games directly from the "Boot Game". And then choose the ISO or folder. It also needs installation, but you can do it through the emulated PlayStation3 interface.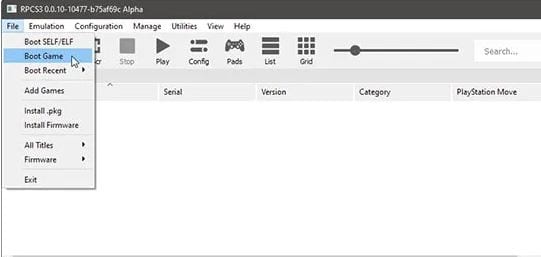 Booting a game for the first time, the RPCS3 emulator will compile a few more files which it will run. You have to do this process once per game.
Next, to configure the controls of the emulator, click on Pads. You can also use keyboard input, but it will be better if you use the controller to play games.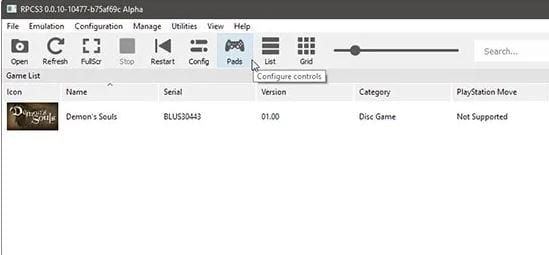 At the top left menu, click on "Handlers" and select "DualShock 3" or "DualShock 4" and connect the controller to the PC. Other controllers like Xbox and "XInput" are also supported.
With the controller which you have connected, check out if it's detected or not.
At last, click on your game and start playing.
So, this is how you can play PS3 games on your PC with the help of RPCS3 emulator.