DuckDuckGo, a privacy-focused search engine, has released a tool that offers protection from third-party trackers on Android. The tool is called App Tracking Protection, which is similar to Apple's App Tracking Transparency feature.
This new tool is available for Android smartphones; it will block third-party trackers like Google and Facebook from plotting your online activities.
As we said, this tool is similar to Apple's App tracking feature where it gives you a choice to disable the trackers. While this tool blocks the trackers.
DuckDuckGo Launches Privacy Tool Like Apple's App Tracking Transparency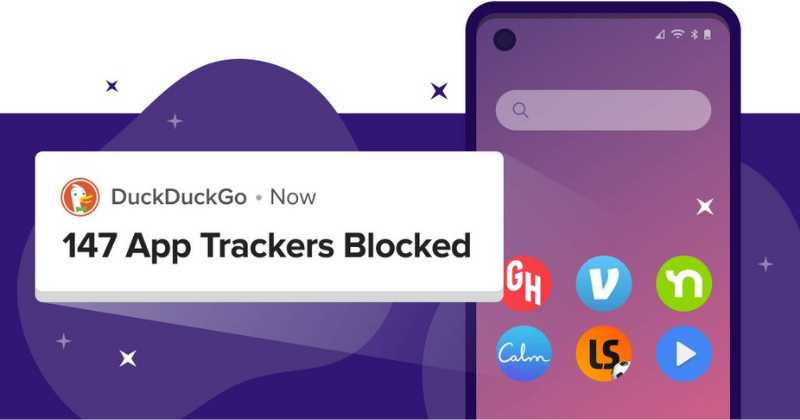 Wired was the first to spot the tool. App Tracking Protection is an in-built tool in the DuckDuckGo privacy browser app.
Though the tool is a part of the browser, it works on all the apps. It works in the background and recognizes when the app send's the data to any third-party tracker; it immediately blocks it.
The company announced the App Tracking Protection tool in the official blog post. According to the company, a report by AppCensus says, 96% of free Android apps have hidden third-party trackers. From which most of the apps send users' data to Google, few of them send data to Facebook.
How Does the App Tracking Protection Tool Works on Android?
The new app tracking tool works on the devices and websites that you visit on the browser app.
However, you need to enable the service from the settings; after that, DuckDuckGo will start tracking apps and detect whether they are sending data to third-party tracking companies or not. If any app tries to send your data, this tool will prevent them from doing that.
You can also see a detailed, real-time report of the working tool. It shows which trackers are blocked and to which networks they were trying to send the data. Also, if your system notifications are turned on for the DuckDuckGo app, then you will get the tracking summary in your notifications.
The App Tracking Protection tool is currently in the beta phase. However, you can access the feature via DuckDuckGo's Settings by joining the private waitlist.