Well, WhatsApp is definitely the best instant messaging app available for Android and iOS. Compared to other instant messaging apps, WhatsApp offers users more features and options. If you have been reading tech news regularly, then you might know about the recent WhatsApp Update.
Recently, WhatsApp received a big update that introduced several useful features like 'WhatsApp Pay'. You can check out our article – to know everything about the new Payment system.
Along with WhatsApp Pay, WhatsApp has also introduced a feature known as 'Disappearing Messages'. As you might have guessed, the new feature allows you to send messages to your friends that will self-destruct after seven days.
Also Read: How to Setup & Use WhatsApp Pay
Enable & Use Disappearing Messages On WhatsApp
The new feature is now available for all WhatsApp users on Android, iOS, and the web as well. So, in this article, we are going to share a detailed guide on how to enable and use the Disappearing Messages on WhatsApp. Let's check out.
Important: The messages sent or received before disappearing messages is enabled won't be affected. The features work for both one-on-one chats and group chats.
Step 1. First of all, head to the Google Play Store and update the WhatsApp app.
Step 2. Once done, open the WhatsApp app on your Android.
Step 3. On WhatsApp, open the profile of the person you want to turn on the feature. Now, tap on the 'Profile picture'
Step 4. Now scroll down and find the option 'Disappearing Messages'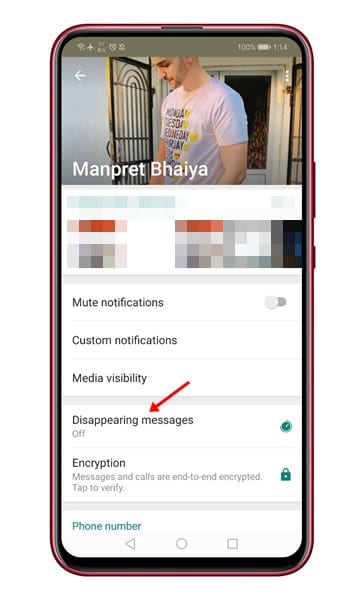 Step 5. Simply tap on the 'Disappearing Messages' options and tap on the 'On' option to enable the feature.
Step 6. To disable the feature, you need to select the 'Off' option in Step no. 5.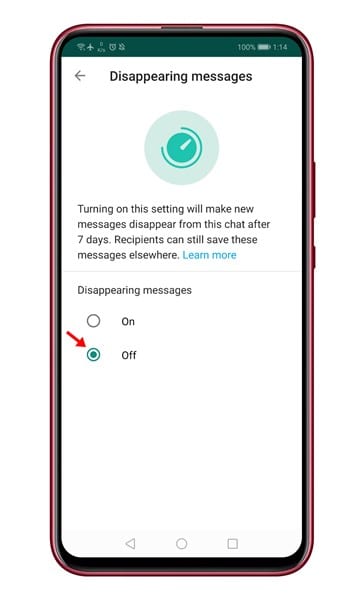 That's it! You are done. This is how you can enable and use Disappearing messages on WhatsApp.
Note: If you are unable to see the Disappearing Messages feature on WhatsApp, then you need to wait for few more days. Also, make sure to install the WhatsApp update from the play store.
So, this article is all about how to send disappearing messages on WhatsApp. I hope this article helped you! Please share it with your friends also. If you have any doubts related to this, let us know in the comment box below.