Well, if you are using Google Chrome for a while, then you might know that the Duet Menu is probably something that Google revamps every now and then. In case, if you don't know, Duet Menu is basically a menu bar that's located at the bottom of the screen.
The duet Menu brings all-important features like tab switcher, URL bar, Home button, etc to the bottom of the screen. By default, the duet menu is disabled because it isn't stable yet.
The good thing is that Android users can easily enable the Duet menu by making some changes to the Chrome flags. Recently, Chrome introduced lots of changes to the Duet menu. So, in this article, we are going to share a working method to test a new duet menu on Chrome for Android.
How To Enable The New Duet Menu Of Chrome Browser On Android
The new Chrome duet menu shortens the number of items that appears in the menu bar. So, let's check out how to test the new duet menu of the Google Chrome browser on Android 2020.
Step 1. First of all, update your chrome browser from the Google Play Store.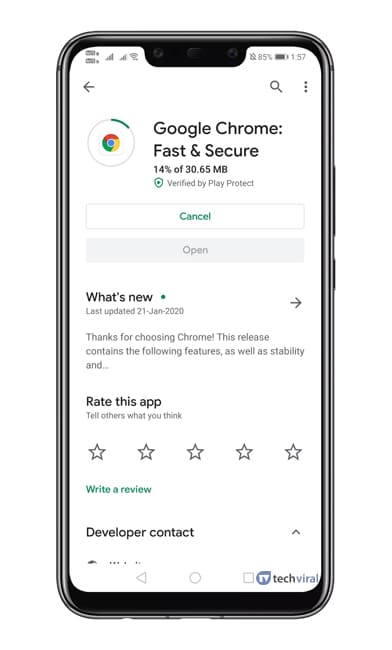 Step 2. Once done, open the app.
Step 3. Next, type in 'Chrome://flags' on the URL bar.
Step 4. On the Chrome Flags page, type in 'chrome:duet' or 'duet'
Step 5. You need to select 'Enabled' from the drop-down list of Chrome duet.
Step 6. Now tap on the 'Relaunch Now' button to make the changes.
Step 7. Upon the restart, you will see the new duet bar.
Step 8. If you wish to disable the chrome duet, then select 'Disabled' from the drop-down menu and restart the browser.
That's it! You are done. This is how you can enable and disable the new duet menu of the Google Chrome browser on Android.
So, this article is all about how to test a new duet menu on Android. I hope this article helped you! Share it with your friends also. If you have any doubts related to this, let us know in the comment box below.