WhatsApp generally asks you to set the chat backup time once you set up your account. You can set WhatsApp to create a backup of your chats automatically in a set time frame.
Although it's a great feature, several investigative agencies use cloud backups to decrypt and retrieve the messages. Since WhatsApp knows it's a loophole that many can exploit, they have introduced an end-to-end encrypted chat backup option.
What is End-to-End Encrypted Chat Backup?
We all know that WhatsApp messages are end-to-end encrypted. That means no one other than the sender and recipient can read the messages.
However, when you use the cloud backup option, the created backup file is not encrypted by default. So, if anyone gets access to those backups, they can read the messages.
However, with the new feature, even the cloud backups will be end-to-end encrypted. Even if someone gets access to the cloud backups, they won't be able to read the messages.
Also read: How to Install WhatsApp Beta UWP App on Windows 10/11
Steps to Enable End-to-End Encrypted WhatsApp Chat Backups
Now that you are fully aware of the feature, you might want to know its features. Below, we have shared a step-by-step guide on enabling end-to-end encrypted chat backups on Android. Let's check out.
1. First of all, open WhatsApp on your Android. Next, tap on the three dots as shown below.
2. From the list of options, tap on the Settings.
3. On the Settings page, tap on the Chats option.
4. Under the Chats option, tap on the Chat backup.
5. On the next page, tap on the End-to-end encrypted backup option as shown below.
6. On the next screen, tap on the Turn on button.
7. Now, you will be asked to create a password for your backups.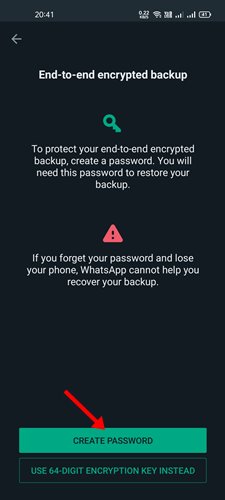 8. After creating the password, tap on the create button.
That's it! You are done. This will enable End-to-end encryption on WhatsApp Chat Backups.
So, this guide is all about how to enable end-to-end encrypted chat backups on WhatsApp. I hope this article helped you! Please share it with your friends also. If you have any doubts related to this, let us know in the comment box below.