If you are a blogger or rely on the internet for every task, you might know about Reddit. Reddit is a popular website called 'The front page of the Internet'. The site has been around for a while and is viral.
It's also one of the most visited websites where you can follow topics of similar interest or discuss and curate the web's best content. On Reddit, you will find a community to talk with, find a person who shares the same views, and what's not.
The site covers popular categories like iOS, Windows, Linux, Fun, Entertainment, AI, memes, etc. One can access Reddit via desktop/laptop or mobile devices. Since Reddit is a platform that deals with web content, it has a dark mode option.
The Dark mode option in Reddit reduces eye strain and improves your reading experience in low-light conditions, especially at night. Turning on the Dark mode in Reddit also has other benefits; it will help you save some battery life, consume less internet data, and more.
Enable Dark Mode in Reddit (PC/Mobile)
So, if you are an active Reddit user, we have bought you a step-by-step guide on enabling dark mode in Reddit on PC and mobile. But first, let's check out how to enable Reddit Dark Mode.
1. Enable Reddit Dark Mode on the PC
Well, enabling dark mode on the Reddit website is pretty easy; you must follow some of the simple steps below. Here's how to enable Night Mode on the Reddit website.
1. First, open the Reddit website from your favorite web browser.
2. Now log in with your Reddit account.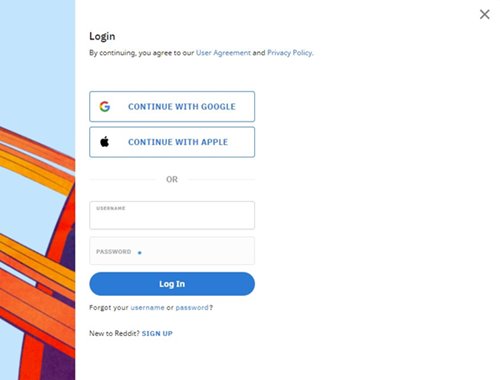 3. Now click on the drop-down arrow behind your username. See the screenshot below for more details.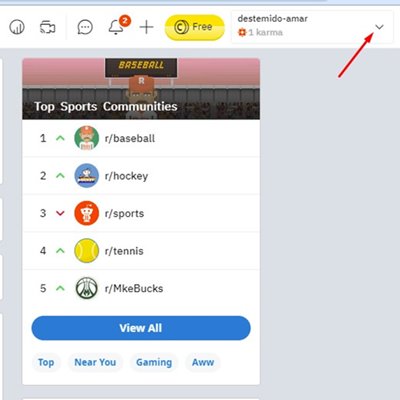 4. Under the View options, tap the Dark Mode toggle button to activate the dark mode.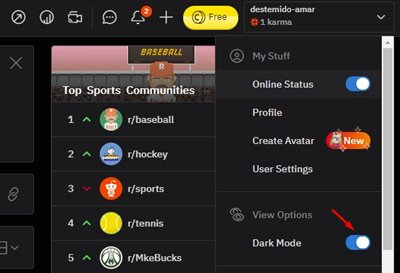 That's it! You are done. This is how to enable Dark Mode on the Reddit website.
2. Enable Dark Mode on Reddit Mobile
Well, the Reddit app is available for Android and iOS. So, if you use the mobile app to access Reddit content, you can also enable dark mode on it. Here's how to enable dark mode on the Reddit app.
1. First of all, open the Reddit app on your device.
2. Next, tap on the Profile picture as shown below.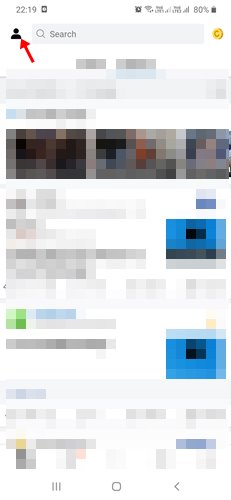 3. From the list of options, tap on Settings.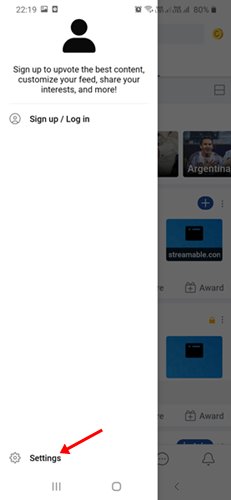 4. On the next page, find the 'Dark Mode' section and enable the toggle for 'Dark Mode'. If you are unable to do so, then turn on the dark mode on your system, and then select 'Follow OS Setting'. This would enable the dark mode.
5. Under the Dark Theme, you can select 'Midnight (AMOLED)', which is even darker.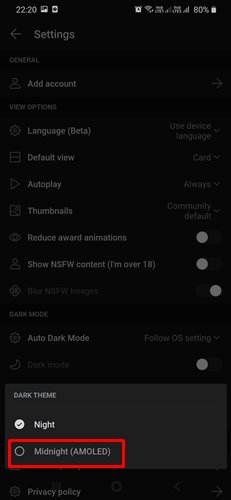 That's it! You are done. If you use Reddit for iOS, you must implement the same steps to enable dark mode.
FAQs
Below, we have answered some of the most-asked questions related to Reddit Dark Mode. Check out the FAQs section to find answers to your questions.
---
How to Enable Old Reddit dark mode?
Enabling dark mode could be challenging if you use the old Reddit layout. To enable dark mode in Old Reddit, you must use third-party dark/night mode apps.
Night Mode apps are available for both Android and iOS. You can also install chrome/extensions on your desktop browser to enable old Reddit dark mode.
---
Why can't I turn on dark mode on Reddit?
If you can't turn on dark mode on Reddit mobile app, chances are that the app is set to follow the system's color theme, and your phone is using the light theme.
So, you need to manually select and enable the dark mode on Reddit app by following the steps we have shared above.
---
Reddit dark mode Chrome
Well, the steps we have shared for enabling the dark mode on Chrome. However, if you are unable to enable the Dark mode on your Chrome browser, you can install and use the dark/night mode Chrome extensions.
---
Is it possible to Change the Reddit Theme?
Not only the theme but if you use Reddit mobile app, you can change the theme and the app icon. In one of our articles, we have shared simple steps to change the Reddit theme and app icons.
---
So, this guide is about enabling Reddit's Dark mode on PC/Mobile. I hope this article helped you! Please share it with your friends also. If you have any doubts, let us know in the comment box below.