It's of no doubt that Android is right now the most popular mobile operating system. The mobile operating system is right now used by millions of users. Compared to every other mobile operating system, Android provides users far more customization options. Not only customization, but the app available is also quite high on Android.
Just take a brief look at the Google Play Store, you will find apps and games for every different purpose. If we talk about the games, on Techviral, we have shared lots of articles on Android gaming like best car racing games, best bike racing games, city-building games, etc.
10 Best Endless Runner Games For Android in 2020
Today, we are going to cover another popular gaming category – 'Endless Runner'. For those who don't know, endless runner games don't end. You continuously run through the game until you were hit by an obstacle or achieved the highest score. So, in this article, we are going to share a list of best endless runner games for Android in 2020.
It is an endless snowboarding odyssey game on the list which you can play right now. It's basically a 2D side-scrolling runner game where you need to travel down mountains, make huge jumps, and avoid obstacles. While doing all these things, you also need to collect items. The gameplay is quite addictive and it's definitely the best endless runner game which you can play right now.
Well, if you love to play endless runner games on your Android smartphone and have already played Temple Run, then Bendy in Nightmare Run might be the best pick for you. The game is pretty much similar to Temple Run and Subway surfer where you need to avoid obstacles while collecting points to level up your character.
Itis one of the best zombie based endless runner game that you can play on your Android smartphone. In this game, you need to run through the zombie horde without getting hit by any zombies. The visuals of the game are amazing and it has lots of weapons. What's more, is that the game has more than 7 action-packed chapters consisting of 60 stages. Upon completing the missions, you earn rewards that can be used to upgrade weapons.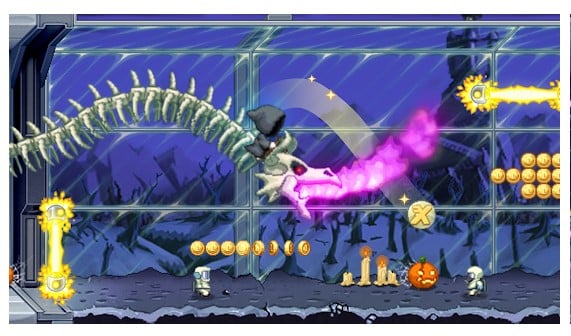 It's a 2D side-scrolling infinite runner game where you play as a guy with a jetpack. Just like every other endless runner games, in Jetpack Joyride, you need to complete missions while avoiding obstacles. While completing missions, you need to collect coins, upgrades, power-ups, etc.
Well, Subway Surfers is one of the best and top-rated endless runner games on the list. The game is much similar to the Temple Run and in this game you play as a boy who is chased down by the cops. The ultimate goal of the player is to dodge obstacles, use power-ups, and avoid being hit. There are lots of action in these games like jumping on and off of trains, dodging the boards, etc.
Although not much popular, it's one of the best endless runner game to have on Android. The game is pretty hard, but it's addictive as well. In this game, you need to run through the beautiful and abstract world without being hit by any obstacle. So, Glitch Dash is another best Android endless runner game in 2020 that you can consider.
Well, Alto's Odyssey is the follow-up to the Alto's adventure game that had been listed above. Both Alto's Odyssey and Alto's Adventure are pretty same, but in Alto's Odyssey, there's dynamic weather, unlockable character, and a zen mode. So, Alto's Odyssey is a newer game that is pretty addictive as well.
It is not exactly an endless runner game, but it closely follows its concept. In this game, you need to guide a chicken across the busy roads, streams, and other obstacles. What's interesting is that Crossy Road also features local and online multiplayer as well as Android TV Support.
It's a relatively new Android endless runner game available on the Google Play Store. In this game, you need to run from howling hyenas, climb mountains, avoid avalanches, jump and free-fall from waterfalls, etc. It's a 4D runner game and it has 4 different modes. Not only that, but the game also has every character of the Jumanji series and each of them have their own special skills.
It is pretty much similar to the Subway surfer game that has been listed above. In this game, you need to start running and never stop. While running, you need to avoid obstacles like traps, pitfalls, collapsing buildings, lava, etc. The game is pretty much popular and it can be played without an internet connection.
So, these are the 10 best endless runner games in 2020 that you can play right now. If you know any other such games, let us know in the comment box below.