We all know very well that the past few months have not been friendly to the social network giant Facebook. However, now according to the latest reports, up to 14 Million Facebook users may have unknowingly posted there private information to the general public.
This Facebook Bug Defaulted 14 Million Users' Private Posts To General Public
The past few months have not been friendly to Facebook. The scandals have been successive and the problems with the data of the users appear in the flurry. The company has sought to minimize these situations with relative success.
Following the recent problems, a new one appeared, in which several million users had the altered configurations and made publications publicly without knowing it.
It was the social network giant Facebook itself that has now come to the public to reveal its latest problem. According to the company, 14 million users were exposed to a problem that changed their publishing settings and made them public without their consent.
The failure was a change that the social network giant Facebook made in the user settings and started to propose to them that their publications were public and not what was defined. Many did not notice this change, and by the end of May, they were publishing everything globally.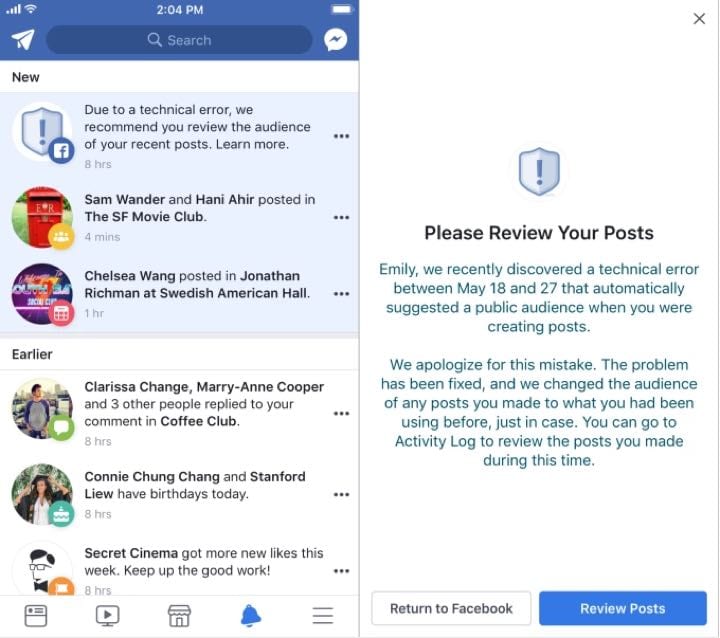 The company is already alerting users who have been exposed to the problem and advising them to review the publications they have made. The idea is to change them if they want to and make them private.
The social network giant Facebook also acknowledged its error and apologized to users for its failure and here's what the social network giant Facebook stated:-
"Recently, we found a bug that automatically suggested publishing publicly when some people created their Facebook postings. We have corrected this problem and, as of today, we are allowing all affected to know and we ask that they review all the publications made during that period. To be clear, this bug did not impact anything people posted before – and they could still choose their audience as they always did. We would like to apologize for this mistake."
The problem ran from May 18 to 27, but the social network giant Facebook, on the 22nd already had a correction to be applied. This took a few days to be propagated and only on 27 the problem was solved.
After all the problems with Cambridge Analytica and even more recently with the sharing of data with smartphone manufacturers, this is another flaw that comes with everything that has gone less well with Facebook.
So, what do you think about this? Simply share all your views and thoughts in the comment section below.