Facebook has rolled out end-to-end encryption for voice and video calls on Messenger. The company has made an announcement via the blog post and also brought some new controls for the disappearing messages. 
Both Whatsapp and Messenger already have end-to-end encryption on texts messages. However, now the social media giant is adding the feature to audio and video calls of messaging services.
Messenger Updates End-to-End Encrypted Chats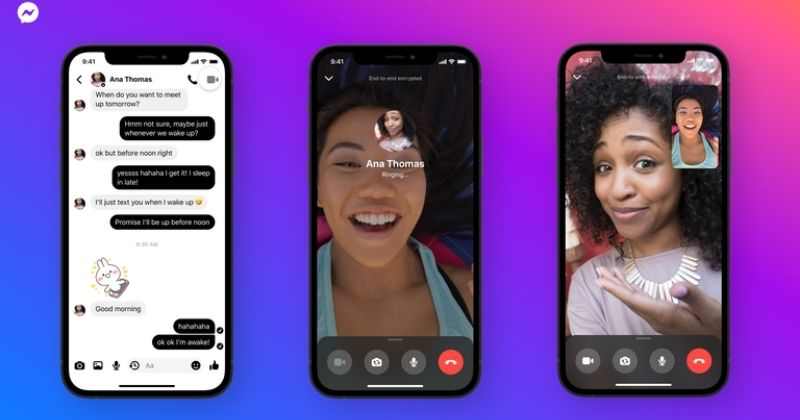 In 2016, Facebook Messenger got end-to-end encryption but was available only for text messages and not for calls. At that time, Facebook added an option of "secret conversation," now, this mode also supports calling.
According to the company, Messenger now sees more than 150 million video calls a day, so they are adding this feature as the calls on messenger are growing.
Explaining more about the encryption, Menlo Park, a California-based social media giant, said nobody could see or listen to what's sent or said, not even Facebook.
In a blogpost, Menio Park said,
"The content of your messages and calls in an end-to-end encrypted conversation is protected from the moment it leaves your device to the moment it reaches the receiver's device."
Facebook is also planning to bring end-to-end encryption for a one-on-one conversation on the most popular social media app Instagram.
"We'll also kick off a limited test with adults in certain countries that lets them opt-in to end-to-end encrypted messages and calls for one-on-one conversations on Instagram".
In the coming weeks, Facebook will start testing the security feature for Messenger's group chats also.
On the other side, Facebook has brought new controls for disappearing messages on Messenger. The new changes are, you can now set a timer between 5 seconds and 24 hours. Once you set a timer, the messages will vanish from the receiver's phone.
Apart from this, Facebook is running a limited beta test for other features.