The social network giant Facebook has a new goal: to communicate with our friends through group video calls. For that same reason, Facebook has released a new app through which we can have simultaneous video conversations with our Facebook contacts.
Facebook Just Launched A New Extraordinary Application
The social network giant Facebook is one of the most popular social networks of the moment, Mark Zuckerberg's platform is one of the most used around the world. And this service offers us to share all kinds of moments, captured in photographs, videos, states, among others.
But not only that, we can also perform other actions within the platform, such as playing the various minigames found in it, obtaining weather information or knowing the latest news from the rest of the world.
The social network giant Facebook wants us to spend hours and hours between its services, and of course, if you do not have any of them, you must implement it. Even if it's copying, as it happened with Instagram Stories, that's why a new group video chat app has come to Android that reminds us of an earlier called House party.
Bonfire, the group video chat app of Facebook
A service that takes a few months to available on iOS, however, it has just landed for the Google operating system. It is a group video chat application in which we can chat with our friends in a fast and fun way.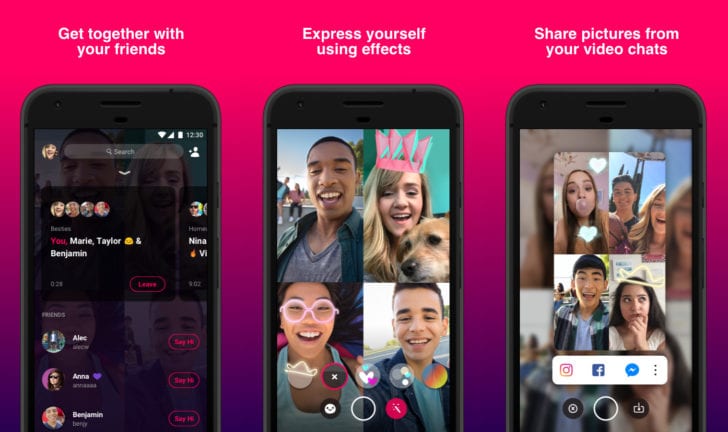 The truth is that it has a certain resemblance to Houseparty, another application with the objective that the younger ones perform video chat in a fun way. Well, Bonfire has come to offer the same service, with different effects and stickers so that our conversations are much more dynamic.
This new application is fully integrated with other Facebook services, such as Facebook Messenger. For example, snapshots taken within video chat can be uploaded directly to Instagram, Messenger or Facebook.
The application is already available on Google Play, but at the moment it is somewhat restricted. Even the launch on iOS was limited to Denmark, so, for now, it is not known if it will reach other countries or not. Hopefully, it ends up landing in other places as well so that we will be able to have fun with our friends.
Click here to download the application for Android.
So, what do you think about this? Simply share your views and thoughts in the comment section below.