Facebook is indeed a great social networking site. It's a site that connects you with your friends, family members, relatives, and every other person you can think of. Over the years, Facebook improved and now offers you various forms of communication.
On Facebook, you can exchange texts, make voice and video calls, post on your friend's wall, reply in the comments, and more. Videos are also a significant part of Facebook, and many videos are shared on the site.
According to official data, Facebook is the second biggest platform for content creation and consumption after YouTube. You can find everything from music, memes, videos, and GIFs here. If you are an active Facebook user, you may sometimes find a video you want to download while you scroll through the news feed.
10 Best Facebook Video Downloaders
However, the problem is that Facebook doesn't offer any option to download videos. Yes, you can save videos into playlists, but you can't download them. You must rely on third-party video downloader sites or apps to download Facebook videos.
Below, we have shared some of the best free Facebook Video downloaders you can use today. The list will include sites and apps for downloading Facebook videos. Let's get started.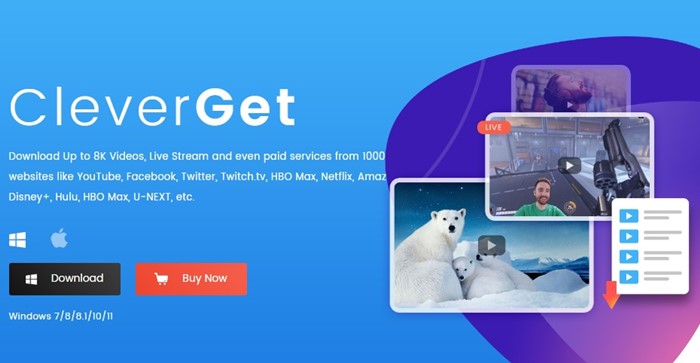 CleverGet Video Downloader, formerly known as Leawo Video Downloader, is one of the best video downloaders available for Mac and Windows.
With CleverGet Video Downloader, you can download music videos, TV Shows, and even live-streaming videos from 1000+ websites.
The video downloader for PC supports video downloading from online sources such as YouTube, Instagram, Yahoo, MyVideo, Dailymotion, and more.
The file downloading is easy; paste the link on CleverGet Video Downloader and click the Download button. The program will fetch the link and download the video faster.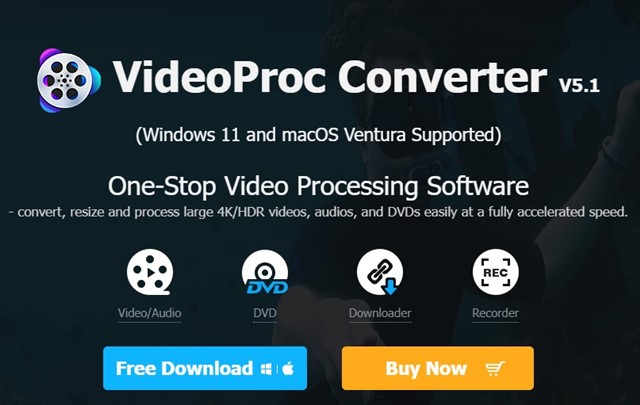 VideoProc is a full-fledged video processing software available for Windows and macOS. You can use VideoProc to convert, resize, and process large 4K/HDR videos, audio, and DVDs.
It also supports video downloading from 1000+ video and audio sites. If we talk about the Facebook video downloader, VideoProc can download videos from Facebook, short videos, and more.
Other than that, VideoProc also supports batch video downloading and recording live streams. Overall, VideoProc is a great Facebook video downloader you should take advantage of.

If you are searching for a video and music downloader for Windows, give Allavsoft Video and Music Downloader a try. It's a premium video downloader for PC that can download videos from 1000+ websites.
It also supports a wide range of music sites for downloading music. It can download Facebook videos in bulk if we talk about Facebook video downloading.
The app supports downloading music files from various music sites such as Spotify, Soundcloud, Deezer, etc.
Besides downloading videos, Allavsoft Video and Music Downloader also provide video conversion options.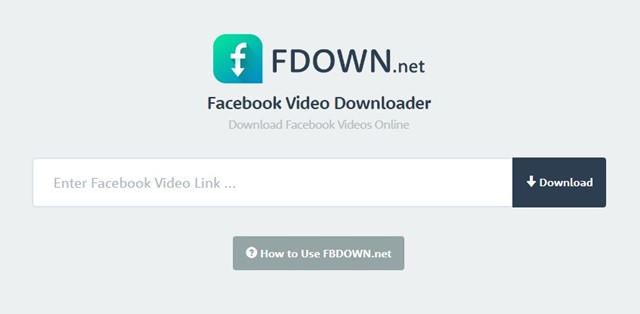 Fdown is a website that lets you download videos from Facebook. The site is free to use, and you don't need to create an account.
Also, you won't be asked to install any Chrome extension to use fdown.net. To download videos from Facebook, you need to copy the Post URL and paste it into the URL field of fdown.net.
Once done, click on the Download button. The site will automatically fetch the video and provide you with download options. However, the site can only select posts that have been set to public.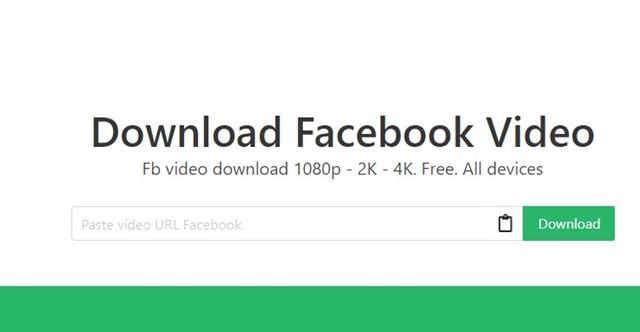 SnapSave is another great Facebook video downloader that can download Facebook videos in multiple resolutions. You can use it to download videos from Facebook in 1080p, 2k, and in 4k.
Since it's a browser-based video downloader, it's fully compatible with all devices. You can use the site on any device with a web browser.
Like the Fdown, SnapSave doesn't ask you to install any extension or create an account. The site is free; you need to copy & paste the FB video link on the download field to get the video downloaded on your device.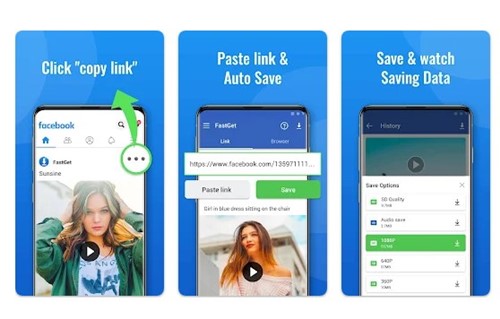 As you might have guessed from its name, Video downloader for Facebook is an Android video download app that allows you to download HD videos and stories from Facebook.
The good thing about a video downloader for Facebook is that it lets you browse videos before downloading from it. You also get a full-featured download manager with this app.
With Video downloader for Facebook, you can download Facebook videos shared by your friends, download videos from newsfeeds, download videos from groups and pages, and more.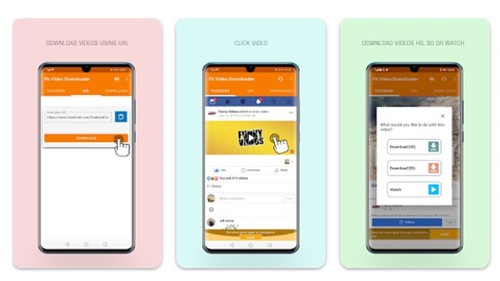 FastVid is another best Facebook video downloader app for Android that's very easy to use and feature-rich. The Android app lets you download videos from Facebook and save them on your device.
You can easily download any Facebook videos with their Link/URL. You don't need to log in to any Facebook account to download the videos.
Besides that, FastVid also offers you a few other features, such as a browser to browse your Facebook account. The browser lets you download videos with just a single tap.
You also get an option to post the Facebook video post link to download it manually. Overall, FastVid is a great video downloader for Facebook for Android.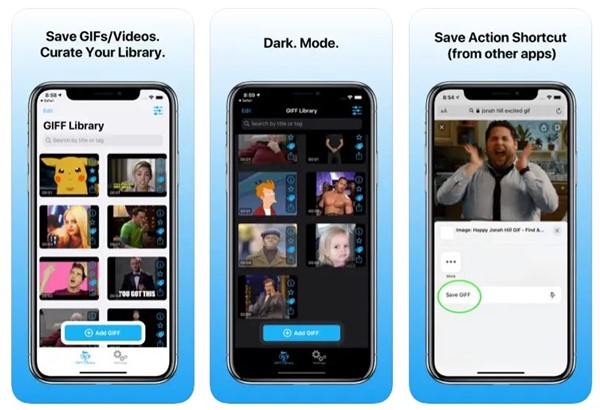 GIFF is not a dedicated Facebook video downloader, but it can still download videos from the social networking platform on your iPhone.
GIFF is an iPhone GIF and Video downloader that works with many apps, including Facebook. It allows you to download gifs and videos from websites and apps.
You can use this app on your iPhone to save Facebook videos for later use, sharing, and viewing. GIFF uses your Photo library on your iPhone to save the media files.
AnySave is a video downloader, but it differs from most other apps in the article. It's an iPhone app that works for all popular social networking sites like Facebook, Instagram, and Twitter.
The iPhone app allows you to save posts that you find interesting. The post could be of anything, an image, video, GIF, or text. It's fully compatible with Facebook, and all saved posts can be viewed later.
However, this app only saves the post. Hence, if the video gets deleted from Facebook, it will also be unavailable on AnySave. There's no option to download the videos on iPhone from this app.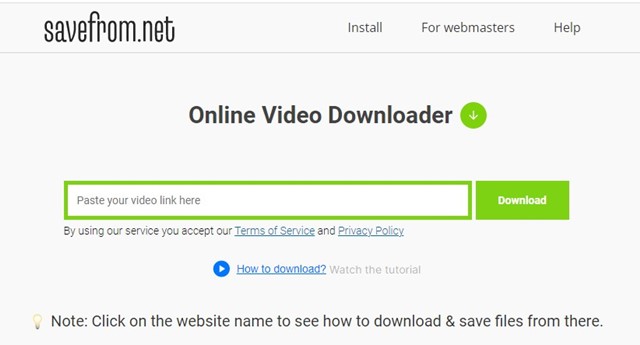 SaveFrom is a popular browser-based video downloader compatible with all major video and audio sites. It also works with YouTube, Twitter, Facebook, Instagram, Dailymotion, and many other sites.
Since SaveFrom is a browser-based tool, you can access it from any device that supports a web browser. To download videos from Facebook, you just need to copy and paste the link into the video field of SaveFrom.
Once done, click on the Download button and choose from the available video quality. The Facebook video will be downloaded on your device in no time.
Also read: How To Download Facebook Videos Without Any Tool
So, these are some of the best free Facebook video downloaders you can use today. Almost all sites listed in the article are free to use and don't require account creation. If you need more help downloading Facebook videos, let us know in the comments below.