Well, Android devices come with GPS connectivity options for location services. Your smartphone tracks your location for various reasons. With location services, you can track travel routes, track lost devices, etc.
Apps also use not only that but GPS functionality to offer you location-based services. Even major companies like Google, Tinder, Facebook, Uber, Swiggy, etc., rely on GPS to provide their services.
There could be multiple reasons why you want to fake your GPS location. For example, maybe you want to check in someplace without going there; or wish to access location-specific content. Whatever the reason, you can easily fake a GPS location on your Android device.
How to Fake a GPS Location on Android
So, in this article, we will share a working method that would help you fake GPS locations on Android devices. To Fake GPS location on Android, we will use an app called 'Fake GPS Location – GPS JoyStick. Here's what you need to do.
1. Install the Fake GPS Location – GPS JoyStick app on your Android.
2. Open the app and accept the privacy & Policy.
3. Now, you will see the main interface of the app.
4. Now scroll down and select the Set Location option. Now tap on the Click here to open the map' option.
5. Now, select the location on the map and place the marker. Once done, tap on the Start button.
6. You need to enable the GPS location now.
7. Once done, you must grant permission to draw over other apps. Grant permission.
8. Now, you need to enable the Mock Location.
9. To enable the mock location, head to the Developer option, then tap Select mock location app. Next, select GPS Joystick as a mock location app.
10. Once done, the app will inform you that the Mock location service is running.
11. To confirm the changes, open Google Maps and check the current location. You should see the new location there.
That's it! This is how you can fake a GPS Location on an Android device.
Other apps you can use to fake GPS location on Android
Like the one we have listed, many other GPS location spoofer apps are available for Android. You can use such apps to fake the GPS on the go. Here are some of the best apps you can use on Android.
Fake GPS Go Location Spoofer is a location changer app that lets you fake the GPS coordinates on the go. You can use this app to overwrite your current proximity to prank your friends.
Fake GPS Go Location Spoofer is a great app, especially if you want to Geotag fake locations on your photos. The app is free and can be downloaded from the Google Play Store.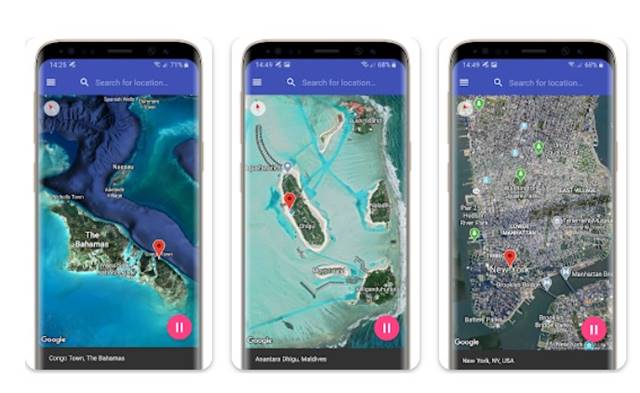 If you are looking for an easy-to-use location spoofer app for Android, you should try Fake GPS Location Professional. The app has a fairly clean user interface and has what you need to spoof your location.
While the app is easy-to-use, you need to enable the developer mode on your Android and make a few changes there to make it work. The setup screen of Fake GPS Location Professional will guide you on how to spoof GPS location.
Fake GPS is one of the most effective and lightweight GPS location spoofing apps on the Google Play Store. The app is heavily popular, and it's entirely free to download and use.
The app provides you with two modes to fake your GPS: the first is by manually setting coordinates, and the second is by entering the location name. However, to make the app work, you must make some changes to the Developer settings.
These are some of the best free Android apps to fake your GPS location. All apps were available on the Google Play Store and can be downloaded for free.
Also Read: Download Google Maps for PC
So, this article is about how to fake a GPS location on your Phone. You can rely on the shared method or use the apps to mock your GPS location on Android. If you need more help faking GPS location on Android, let us know in the comments below.