Well, if we look around, we will find that now almost everyone has a Windows laptop or computer. Compared to every other desktop operating system, Windows 10 provides users far more features. We are now so dependent on our computers and smartphones that we can't survive without it even a day.
However, have you ever imagined misplacing your laptop or smartphones? Although for Android devices, Google Provides a built-in feature known as 'Find My Device' which helps to locate misplaced or lost smartphones. However, the same feature is missing on Windows 10 until the November 2018 update.
With the November 2018 update, Windows 10 introduced a new feature known as 'Find My Device'. It's basically a feature that helps users to locate Windows device if it goes missing. The best thing about Windows 10 Find My Device is that it's completely safe to use and it automatically included with Windows 10.
The feature is already there in Windows 10 operating system, but it's kept hidden under the settings. Regular Windows 10 users can't locate the settings easily. So, in this article, we are going to share an important tutorial on how to find your lost or stolen Windows 10 devices 2019.
How To Find Your Lost or Stolen Windows 10 Devices
Recovering lost or stolen Windows 10 devices are easy if you are already using the said feature. So, if you have already turned on the feature, then you just need to follow the steps given below. So, let's check out how to find your lost or stolen Windows 10 devices 2019.
Step 1. First of all, enable the Find My Device option or the feature from the settings of your device. To enable this feature, you would first require to have the Microsoft Account as well as fully updated Windows 10 running on your device. Please check for both these things before you could go for further steps.
Step 2. Open the Settings app from your Windows 10 device. Under that settings find and tap on the Update and Security settings option. This could be straightforward to look for these settings as all the settings are placed in the form of tabs.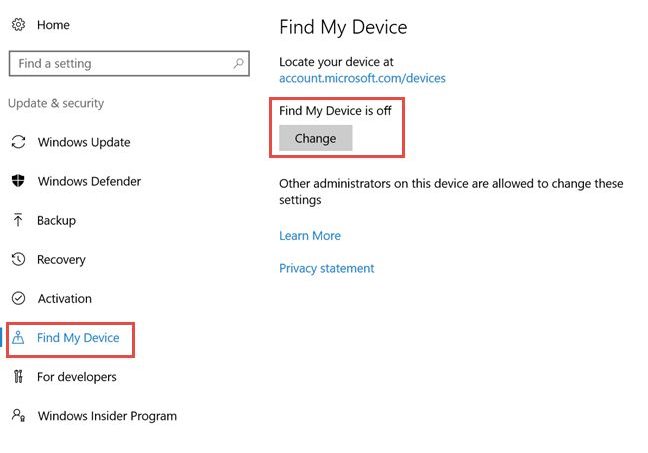 Step 3. On the left side column click on the Find My Device option and then on the right of your screen you would be able to see various settings related to the feature. The current status of this feature could also be traced from the text line highlighted. Note that by default the Find My Device feature is disabled, but you could also enable it from this screen.
Step 4. To enable the feature, click on the Change button in the Find My Device section and then enable the "Save my device's location periodically." You have activated the location tracking feature for your device now. So, you could use your device without fear of being lost or stolen because your device could be easily located afterward.
Step 5. To locate your lost device or stolen device just go to the "accounts.microsoft.com/devices" and from there sign in with your Microsoft account which was used in your lost Windows 10 device. You would see the list of all your devices there and hence from there, you could choose your lost or stolen device too.
Step 6. There would be some options and links placed on the sides of the devices, from there you could also see the Find My device links so just click on that for your lost or stolen device in the list.
This would show you the last available location of your device and further, it would also show you the exact location on the map as well the time it was last tracked. If the location isn't available for the device, then it's certain that the person who had stolen the device has reset your device and turned off the Find My Device feature by some trick!
So, these were the steps through which you could find your lost or stolen Windows 10 devices. So, this is all about how to find your lost or stolen Windows 10 device. Hope this article helped you, share it with your friends also.