Recently, the upcoming Samsung Galaxy S8 has avowedly have its press images leaked, hence, confirming most speculations about the Galaxy S8 over the past leaks.
The First Press Images Of The Samsung Galaxy S8 Leaked
In recent weeks, the leaks around the Samsung Galaxy S8, the new flagship of the Korean firm that could arrive at the end of March, about a month after the MWC 2017 which will take place in Barcelona. After seeing an alleged real image, we have now known what could be the first press images of the Samsung Galaxy S8, where you can see in detail the front and rear of the device.
Those bemoaning the dearth of branding on the S8 will be pleased to learn that the top 1/4" of screen will be hard-coded to display SAMSUNG.

— Evan Blass (@evleaks) January 27, 2017
Just a few days ago we saw a real image, or at least that's what it seemed, where the full design of the Samsung Galaxy S8 was shown, even its back, which paradoxically is very similar to the one of this render that is leaked now, if not identical.
No doubt it is an image that could well belong to the press kit Samsung Galaxy S8, as you see it is a render shows us the full design of Samsung Galaxy S8 both its front and rear. It can be a "fake," but it is true that what we see in this image is what we have known in recent weeks about the Samsung Galaxy S8.
As with its bigger screen, it is shown completely that the upper and lower edges are much narrower. The elimination of capacitive buttons that would force the firm to move the fingerprint reader to the rear and the top sensors with the front camera will be well to scan the iris. In the back we can see the camera next to the essential flash, and next to one of the most notable external changes, the fingerprint reader, on the side of this.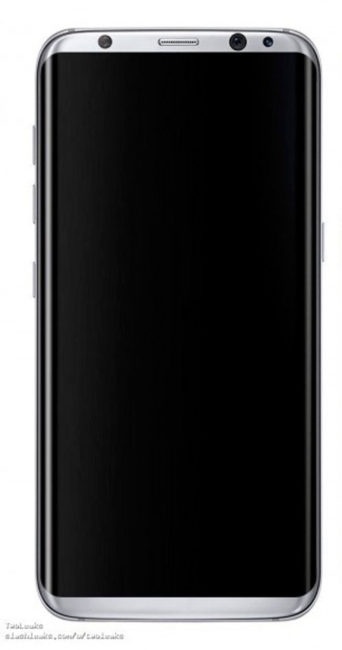 The truth is that the position of the fingerprint has missed us a lot since we have seen it in that place in the real image of a few days ago. It does not seem a priori the most suitable place for it, but apparently, in recent days it could be on the place where Samsung has always located it.
However, this could be the first press images of the Samsung Galaxy S8 as they are closest to everything that has come to know the new device of Samsung in recent weeks, in fact, all the leaks we are witnessing are giving this design well acceptance.