C]ellular or Mobile data stopped working all of a sudden? Well, there could be various reasons why your mobile data has stopped working like incorrect APN, incorrect network selection, etc. In this article, we have shared a few best methods to resolve cellular data not working on Android.
Mobile Data or Cellular data is one of those things that shortly becomes a necessity after purchasing a new smartphone. Although now people choose to connect to the internet via WiFi, still there are lots of users who prefer to use mobile data.
Another reason for using mobile data relies on the fact that you can't have WiFi connectivity everywhere. This is why lots of users still pay for mobile data despite having a WiFi connection at home or the workplace.
However, just like every other internet connectivity options, Mobile or Cellular data can also stop working due to several reasons. So, in this article, we are going to share a few best methods that would help you fix Mobile Data Not Working on Android.
Also Read: How to Get On Screen Navigation Buttons in Pie Style on any Android Device
Steps to Fix Cellular Data Not Working On Android
Below, we have shared a few best things to do when mobile data stops working on Android. So, if your cellular or mobile data is not working, then check out the best methods to resolve the problem.
Also Read: 15+ Best Photo Editing Apps For Your Android Smartphone
1. Restart Your Smartphone
This type of problem mostly faced by new smartphone users and the reason is pretty simple. Whenever we insert a new SIM card, the telecom operator automatically sends us the APN settings which ask for the restart.
Most of the time we choose to ignore the restarting step which can cause this type of errors. Not only cellular data problem, restarting the device often fix many other errors.
2. Check whether you have a Mobile data limit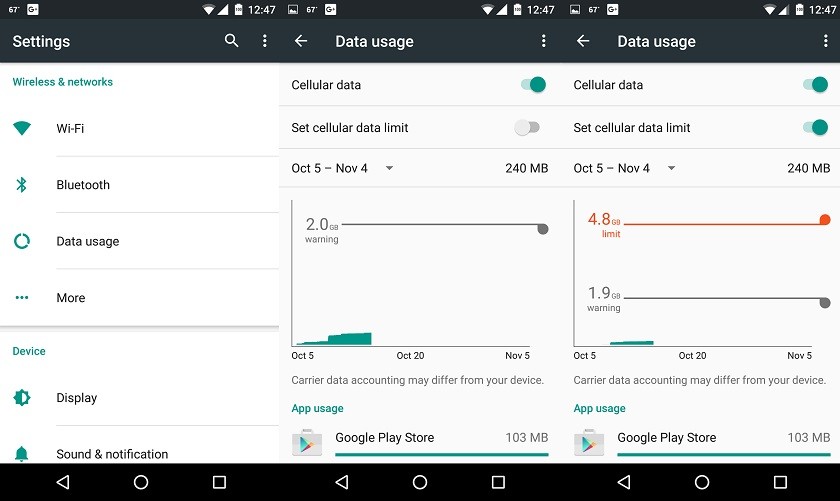 Well, we all know Android smartphone comes up with an option to set your own mobile data limits. The option helps users to save data usage. The data limit option simply stops mobile data once the limit is crossed. Therefore, make sure to check do you have a mobile data limit.
Simply visit Settings> Mobile Data/Data Usage and there check whether you have enabled the limit.
3. Airplane Mode
The very first thing that you can do to resolve the lost data connection on your Android smartphone while on cellular mode is turning on the Airplane mode for some time and then again turn it off. This will just disconnect you from the cellular network provider for some time and then again make the request for the connection right from the beginning on the servers.
4. Reboot With Airplane mode Active
The other on the spot thing that you can do just at any instant is reboot your device for a while with the airplane mode is active. Once after you get your device running again then turn up the airplane mode off again and most probably this will fix the cellular data connection issues.
5. Re-insert your SIM Card
Well, if the above three methods failed to fix the Mobile data not working error on Android, then you need to remove and re-insert the SIM Card. Removing and re-inserting the SIM card will fix all issues related to the SIM card like an incorrect APN. So, turn off your Android smartphone and remove the SIM Card. Wait for around 30 seconds then re-insert the SIM Card. Once done, turn on your smartphone and you will receive the settings from your mobile network provider. Save all settings and connect to the internet.
Also Read: Top 15 Best Antivirus For Your Android Smartphone In 2016
6. Reset APN's of your Network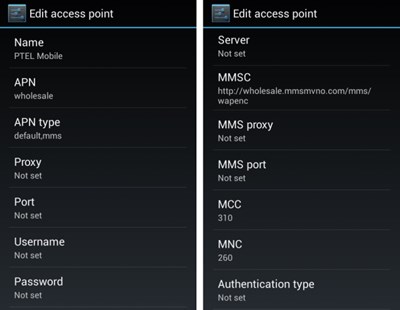 APN or Access Point Names are the means by which your telecom operator connects your Android to the mobile internet. If any alterations are done to the APN on your device then the data connection could be lost. To solve the issue, you should try to reset the APN from your device or get up the Internet Settings from your service provider and then install it on your device.
7. Make APN Protocol To iPv4/iPv6
Whenever you open the APN protocol settings on your Android device, it will list you IPv4, IPv6, and IPv4/IPv6. Although most of the phones don't have the APN protocol settings. However, if your phone does have the option to set Protocol, make sure to set the APN protocol to iPv4/iPv6.
8. Enter APN Manually
If you don't want to get the internet settings from the service provider or for some reason you are unable to do so then you can manually put the APN on your device through the settings. Note that the APN for different service providers is different totally so find the exact APN for your service provider from the internet and enter that under the SIM network settings.
Also Read: How to Take Lens Blur Photo With Your Android Camera
9. Switch Between Network Generations (3G/4G)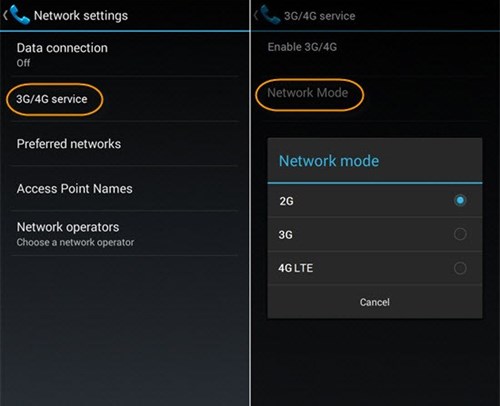 If the mobile data of your smartphone has stopped working after updating the Android version, then there are chances that during the update, your phone is set to one that doesn't offer optimal coverage. So, in this method, you need to enable the Right Network mode to fix Mobile data not working on Android. Just head to the Settings > Mobile Data > Network Mode and then switch to the appropriate network mode.
Also Read: How to Get Android Nougat Features on your Device without Upgrading
10. Factory Reset
Well, if anything mentioned above doesn't seem to work. Then you may consider performing a factory reset of your phone. Well, you must note that the Factory reset option will erase everything from your phone's internal. Therefore, make sure to have a proper backup before doing a factory reset.
So, these are some of the best methods to get the cellular data connection on your Android device running smoothly again without any issues. If you have any doubts related to this, let us know in the comment box below.