Sometimes, we install some software on our computer which triggers BSOD errors. Recently, Windows users were found receiving 'Scan drive for error' messages. There were almost thousands of users complaining about the Scan Drive for error messages on Microsoft forum.
What is 'Scan Drive for Error' Message?
So, what's the 'Scan Drive for error' message and why it occurs? To understand that, we first need to know about how hard disk drive works and what are the chances of logical errors. During the course of using our PC, the hard drive might suffer mechanical damage or get logical errors. These things often do nothing apart from triggering some one-time errors. However, if the damage is worse, then it leads to a corrupted file system, bad sectors, etc.
Sometimes, the error message appears after installing any particular game or program. The game or app that you have installed has nothing to do with the error, but it was the installation that leads to the error reporting. During the installation, the game or app might have corrupted the system files which ultimately leads to the scan drive for an error message.
Fortunately, the 'Scan drive for error' can be fixed by following some of the methods given below.
Fix Disk Errors In Windows 10 Computer
So, here we have listed some of the possible fixes to solve the 'Scan drive for error' messages on Windows 10 computer. Make sure to follow the methods carefully to avoid any additional errors. So, let's check out.
1. Perform a Disk Check
Well, Windows 10 offers a built-in disk checker that checks your hard disk drive for possible errors. Sometimes, a simple disk check can fix the Scan drive for error or other errors related to the drive. Here's how to perform a disk check.
Step 1. First of all, launch the file explorer and right-click on your Windows installation drive.
Step 2. Next, click on Properties and then select the 'Tools' tab. Under the Tools tab, you need to click on 'Check' under the Error-checking.
Step 3. Now, you will see a disk checking utility, you need to click on the 'Scan drive'
You will be asked to enter the password if you are using it, then it will check your disk for errors. If the utility finds any error, it will fix it automatically.
2. Using Command Prompt
Well, Windows offers a disk checking tool that can be operated via the command prompt. For that, we need to run the chkdsk command to fix the scan drive for error on Windows 10 computer. Here's how to run the CHKDSK command.
Step 1. First of all, run the Command Prompt as an administrator. For that, search for CMD on the Windows 10 search bar and then right-click on CMD and select 'Run as Administrator'
Step 2. Now, you need to enter the command chkdsk /x: and press enter. Make sure to replace the X with the drive letter.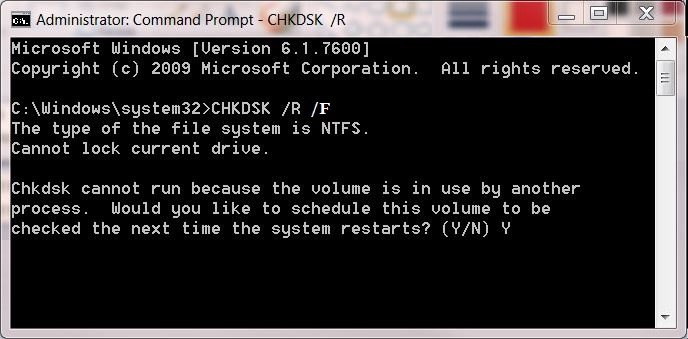 Step 3. Now you will be asked to confirm the changes. For that, enter Y on the command prompt and hit the Enter button.
That's it, you are done! Now it will check for the possible errors and will fix drive related errors from your computer. Once completed, make sure to restart your computer.
3. Startup Repair
For those who don't know, Windows 10 can repair itself. Through startup repair, you can fix most of the problems, and it will repair your computer. Here's how to perform a startup repair.
Step 1. First of all, insert the Windows 10 installation disk on your DVD drive. Restart the PC and during the booth Press F8. Now, on the Windows installation page, click on the 'Repair your computer' option.
Step 2. Now you will see another screen where you need to click on the 'Troubleshoot' option.
Step 3. In the next page, you need to select 'Startup Repair'
Step 4. Select your Operating system and the Windows Repair tool will start to diagnose your computer for startup Problem.
Sometimes, we install any software or games, that modifies the startup file which leads to disk error. So, the startup repair will ultimately fix all startup related issues from your computer.
4. Using EaseUS Partition Manager
Well, EaseUS Partition Manager can identify and fix hard disk partition bad sectors and errors in no-time. So, here's how to use EaseUS Partition Manager to fix disk errors.
Step 1. First of all, download & install EaseUS Partition Manager on your computer. Open the tool and select the drive which you want to scan. Right-click on it and select 'Check File System'
Step 2. Now you will see a popup window. There you need to check the 'Try to fix errors if found' and then click on 'Start'
Step 3. Now EaseUS Partition Manager will scan for disk errors. If it finds any error, it will fix it and will show you the report. Once done, click on 'Finish'
That's it, you are done! This is how you can use EaseUS Partition Manager to fix disk errors in Windows 10.
So, these are the best methods to fix Windows 10 'Scan drive for error' message. If you know any other methods to fix the error, then let us know in the comment box below. I hope this article helped you! Please share it with your friends also.