If you're using Windows 10, you may have noticed Microsoft Compatibility Telemetry Process in your Task Manager. Have you wondered what it is, and why it's using so much of disk usage?
Microsoft Compatibility Telemetry is a service of Windows 10 that carries technical data regarding the usage and performance of your PC. The service is supposed to collect data from your computer and send it to Microsoft to improve the user experience.
When any problem appears, or Windows 10 encounters an error, the Microsoft Compatibility Telemetry runs, grabs the data, and sends it to Microsoft. The problem is sometimes the process might get stuck and raise the Disk or CPU usage.
Steps to Fix Microsoft Compatibility Telemetry High Disk Usage!
Many Windows 10 users have reported facing problems with Microsoft Compatibility Telemetry. Users have claimed that the process uses 100% disk usage and slows down the PC. If you are dealing with the same problem, you need to follow these steps to fix it.
Below, we have shared some easy steps for fixing Microsoft Compatibility Telemetry High Disk Usage in Windows 10 computers. Let's get started.
1. First, press the Windows + R and type gpedit.msc. Once done, press the Enter key on your keyboard.
2. This will open the Local Group Policy Editor on your PC. You need to navigate to the following path: Computer Configuration -> Administrative Templates -> Windows Components -> Data Collection and Preview Builds.
3. On the right pane, find and double-click on Allow Telemetry.
4. On the Allow Telemetry prompt, select Disabled and click on the Ok button.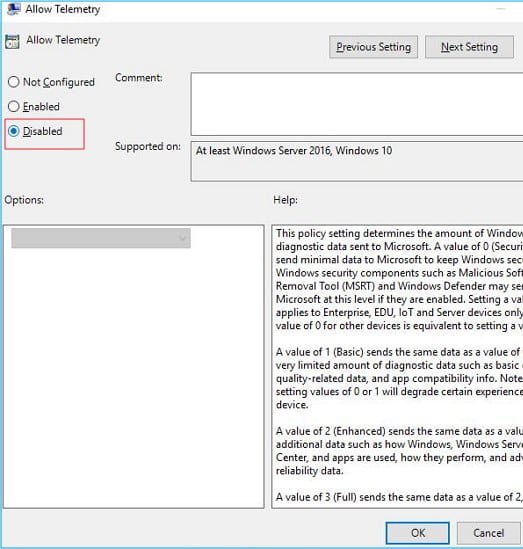 That's it! After making the changes, make sure to restart your Windows 10 computer. After the restart, you won't face high disk usage problems with the Microsoft Compatibility Telemetry.
So, this guide is about fixing Microsoft Compatibility Telemetry high disk usage problem on Windows 10 computers. If you know of other ways to resolve the problem, let us know in the comments below.