Being the most popular video streaming service, Netflix offers you endless hours of videos. On Netflix, you can watch the latest and exclusive movies & TV Shows by paying a nominal subscription fee.
Apart from the Movies & TV Shows, Netflix also offers you games that you can play directly from the mobile app. So, Netflix is indeed an excellent video streaming service to watch Movies & TV Shows on Android, iOS, and desktop operating systems.
If you are an active Netflix user, you might know that the mobile app allows you to block the video titles manually. Blocking video titles is a part of Netflix's Parental Controls, and it's of great use. When you block a video title, you won't see the title. Even if you have managed to the find the title on the Netflix app, when you will try to play them, you will see an error message that reads 'This Title Can't be Played'
So, if you are getting the same error message while watching videos on Netflix, you are reading the right guide. In this article, we will talk about how to fix the 'This Title Can't be Played' error message on Netflix. Let's check out.
What is This Title Can't be Played error message?
If you see a message that says 'This Title Can't be Played', it indicates that the account owner has restricted the movie & TV show you're trying to watch on your profile.
The error mostly appears when users share their account passwords with others. This error doesn't imply any ban or restrictions; it simply means that you need to ask the account owner to unblock the title.
Once unlocked, you can watch the movie or TV Show without any error message. The maturity rating is another reason behind the 'This title can't be played' error. If the account owner has set a maturity rating for a profile, that profile will only see the Movies, TV Shows, and games that fit that rating.
Steps to Fix 'This Title Can't Be Played' Error on Netflix
Hence, if you are getting a 'This Title Can't be Played' error message while watching a specific video on Netflix, you need to follow some simple steps.
Set the Maturity Levels for a Profile & Unblock Titles
As we have mentioned above, if your Netflix profile has a set maturity rating to follow, you can't watch videos that fit that rating. Hence, you need to review the Maturity Level for your profile manually. Here's what you need to do.
1. First of all, open Netflix on your PC and log in to your account. Next, select your Netflix profile.
2. On the main screen, click on the Profile picture as shown in the screenshot below. From the drop-down menu, select the Accounts option.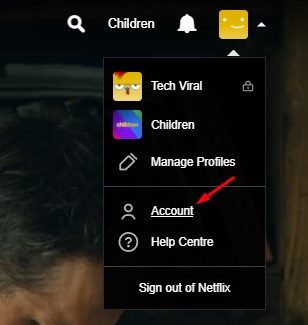 3. On the Accounts page, expand the profile which you use. Next, click on the Change button behind the Viewing Restrictions.

4. On the Viewing Restrictions page, you need to modify the maturity rating.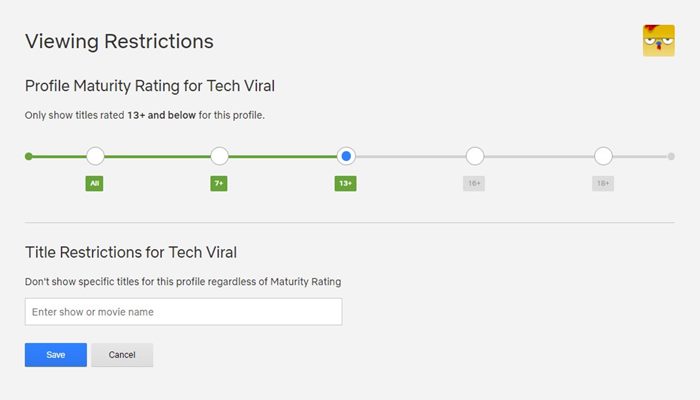 5. Now, on the same page, you need to look for the blocked Movies & TV Shows on the Title Restrictions field.
6. If the video you want to watch is blocked, click on the (x) button behind the title name. This will unblock the video.
That's it! This is how you can fix this title can't be played error message on Netflix.
For a more detailed guide on how to block titles on Netflix, check out our guide – How to Set Profile Maturity Ratings & Block Shows on Netflix. The article will clear all your doubts related to Maturity Ratings and content blocking on Netflix.
It's pretty easy to Fix the 'This Title Can't be Played' error message on Netflix. I hope this article helped you! Please share it with your friends also. If you have any doubts related to this, let us know in the comment box below.