Although Google Chrome is right now the most popular web browser, it's not the best. Other web browsers such as Microsoft Edge, Brave, Firefox, etc., are doing much better and provide more valuable features to their users.
The web browser ships with Windows 10 and Windows 11 operating systems if we talk about the Microsoft Edge. Edge is the default web browser of Windows, trying hard to compete with Google Chrome in terms of features and reliability.
We are talking about the Edge browser because now Microsoft is testing a new security feature known as Microsoft Edge Secure Network. In this article, we will talk about Microsoft Edge Secure Network & how you can use it.
What is Microsoft Edge Secure Network?
Microsoft Edge Secure Network is a VPN service that is still in the testing phase. Microsoft has partnered with Cloudflare to provide the VPN service to its Edge users.
Microsoft Edge Secure Network is just like every other VPN service you use. It can encrypt your traffic and can hide your IP Address. Due to the encryption, third-party companies that collect your browsing data will be eliminated.
The Microsoft Edge Secure Network is provided for free, but it has limitations. The VPN will only offer 1GB of bandwidth per month during the testing phase. Also, users need to sign in to a Microsoft account to use the service.
The Microsoft Edge Secure Network is still in the testing phase, and the feature is currently rolling out to a selected group of users, but it will be released for public use in the upcoming months.
Steps to Use Microsoft Edge Secure Network
If you want to try the free VPN service of Edge browser right now, you need to join Edge Insider Channel and download the Edge Canary browser. If you don't find the Secure Network feature on Edge Canary, the feature is not available in your region.
Below we have shared some of the simple steps that would help you enable and use the Microsoft Edge Secure Network on a Windows device. Let's check out.
1. First of all, open the Edge browser and click on the three dots. On the drop-down, select Secure Network.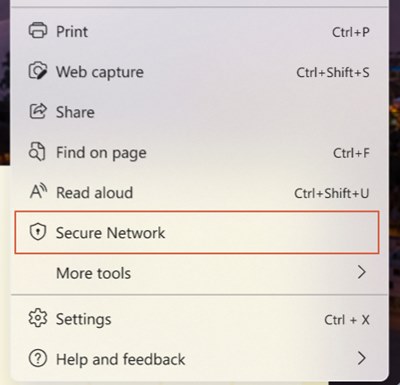 2. Now, you will see a prompt asking you to sign in to your Microsoft Account. Sign in to your Microsoft account.
3. You will see a shield icon beside the address bar once done. Click on the Microsoft Edge Secure Network icon, and turn on Secure Network Protection.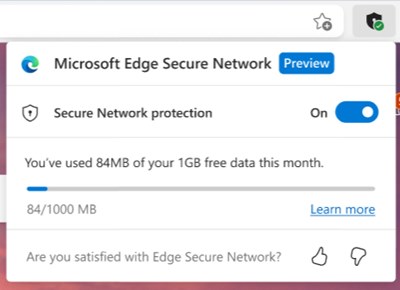 4. This will enable Secure Network Protection. Click on the address bar icon (shield icon) to view your usage stats. You will see how much bandwidth you have used.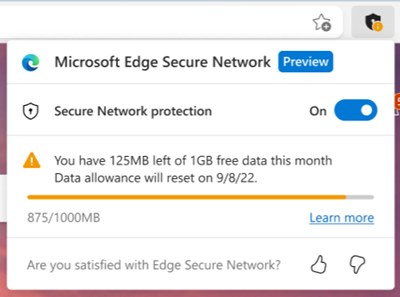 5. If you have used the 1GB of free data, you will see a message like this.
That's it! You are done. This is how you can use Microsoft Edge Secure Network free VPN service on Windows.
Secure Network is a promising feature introduced by Microsoft Edge. The feature has been made available so that users can get early access and send feedback. However, note that this is a preview feature and has many problems. If you can't find this feature, you need to wait for a few more months to try the free service.