[dropcap]L[/dropcap]et's have a look at the Top 10 FTP Clients for Android that you can use to transfer the files remotely over the servers or say the remote storage. Also, this FTP is secure that you can do the file transfers without worrying about getting the things hacked as these clients works on certain encryption that protects user data. So have a look at complete guide discussed below to proceed.
There are several FTP clients available for computer devices like FileZilla. FTP client or the File Transfer Protocol client is the software or the tool that helps to edit and view the source files for any website or the web applications that are hosted somewhere on any server. As stated above there are several FTP clients for the computer device but there are very least FTP clients for the Android. Out of the all available FTP clients on Android, we have found and tested the best ones. Here in this article, we have written about the top best FTP clients for the android that could help to access the source code files. If you are interested in reading about this information or find it helpful for your usage then please read it down. All of the proper information is provided in the main section of this post as is given below, remember to read till the end of the page so that you get the whole knowledge regarding the topic. So, let's get started!
Also Read: Top 10+ Best Android Apps to Generate Unlimited Wallpapers
Top 10 FTP (File Transfer Protocol) Clients for Android 2019
Being a business manager I use to interact with lots of clients and one night I got a client I was out of the town and got one client that needed one file transfer from one server to another remotely. But I was not having my laptop with me but that client was paying well. So I thought of getting the FTP clients on my android. So I researched and found some amazing apps that can be used as my Filezilla FTP that I was using in my Windows PC. I installed the app and entered all the details and that worked. I was able to do all the work in just minutes and earned lots of bucks in an hour. So I decided to share the same with my techviral readers so that they can also use this anytime they need. SO have a look at these apps below as we have selected these on the basis of users feedback and personal experience.
Also Read: How To Turn Your Android Device Into A Security Camera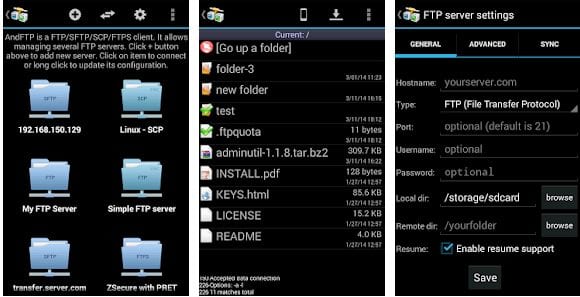 This was the very first app that I tried and I was so amazed at its working and simple UI that I prefer PC over android for file transfers. This is the finest FTP client for the Android devices as it consists of incredible features and functions that can be used almost anytime and anywhere. All of the major protocols are supported by this client and hence uploading and downloading files is really easy for this client. The host server can be easily managed through the abundance of options that are available in this client. Simply make use of the client on Android and you will forget to use the computer clients. The key fact of this client is that with so many advanced features it is available for free of cost. So must try this app as it worth use. You will surely love it.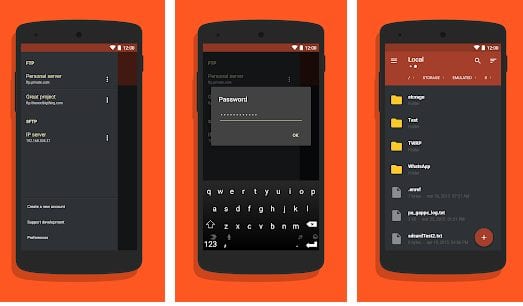 This is the second best FTP client for the Android and it is almost similar to using any files manager. Log in to the FTP and you will enter the UI showing all of the files and folders that can be easily edited and uploaded. Either download the files from the manager or the client and upload those later on or directly edit the files and upload. This free tool supports all of the major protocols and hence can be installed for the advanced purposes.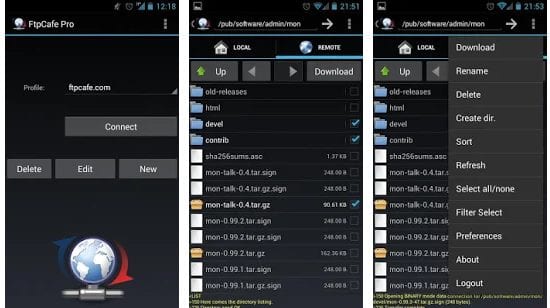 If you are really considered about the security of your hosted files yet not care about the UI or the design of the tool then this should be your choice. This is all clean to work inside this tool or the FTP client without ignoring all of the major prospects that can be required. It is also available for free of cost on Android platform so anyone can use it without paying even a bit.
Also Read: How To Get Left App Slider Feature On Any Android Device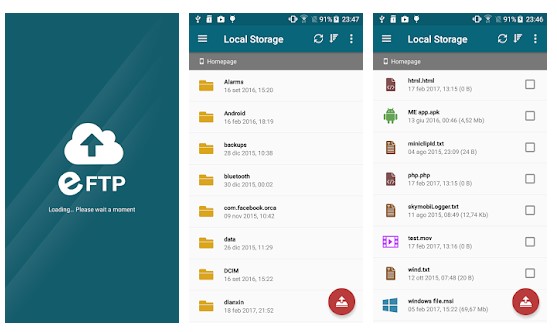 FTP Client which is also known as Easy FTP Client is one of the best file transfer protocol that you can use on your Android smartphone. The great thing about FTP Client is that it provides users an easy to use interface and its not full of complicated settings. Users just need to tap on the 'Add' button and enter the FTP details to connect. The other features of Easy FTP include app-wide password protection, set custom cache, set root folder, etc. However, the app shows few users which can disappoint few users. But, if you can overlook that, then FTP Client is really good and it packs all FTP related features.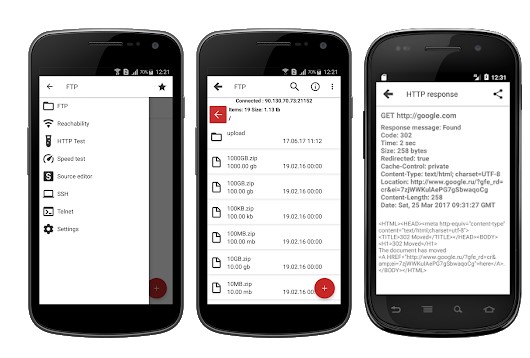 Web Tools: FTP, SSH, HTTP is another great Android app that you can use for managing sites. It's a multi-purpose app which packs some really powerful tools like HTTP tester, internet speed tester, source code editor, SSH, etc. If we talk about the FTP features, the Web Tools: FTP, SSH, HTTP has support for SFTP, FTP, and FTPS. Another best thing about Web Tools: FTP, SSH, HTTP is that it offers few other multifunctional tools for managing your websites like you can monitor the stability of your sites by IP Address, manage servers with SSH client, etc. So, Web Tools: FTP, SSH, HTTP is another best FTP Client for Android that you can use right now.
FTP Express is another best FTP client that can be used on Android smartphone. Just like all other FTP clients, FTP Express can be used to browse the files on the server or even files on other devices. Users just need to enter the server information on the FTP Express to access the files. Other features of FTP Express includes background transfers, resume support, compression, FTP over IPv6, etc. So, FTP Express is another best FTP Client for Android 2019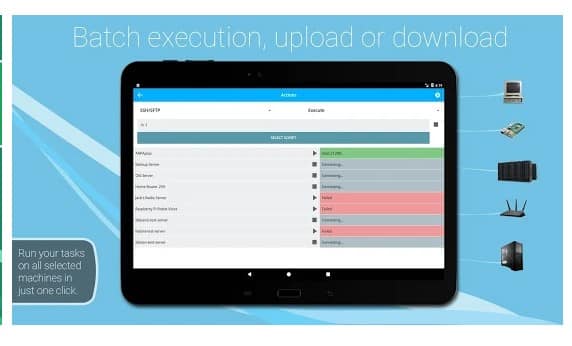 Admin Hands is one of the Advanced FTP clients that's available on the Google Play Store. Guess what? with Admin Hands, you can easily connect with SSH terminal, FTP client or perform automated actions. The features of Admin Hands includes Parallel SSH/SFTP/FTP/Telnet sessions, SSH Monitoring, Built-in Text editor, Batch action Support, etc. So, Admin Hands is definitely the best Android FTP client 2019 that you can use today.
#8 ES File Explorer
Well, ES File Explorer might be the odd one on the list, but it has FTP features. This is one of the best and most advanced file manager app available for Android devices and it also acts as an FTP or SFTP client. Users need to connect to the FTP server manually. Once connected, users can browse the folders to upload or download files. So, ES File Explorer is another best Android app which can be used as an FTP client.
Well, if you are searching for an Android app that could allow you to manage UNIX and Linux system, then Termius might be the best pick for you. It's basically a Putty for Android smartphone as it has a built-in RSA/DSA/ECDSA key generator and Putty keys importer. Not just that, but the free features of Termius also includes Local, Remote and Dynamic port forwarding as well.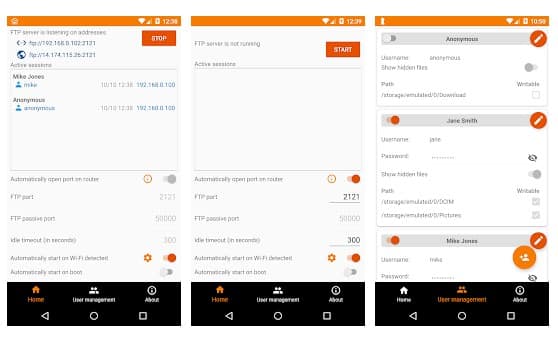 Well, if you are searching for an app to run FTP Server on your phone, then FTP Server might be the best pick for you. Guess what? with FTP Server, you can easily access/share files over the internet via the FTP Server. The app also supports multiple FTP users and can provide multiple access paths for each user. So, FTP Server is another best FTP (File Transfer Protocol) clients for Android that you can use right now.
Finally, after reading this article, you have got to know about the top FTP clients for the Android. All of the information given here is written in such a way that anyone can get about the important aspects easily. Hope that you might be liking the information given in this article if it is so then please try to share it with others too. Also, share your suggestions and opinions regarding this content by using the comments section below. Your indulgence in our work is really grateful to us, keep supporting us and we would be always coming up with all new amazing information. At last but nevertheless, thanks for reading this post! And if you have any topic in the mind that you want us to write then please share with us so that we can work on it for you and you can explore the things better with us.