Many FTP clients are available for desktop operating systems like Windows 10, macOS, and Linux. FTP clients like FileZilla, PuTTy, etc., allow you to view and edit the source files of your websites or web applications. To manage cloud servers, a desktop computer is recommended. However, that doesn't mean you can't maintain your website or cloud server from your smartphone.
Managing cloud servers from Android is not an impossible task. There are hundreds of FTP clients available for Android that can help you access the source code of your websites or web apps. So, if you are also looking for ways to access Cloud servers from Android, you are reading the right article.
List of 10 best FTP Clients for Android
In this article, we will share a few best FTP clients for Android smartphones. Most of these are free apps, and they don't need any registration. So, let's check out the best FTP clients for Android.
This one is a file manager app for Android that's fairly lightweight and available for free. It's an open-source file manager app that provides many useful features like code editing, media players, and more.
If we talk about the FTP features, Amaze File Manager allows you to start or access any FTP server in easy steps. The app has FTP/FTPS server support and SMB/SFTP client support.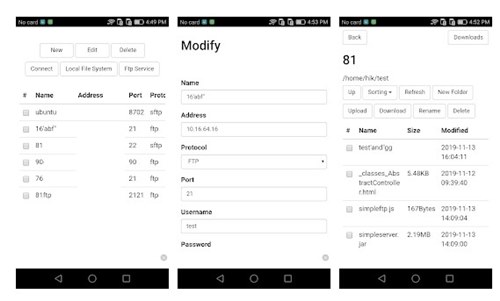 Although not very popular, FileZilla is still one of the best & reliable FTP & SFTP client that you can use on your Android smartphone. Compared to other FTP clients, FileZilla comes with a clean & easy to use interface, and it's available in many languages.
If we talk about the features, FileZilla supports FTP and SSH File transfer protocols. Overall, FileZilla serves as a convenient option to transfer files between mobile phone and computer.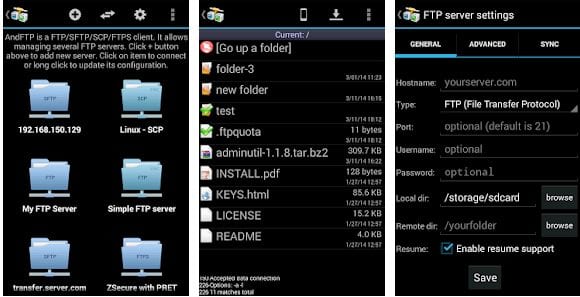 AndFTP is the finest FTP client for Android devices that offers lots of incredible features. All of the major protocols are supported by this client, and hence uploading and downloading files is easy with this client.
The host server can be easily managed through the abundance of available options in this client. Make use of the client on Android, and you will forget to use the computer clients.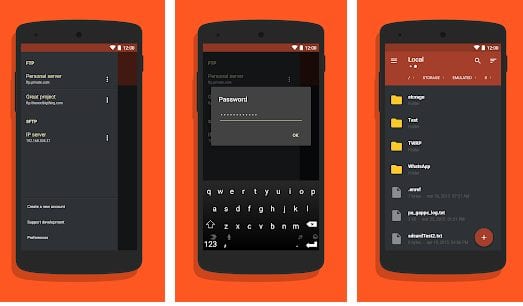 This one is almost similar to using any files manager. Log in to the FTP, and you will enter the UI showing all of the files and folders that can be easily edited and uploaded.
Either download the files from the manager or the client, upload those later on, or directly edit the files and upload them. This free tool supports all major protocols and can be installed for advanced purposes.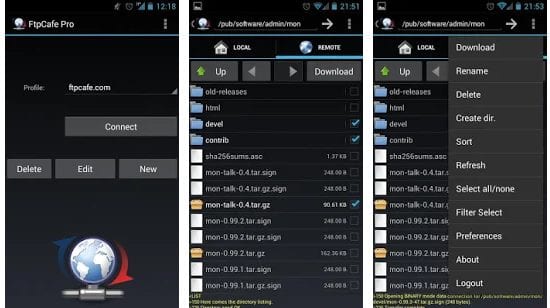 If you care about the security of your hosted files, then the FtpCafe FTP Client could be your choice. The Android app supports file transfer over FTP, FTPS, and SFTP.
Apart from that, the clean and simple user interface makes the FtpCafe FTP Client stand out from the competition. It is also available for free on the Android platform, so anyone can use it without paying anything.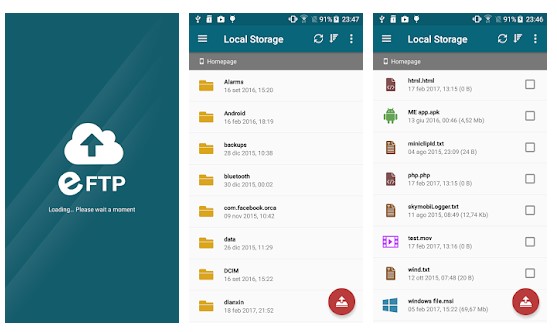 FTP Client, also known as Easy FTP Client, is one of the best file transfer protocols that you can use on your Android smartphone. The great thing about FTP Client is that it provides users with an easy-to-use interface, and it doesn't have any complicated settings.
Users need to tap on the 'Add' button and enter the FTP details to connect. The other features of Easy FTP include app-wide password protection, set custom cache, set root folder, etc.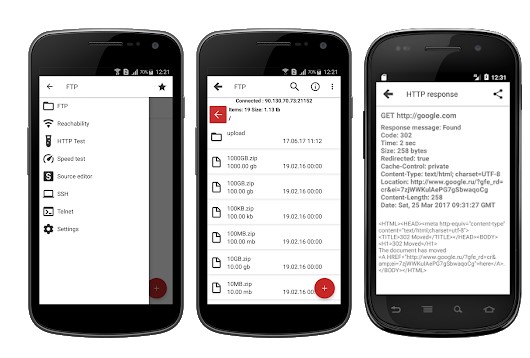 Web Tools: FTP, SSH, HTTP is another excellent Android app that you can use for managing sites. It's a multi-purpose app that packs powerful tools like HTTP tester, internet speed tester, source code editor, SSH, etc. If we talk about the FTP features, the client supports SFTP, FTP, and FTPS.
Another best thing about Web Tools: FTP, SSH, HTTP is that it offers a few other multifunctional tools for managing your websites, like you can monitor the stability of your sites by IP Address, manage servers with SSH client, etc.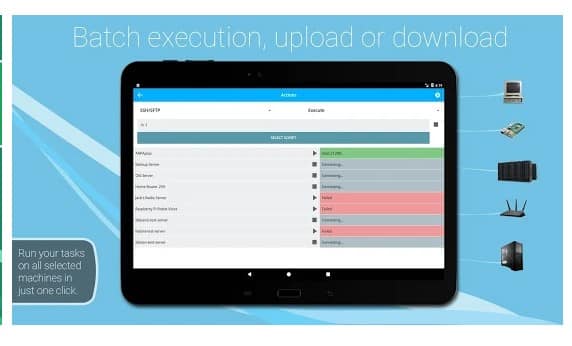 Admin Hands is one of the advanced FTP clients available on the Google Play Store. Guess what? You can easily connect with the SSH terminal, FTP client, or perform automated actions with Admin Hands.
The features of Admin Hands include Parallel SSH/SFTP/FTP/Telnet sessions, SSH Monitoring, a Built-in Text editor, Batch action Support, etc.
If you are searching for an Android app that could allow you to manage UNIX and Linux systems, then Termius might be the best pick for you.
It's a Putty for Android smartphone as it has a built-in RSA/DSA/ECDSA key generator and Putty keys importer. Not just that, but the free features of Termius also include Local, Remote and Dynamic port forwarding as well.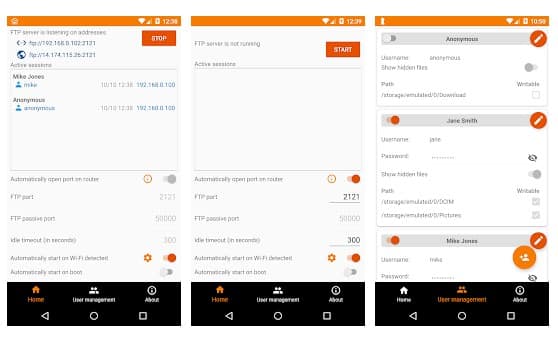 If you are searching for an app to run FTP Server on your phone, then FTP Server might be the best pick for you. Guess what? With FTP Server, you can easily access/share files over the internet via the FTP Server.
The app also supports multiple FTP users and can provide numerous access paths for each user.
So, these are the best FTP clients for Android smartphones. I hope this article helped you! Please share it with your friends also. If you know of any other such apps, let us know in the comment box below.