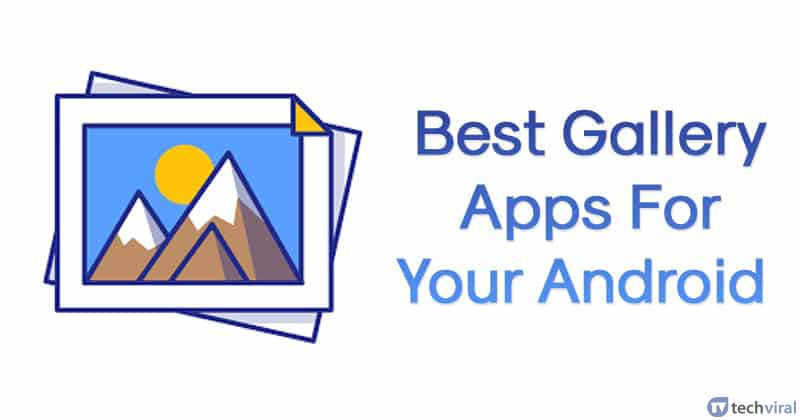 If we look around, we will find that almost everyone now holds an Android smartphone. The Android operating system powers the majority of smartphones coming nowadays. Not just that, but smartphones are becoming powerful with more RAM, better Processor, and better cameras.
Although the phone's camera can't beat the DSLRs, smartphones are often the most preferred device for capturing moments. Just take a brief look at your phone's Gallery. You will find tons of photos over there. To improve the images, there are tons of Android photo editing apps available out there.
Since we have almost hundreds of photos stored on our smartphones, it becomes useful to have a proper Gallery app. The default Gallery app of Android works well, but it's slow and looks dull. Not just that, but the default gallery apps on Android also fail to provide useful features like batch deleting, moving, etc.
Also Read: Best Free Logo Maker Apps For Android
List of 10 Best Gallery Apps For Your Android
Therefore, in this article, we have decided to share some of the best Gallery apps used on the Android operating system. So, let's explore the list.
1Gallery is a full-fledged stock gallery app replacement for Android smartphones. The gallery app for Android is designed for managing photos. Apart from regular photo & video management features, 1Gallery also offers you a few useful features.
With 1Gallery, you get a photo & video editor, vault to hide photos, and more. 1Gallery for Android also offers multiple theme options and photo widgets.
If you are searching for a smart, light, and fast photo & video gallery app for Android, then look no other than Gallery Go. The good thing about Gallery Go is that it automatically organizes your photos to group by people, nature, selfies, animals, documents, videos, and movies.
Apart from regular photo management features, Gallery Go also offers a few easy-to-use photo editing tools. Moreover, the gallery app for Android is lightweight and optimized to work offline.
It is one of the best and lightweight gallery apps available on the Google Play Store. Apart from managing and organizing photos, Simple Gallery also has many other useful features.
It has a Photo vault that can be used to hide photos. Also, it has a photo editor that lets you crop, resize, edit photos.
Well, Piktures is one of the top-rated photo editing apps that you can use on Android. Piktures allow you to access photos, videos, etc., stored on your phone or SD card.
The app can also be used to access the media stored on various cloud services like Google Drive, OneDrive, Dropbox, etc.
If you are searching for a lightweight and reliable Android gallery app to organize your photos, then Foto Gallery might be the best pick for you.
Guess what? Foto Gallery is a full-featured Android gallery app from where you can move images, hide/exclude private folders, add new folders, etc. Not just that, but the gallery app also offers users multiple themes.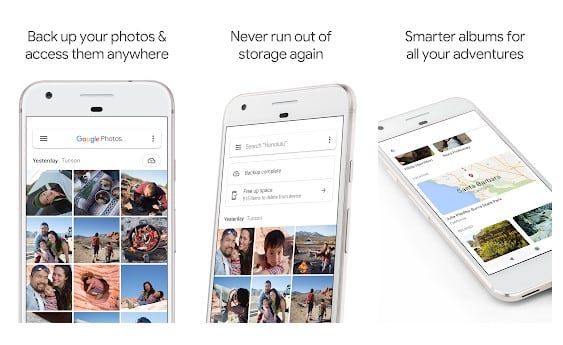 Most of the Android smartphone arriving these days comes with Google Photos pre-installed. For those who don't know, Google Photos is one of the best gallery apps that can be used on Android and iOS.
The best thing about Google Photos is that it's a storage service that provides users unlimited storage for photos & videos. Not just that, but Google Photos also acts as a photo backup service.
F-Stop Gallery is an entirely free app, and it doesn't show any ads. The app offers users everything that is needed to manage photos and videos properly.
Not just that, but F-Stop Gallery also allows users to save tags, add folders, bookmark essential photos & videos as well.
Well, it's one of the good-looking Android Gallery apps available on the Google Play Store. Created with beautiful Material design, Memoria Photo Gallery is made for smooth, fast, and organized browsing through all photos.
Another best thing about Memoria Photo Gallery is that it also provides you with a photo vault to hide your albums and photos.
It's a relatively new Android photo management app available on the Google Play Store. Guess what? Best Gallery offers users a wide range of photo management features like gesture support, different sorting options, quick search, etc.
Not only that, but Best Gallery also offers users lots of editing features like crop, rotate, resize, filters, etc. as well.
As the app's name says, Photo Album, Image Gallery & Editor is a multi-purpose image management app available on the Google Play Store. The app is heavily popular on the Google Play Store, and it brings in a wide range of features.
With Photo Album, Image Gallery & Editor, you can create albums, manage photos, share photos, etc.
If you need more efficient gallery management features, you need to start using these free Gallery apps for Android. If you know of any other such apps, let us know in the comment box below.