Here are latest method How to Get Google AdSense Approval Fast 2019.  There are some strict rules due to which people failed to get the approval of Google Adsense. Here are some tips that to follow these, a blogger can easily get the Google Adsense approval fast.
[dropcap]G[/dropcap]oogle Adsense is the greatest source of earning revenue for webmasters/bloggers. But it is not necessary that all the bloggers get the Google Adsense approved, especially the beginners. As you know I'm already talking about Google Adsense is one of the best high paying PPC/CPC Network in 2019. If you have a website or blog that complete the criteria of Google Adsense then monetize your website/blog with Google Adsense. Google Adsense is a great source of online earning from their websites or blogs. There are some strict rules due to which people failed to get the approval of Google Adsense. Here are some tips that to follow these, a blogger can easily get the Google Adsense approval fast.
Google Adsense is Bid based CPC and RPM networks and there are lots of advertisers based on the niche of blogs or websites. Google Adsense is the great ad network offers to high CPC rates and show ads related to the content which increases the CTR rates and helps to earn more and more revenue. Google Adsense CPC rates vary between the range of $0.02 – $15 depends on the visitors.
How to Get Google AdSense Approval Fast 2019
Some questions arise for every new beginner blogger or webmaster is how do I get Google Adsense approved. The answer is very easy your blog or website must comply with the Google Adsense policies, terms, and conditions. If you get Google Adsense approval fast, then must read this post concentrated. In this post, I've shared some tips which help you to get Google Adsense approval 2015 fastly.
#1 Read Google AdSense Program Policies & Terms and Services
First of all, Before applying for Google AdSense for your content, make sure that your website or blog meet the criteria stated by Google and your website or blog meet with the criteria of Google Adsense Policies and Terms and Services. Read all the Google Adsense policies from here and Some of the important terms and conditions that you need to follow,
Never upload adult or illegal content, copyright videos, and images
Original, fresh high-quality content and images
High traffic volume
Website or blog do not contain copied content
#2 Unique/Fresh/Quality Content
One of the most important factors for responsible for Google Adsense approval or disapproval in your site or blog. The best way to get Google Adsense approved fast is to upload unique, fresh and original with good quality content on your site or blog. If your blog or site contain copied content, then it will never get approved. So never tried to copy posts from the other blogs or websites, if you upload fresh, unique content with good quality then you would be able to get Google Adsense approval fast. Never upload illegal or adult content on a blog or website. It is against Google Policies. The important factor responsible for Google Adsense approval or disapproval is your good quality content. You must focus on it, write such content that attracts a lot of people, you must write 40-50 quality posts for your visitors or readers. Must avoid copy content on your site or blog.
Content is not only a factor that responsible for Google Adsence application approval or disapproval. One of the primary reason due to which most of the Google Adsence application would be rejected is short posts or insufficient content. So get rid of insufficient content before applying for google adsence. Insufficient Content means, your bl;og or website have less pages with only handful of words (less then 250 words ) in any page/post with few pictures . Even single Article with only few words can be the problem for Google adsence disapproval So make sure, That you have every articles more then 250+ words (specially in blogs).
#3 Good Body Content
The body of the content also plays an important role in Google Adsense approval or disapproval, there are some tips which help you for good body content given below:
Your content must be useful, having rich information which is useful for your audience.
Your article must have at least 500+ words.
Your article should be on-topic, should match at-least 60% of your heading and keywords.
Avoid chose content/articles/images that against Google Adsense policy.
#4 Domain Name
It is very essential that you use a top-level domain(for e.g. .com, .org, .net etc).It is noticed by the expert that if you use top-level domain then your site is approved very fast by Google Adsense, even if you have only little posts. Google always appreciate the top level and unique domain but if you write high quality and sufficient contents, for your blog, then Google Adsense get approved without a top-level domain. Also when you have organic traffic then there is a chance that Google accepts your sub-level domain also.
#5 Domain Age
In some countries like India/Pakistan, their domain should need to be 6 months old to apply for Google Adsense application, but in some places this criterion is not fully obeyed by Adsense because some of the sites gain huge popularity in short time like my site techviral, so Google check if you have number of visitors, also your posts, articles are unique so you will be approved fast. As so many people are selling Adsense accounts through fraud methods, therefore Google is now only approving accounts for people who have registered website more than 6-month-old.
#6 Use Google Adsense Supported Language
It is important that on your blog you use Google Adsense supported language. If you do not follow this rule then you are not able to get your account approved. The 36 languages which are listed below are Google Adsense supported languages. If your site is non-english site then place a google translator in your site.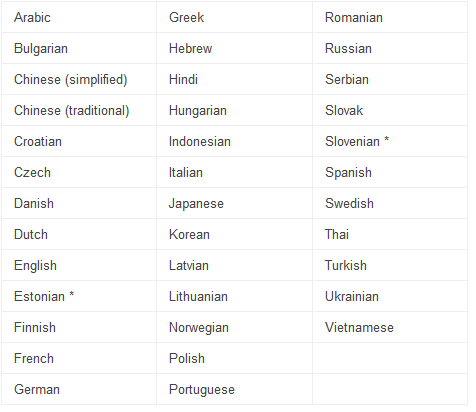 #7 Design
Improve your site or blog design and give your site a professional look by professional themes and adding social network sharing buttons etc. A good blog or site must have below four points.
Four points to make your site or blog professional:
You must have a Professional theme or theme other than the default theme.
Your site Must have About Us, Contact Us, Feed
Your every content which is publicly accessible must be easy to navigate from the homepage for your site or blog.
Avoid Interstitial windows like sharing like button, surveying, etc.
#8 Alexa Ranking
If you really want to get your Google Adsense approval then improve your Alexa ranking to your site or blog. In Simple Words, Improve your website traffic to improve so that your website gets the quality of the audience. So, start working on your site or blog Alexa Rank rather I would say improve your site traffic by writing some unique informative content for your blog or site. High Alexa rank is not good for Google Adsence point of view, High Alexa rank means low traffic to a site which is not good for either advertiser and Publisher.
#9 Organic Traffic
Traffic is one of the key factors in Google Adsence and Traffic plays an important role for approval of Google Adsense, make sure that your blog or site has high traffic and visitors come from search engines like Google, Bing etc and minimum 50+ unique visitors visit per day, before applying for Adsense .if your blog traffic is low then it is a –ve point in Google Adsense application.
#10 Enter Correct Information
You must submit your correct information. It is better to provide contact number also give your full address including postal address as well. If Google finds that the entered detailed is wrong then you have no chance to enter into the Google Adsense world. You must check your forum at least twice to avoid the errors.
Note: Enter the correct Payee Name because its very rare chances to change payee name again.
So above are the ways to Get Google AdSense Approval Fast 2019 – These are some tips if you have any other important suggestion please share in below comments. And If you face any problem feel free to discuss in below comments, don't forget to share with your friends.