If you have been using an Android operating system for a while, then you might know that the platform offers users endless customization options. Not only customizations, but the app availability is also high on Android. On Android, you can literally customize everything ranging from icons to themes.
If you have ever used Pixel smartphones, then you might have noticed the rounded icons which greatly improves the look of the operating system. Before Pixel smartphones, Android used to have a flat square icon that looked dull. Now that we have the freedom to customize Android the way we want, why not change the icons to match with the material design of Android?
So, if you keep the same thinking, then you are reading the right article. In this article, we are going to share an awesome trick that would help you to get Pixels New rounded icons on any Android smartphone.
How To Get Pixel's New Rounded Icons On Your Android Right Now
It's worth to note that most of the Android devices arriving these days have rounded icons, but still there are lots of users who hold an old Android device. So, this article is dedicated to such users only. Now, let's explore the method to get pixels new rounded icon on any Android 2019.
Requirements :
Step 1. First of check that you have downloaded and installed up to the required apps on your android device as are stated above in the requirements field. This is a mandatory step before proceeding for the whole method so you should do that before perfectly.
Step 2. To extract the downloaded icons open your favorite file browser and then navigate to the download folder and find the PixelLauncherIcons.zip file. Now extract it using the file browser options to any of your desired location.
Step 3. Open the Awsome Icons app and then make sure that your current launcher is selected from the drop-down menu inside this app. Select up the extracted zip file contents from inside this app and then use it for your icons. Next tap on the image icon next to the compatible app, tap the entry under the ICONS header and then set up the desired picture for the icons.
Step 4. After setting the rounded icons for all your desired icons you can then check up the changes on your home screen by closing up the app. You will see that the icons that you have set up from the app will look alike to those of the rounded icons of the Google Pixel software. And that's it! Whenever you wish to change up the icons you can easily do that through using up the Awsome Icons App again.
Using Pixel Icon Pack-Nougat Free UI
Nova Launcher is one of the best and most powerful Android launchers available on the Google Play Store. The great thing about Nova Launcher is that it allows users to install custom icon packs. So, we will be using a custom Pixel-based launcher pack on Nova launcher to bring rounded icons.
Step 1. First of all, you need to download and install Nova Launcher on your Android device.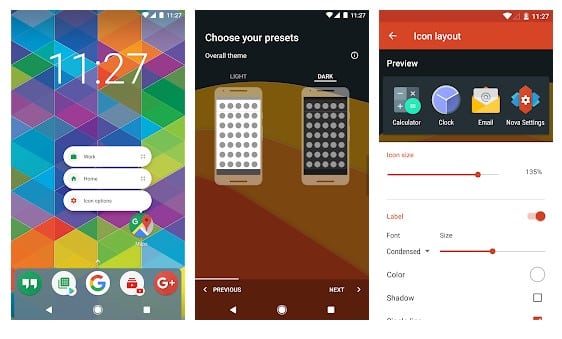 Step 2. Now launch the app and you will see the screen like below. Here tap on the "Next" button to continue.
Step 3. Now in the next step you will be asked to choose the theme. Simply choose between Light and Dark to continue.
Step 4. Now you need to download Pixel Icon Pack-Nougat Free UI on your Android smartphone.
Step 5. Now launch the icon pack and open the settings. From settings, you need to tap on "Apply"
Step 6. Now you will see your installed launcher there. Simply, tap on it to continue.
That's it! you are done, now you will see all your icons will be rounded.
So, this was the method by which you can easily get up the Round Pixel Icons of all new Google software style on your Android device. I feel like you should definitely go for this icons pack as it makes up the device feels amazing and the icons look totally stunning! I hope you like the article, share it with others also.