On iOS 14, Apple introduced a new feature that allowed users to add widgets to the home screen. Since iOS officially support widgets now, more and more apps have started to offer widgets for iOS.
Widgets were small popups that show information and offer controls related to the apps on the home screen for those who don't know. Widgets not only show you information on your home screen but also improves the look & feel of your device.
The popular music streaming app – Spotify also offers a widget that you can place on your iPhone home screen. The Spotify widget for iPhone provides you quick access to songs you've been listening to. As of now, Spotify offers you two different sizes of widgets – Small and Medium.
The small widget shows whatever was playing when you last used the Spotify app. In contrast, the medium-sized widget shows the song currently playing along with five of your recently played artists, playlists, albums, or podcasts.
Steps to Get the Spotify Widget on iPhone
Both Spotify widgets for iOS look good, and if you are a music lover, you should add them to your iPhone home screen. Hence, in this article, we will share a step-by-step guide on how to get the Spotify widget on your iPhone. The steps are going to be very easy; follow them as mentioned. Let's get started.
1. First, make sure that you have the Spotify app installed on your iPhone. Next, long press on the home screen and tap on the plus (+) sign in the top-left corner.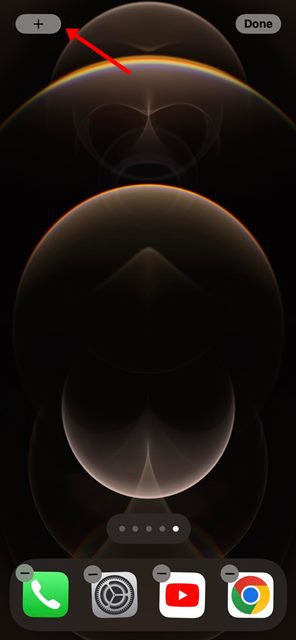 2. This will open the Widget popup. You need to scroll down and select the Spotify Widget.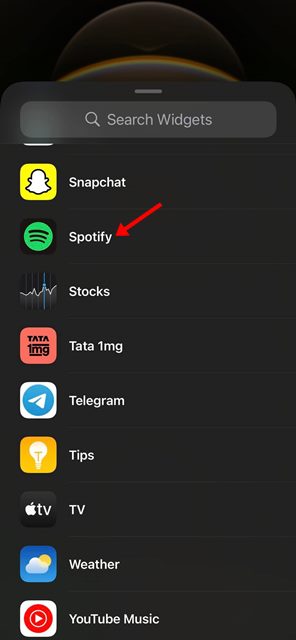 3. Now, you will find multiple widget sizes. Simply choose the widget size you want to use on your iPhone home screen.
4. Once done, tap on the Add Widget button as shown below.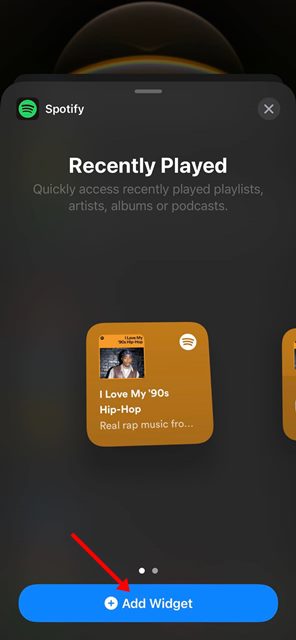 5. Now, move back to your iPhone's home screen. You will find the widget there.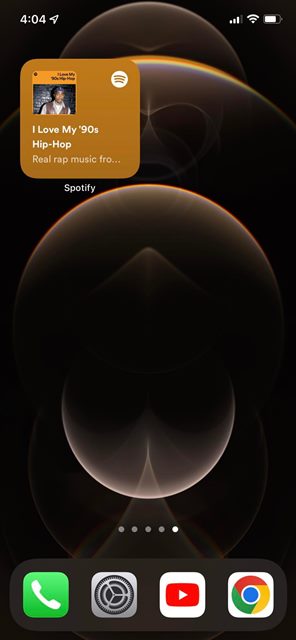 6. If you wish to remove the widget from your home screen, tap and hold the Spotify widget to reveal the options. From the options that appear, select the Remove Widget button.
That's it! You are done. These are some simple steps to help you get the Spotify widget on your iPhone.
So, that's all about how to add Spotify Widget on the iPhone home screen. On iPhone, you can also add a Spotify widget on Android. However, the iOS version of Spotify widgets looks good and is more refined than the Android one.