[dropcap]N[/dropcap]ow get unlimited call log on Android with the help of simple Android tweak that will let you to do that and you can easily maintain the old call records in your Android phone. Here in this article, we have written the method through which this could be done, just read the article to know about the method.
Any Android device is made in such a way that it could only withhold the limited amount of 500 incoming, outgoing or missed calls record and crossing up the limit just deletes the previously saved evaluations. Now for the common users this much limit would be more than enough, and they won't either require even that much also for keeping in touch with the call records but for some intense users those who need greatly to keep updated with all the calls that they have received or they had made the limit of 500 could be really a barrier. Now if you are the one who wishes to keep the detailed records of the calls on your Android device then there is a method through which the limit of storing the call logs could be increased to infinity! Yes, till infinity and your device could then store about unlimited call logs.
How to Get Unlimited Call Log on Android Phone
For this, you will need a rooted Android, Lollipop OS or higher, Xposed Framework Installed on your device.
Also Read: Best Android Apps Of 2017
Steps to Get unlimited call Log on Android:
Step 1. Open the Xposed Installer app and from there just go to the download option and then search for the Unlimited CallLog for LP/MM module or the app. The app would return with the same option, just open that and swipe to the versions tab there to download it.
Step 2. After downloading that module from there just make sure to activate that and after that restart the device. This could be easily done by checking the Modules from the app and then activating the particular one of the options.
Step 3. And that's all! Yes, you have done that and from now onwards, your device would store every of the call log and won't remove it with the limits of 500 logs.
Unlimited call logs could be then saved on your device, and that's all. This app works with the most of the Dialer apps and mostly with the stock Android dialers.
Also Read: How to Make Your Android Look like an iPhone (Without Root)
For Non-Rooted Android Smartphones
You can also get unlimited call logs on a non-rooted Android device. So, if you don't have a rooted Android device, then you just need to use some apps available on the Google Play Store. These apps will provide you unlimited call logs and will give you a clear view of every call.
Call Log is one of the most awesome Android apps that keeps all your call logs. The app records your incoming, outgoing and missed calls and keeps it until you permanently remove it. However, its worth to note that the app doesn't recover call history that got deleted before installing the app.
Call Log Monitor is another similar type of app which stores all your call history. The best thing about the app is that it comes with a user-friendly interface and it allows users to sort call logs by Date and name. It also comes with an initiative dialer which you can use to make calls.
Call History Manager to keep up to past 1000 days call logs and list them category wise for ease of access. Quick and advanced search options help you to easily access data you are looking for. There are many other features included to manage your call logs easily and efficiently.
Dialer, Phone, Call Block & Contacts by Simpler is one of the best and most advanced Android dialer apps that you can have right now. The best thing about Dialer, Phone, Call Block & Contacts by Simpler is that it offers everything that you need to manage your call records. From call blocker to smart contact search, the app has it all. Apart from that, the Dialer, Phone, Call Block & Contacts by Simpler also records your call log history.
As the name of the app says, Call Log History and Backup is an app that's dedicated to saving your call log history. It's one of the best call log replacement app that you would love to have on your Android. Not just that, but the app also shows the list of contacts, favorites, and Frequent Contacts. So, Call Log History and Backup is another best app that you can use to get unlimited call log on your Android.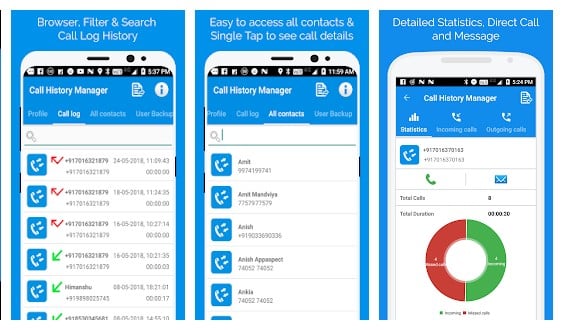 Call History Manager is another best app on the list which can keep your call history forever. Not just that, but Call History Manager also arranges the list of contacts category wise for ease of access. Apart from that, Call History Manager also allows users to export the call records to excel file. So, Call History Manager is another best app to get unlimited call logs on Android.
This was all about how you could get the unlimited call log on your Android device and as you have already got that this is extremely easy to get that if you have your device rooted before only and you would not require any addition advanced actions to be performed so as to get the results too. Just follow the exact steps as given in this article to get the unlimited call log on the Android device.