Crypto scammers are now using Google Ads to steal crypto wallets. According to the researches from Check Point Research (CPR), these hackers have stolen crypto worth $500,000 (around Rs. 3.72 crores).
These scammers are placing ads at the top of Google Search that show popular wallet brands like MetaMask, and Phantom. They trick users to give up their wallet information and then steal crypto.
Scammers Use Google Ads to Steal Crypto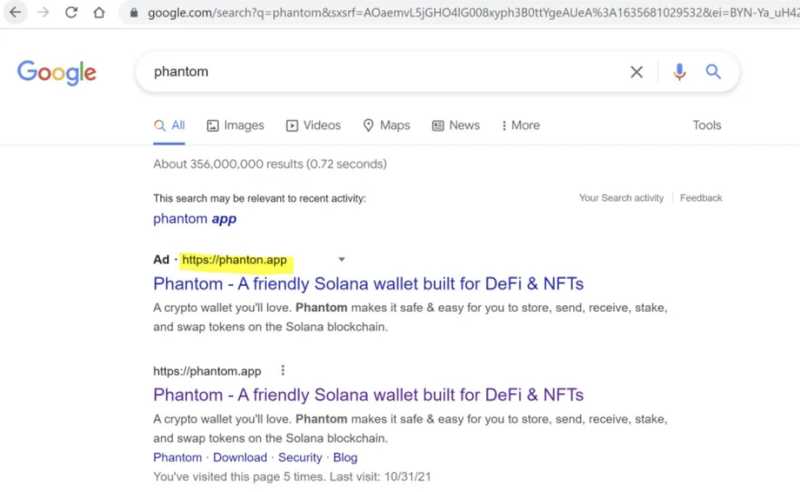 The attacker buys Google Ads to search for popular crypto wallets. The researchers from CPR noticed the scams as Phantom and MetaMask wallets were targeted more. These brands are popular for Solana and Ethereum ecosystems.
When a user Googles "Phantom," the Ad result directs them to a phishing website that looks real. Then the user enters the details which the attacker keeps. OR, if a user tries to create a new wallet, it asks to keep a recovery password that logs into the wallet that is controlled by the scammer.
In a blog post, Check Point Research says the scammers are using Google Search to attack the user to target crypto wallets. They observed, hundred thousand dollars were stolen from the wallets.
As the scammers have placed Google Ads at the top of search results, each advertisement has a malicious link. So, when the user clicks on the phishing link, they are directed into the fake website that has copied the original wallet website.
The researchers have said to all crypto users to stay alert from such scams. The Phantom brand has many phishing links like phanton.app or phantonn.app or more. There are reports saying 11 wallet accounts were discovered from which each account contains crypto worth $1,000 to $10,000.
Be aware and avoid these pitfalls, never click on Google Ads results. Instead, look at the search results and always check the URL of the site which you are visiting.