The previous year, Google introduced a new Chrome customization option that lets you change the interface and browser tabs color. However, is it the only thing you can customize on Google Chrome? Well, the answer is no.
Google Chrome offers endless customization options, but most of them are hidden under the Chrome flags. The first and easiest thing you can do to change the web browser's look is to apply themes. There are hundreds of visually pleasing themes available on the Google Web Store that can change your web browser's look in no time.
Also Read: How to Easily Create Your Own Google Chrome Theme
List of 10 Best Google Chrome Themes
If you are tired of the same boring Google Chrome appearance and want to give it a complete overhaul, you can consider applying new themes. This article will share some of the best Google Chrome themes available on the Google Web Store. All of the themes were free to download, and they look fantastic. Let's check out the themes.
Google has published lots of themes for Google Chrome on its web store. There are 14 themes published by Google for the Google Chrome web browser.
The themes are pretty lightweight, and they look simple & good. So, if you want to change your Chrome web browser's appearance, you can consider the themes created by Google.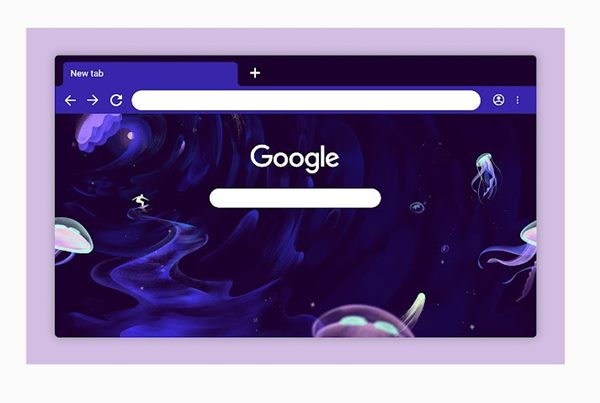 Ride the Wave is a theme for those who prefer a dark environment. The theme manages to keep the aesthetic of your browser dark without making it dull & boring.
The theme shows a surfer who rides a giant wave immersed in floating, bioluminescent jellyfish and shooting stars.
Sahara is one of the top-rated themes available on the Google Chrome web store. The theme is based on the vast landscape of the Sahara Desert. The theme's wallpaper shows the Sahara desert at night with the milky way shining in its glory.
If you look closely, you will find caravans with camels in the background. This is one of the best themes you can use on your Chrome browser.
For those who don't know, Tardis is a fictional time machine that appeared in the TV Series Doctor Who, and the theme is based on that time machine.
Tardis could be best if you are looking for a lightweight and minimalistic theme for your Chrome browser. The theme brings deep blue wallpapers, but it adds a white bar on top of the current tab for easy navigation.
Color Fusion is another excellent theme that you can apply to your Google Chrome web browser. Once applied, it adds gradient colors, making your Chrome browser looks visually appealing.
What makes Color Fusion unique is that it has different gradients for different browser elements. For example, the active tab's gradient is different from the address bar. The theme is based on a unique concept, and it does look good.
If you want to enjoy nature in your home's comfort, you may like Nordic Forest. Nordic Forest is one of the best themes available on the Chrome web store.
The theme brings sets of beautiful wallpapers filled with pine trees. If you are a nature lover like me, you should not miss out on this theme.
If you are a huge fan of Iron Man, you will love Iron Man-Material Design. Even if Iron Man met his untimely death in the movie, he lives on forever with the Iron Man-Material Design theme.
The theme brings an impressive artwork of Iron Man ready to do battle. Once Applied, the theme adds a bluish red gradient across the tabs.
Want to experience a rainy climate? If yes, you need to give Raindrops(Non-Aero) a try. The theme replicates the look of actual raindrops pouring on a car's windshield.
It's a perfect theme for nature lovers, and it's being used by over 152000+ users right now. Once applied, the theme also makes your browser's top bar transparent. The only downside of the Theme is that it increases RAM consumption.
Colors is another excellent Google Chrome theme on the list that brings colorful paint splashes onto your Chrome. The theme is available for free on the Google Web Store, and it's one of the best themes you can use right now.
The theme adds a background color splash wallpaper on your new tab page. It doesn't change the appearance of the address bar or bookmark bar.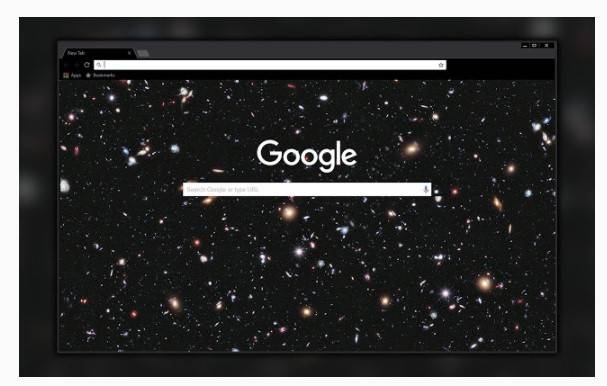 If you like space or celestial bodies, you will love Deep Space Theme in Black. It's one of the best themes for space lovers, bringing real space pictures from NASA/ESA Hubble Space Telescope. The theme looks fantastic, and every time you glance at it, you will feel like diving deep into space.
So, these are the best Google Chrome themes. I hope this article helped you! Please share it with your friends also. If you know of any other such themes, let us know in the comment box below.