Google Docs on the web is getting a new update that provides support for emoji reactions. Emojis are part of conversations on all social media platforms, as users can quickly react to messages without typing texts.
All other apps like Instagram, and iMessage, have emojis, and now Whatsapp is also testing the emoji reaction features. Google Docs is also joining the party now.
According to the latest reports, soon, Google Docs on the web will let you leave emoji reactions in documents. Currently, we can add comments to documents.
Emoji Reaction Feature Coming On Google Docs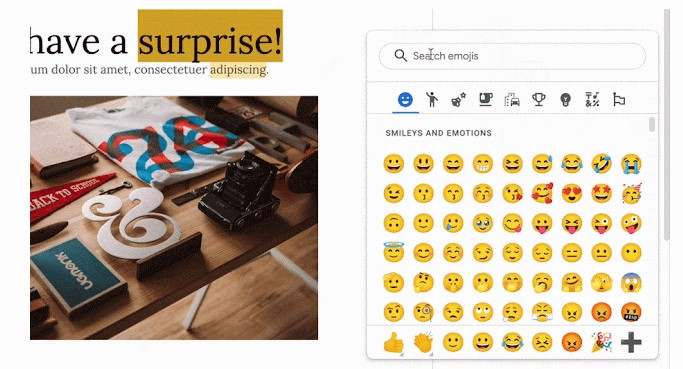 The company has announced this in a blog post, saying the feature supports all emojis in the latest release. There are emojis like gender-neutral options and symbols like biting lip and melting face.
Google has released a gif that shows the emojis reaction feature. It will be a third option along with "Add Comment" and "Suggest Edits" while you highlight text. You can also search the emoji catalog by typing.
The emoji button will be seen when you highlight a word in the document. Emoji reactions are seen on the right side of the documents, and they also have a counter.
The Emoji reaction feature is available on the latest version of Emoji 14.0. There are gender-modifiable emojis like skin tone, and gender preferences are saved per emoji.
Google claims that emoji preferences are shared with Google Chat, so the preferences set in one app will be seen in another one. Recently, a similar feature is available for Google Meet that allows users to drop emojis while ongoing meetings.
Last year, Google announced emoji reactions for Google Docs at Google I/O. The emoji reactions on Google Docs will roll out in the coming weeks.
Emoji reactions will be available to Google Workspace Essentials, Business Starter, Business Standard, Business Plus, Enterprise Standard, and Enterprise Plus.